This article is inspired by the objects from the Cynon Valley Museum collection, which will be featured throughout. They concern an event, the Nos Galan Race, founded by Bernard Baldwin in 1958. Some of the objects include a medal (one of many rewarded to competitors), photographs taken throughout the event and a programme including a list of some of the teams showing the runners that participated from all over the U.K.
Bernard William Leighton-Baldwin M.B.E. (1925 -2017) was born in Barry, one of seven children. He was an accomplished athlete in his teens and he won the Welsh Junior Men's Mile Title in 1943, in his last year at school. His brother Branwell won the Title in 1937. In 1943 he joined the Fleet Air Arm of the Royal Navy, training as an air gunner and served with an artillery unit until late 1945.
Caerleon Teacher Training College was his next move and while spending three years there he competed for the Senior Wales Team at the International Cross-Country Championships in France. He proved to be an able football player and played for Tynte Rovers, Abercynon and Penrhiwceiber in the Welsh League.
His first teaching job was at Tintern Village School. When he was 25, he applied and was accepted for a position at Mill Street Secondary Modern School in Pontypridd to teach P.E. games and music. In 1950, he moved into a house in Mountain Ash, married and had one daughter. The headteacher was very proud to announce to the school that the new teacher was an accomplished athlete.
A few days later a pupil told him about a famous runner who was buried at St Gwynno's Church, Llanwonno, three miles from Mountain Ash. Griffith Morgan was the runner, but you may know him as Guto Nyth Bran, Nyth Bran being the name of the sheep farm his parents had. Bernard heard the tales told about Guto and how he could outrun the sheep, run with the local hunt and even catch foxes by the tail. Guto's prowess as a runner spread and he was challenged to races for remarkably large amounts of prize money.
Unfortunately, it was a 12 mile race which he won for the equivalent of about 60,000 today that proved to be his last. The tale goes that his trainer and manager "Sian from the shop" slapped him hard on the back to congratulate him and triggered a fatal heart attack in 1737.
Bernard hit upon the idea of organising some short street races for the pupils to compete in as a way of commemorating Guto's name. The idea of Nos Galan emerged from a conversation with the 1956 National cross country champion, Ken Norris, at the Merthyr Athletic Club's Annual Dinner, where Ken was the guest speaker. Ken had won the San Paulo Midnight Race that year and the pair became good friends;  as a result, ideas began to form between the two.
In the summer of 1958, Bernard was press officer for the Empire and Commonwealth Games in Cardiff and Bernard finalised his plan for Mountain Ash. For December 31st 1958 he organized 2 events: a 100 yards sprint down the main street of Mountain Ash and the run starting near midnight in 1958 and ending in the new year, 1959.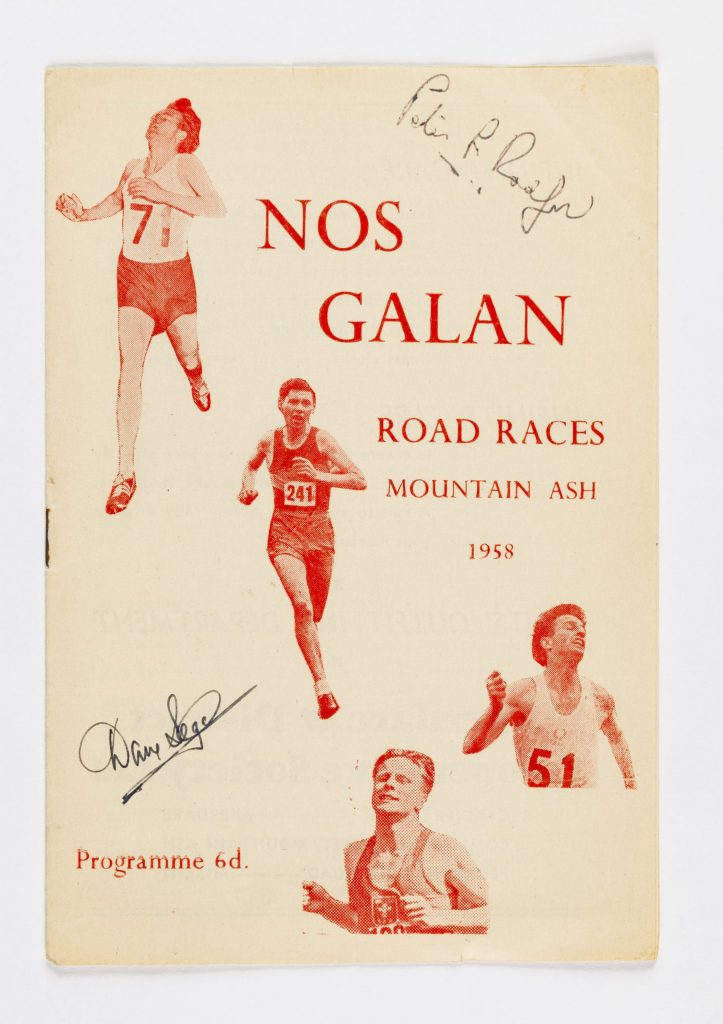 ACVMS 2001.528_001: A signed 1958 Programme of Events.
Bernard was a persuasive man as the competitors' list for the sprint read like a who's who of British athletics; Peter Radford bronze medallist for the Rome Olympics won, whilst Dave Segal Fellow international came second and Ron Jones, successful Welsh runner,  was placed third.
The second event, the midnight run of 4 miles started at 11:46 with 101 runners, the race was won by Stan Eldon, a British Team member.
An example of the quality of competitors that Bernard attracted is John Whetton, European indoor champion, and double Olympic finalist, who won 7 times between 1962 and 1968.
J.J. Williams won the dash twice, in 1965 and 1971. He said the "atmosphere created was tremendous and all of the leading sprinters of the time wanted to take part". He added, "If you got drawn in one of the outside lanes, you were in the gutter, and didn't stand a chance of winning".
The first mystery runner of the races was Tom Richards, a 1948 Olympic Marathon silver medal winner. The mystery runner represented the spirit of Guto Nyth Bran, who after a church service at Llanwynno laid a wreath on the grave of Guto, then lit and carried the torch 4 miles to Mountain Ash and to the start of the races.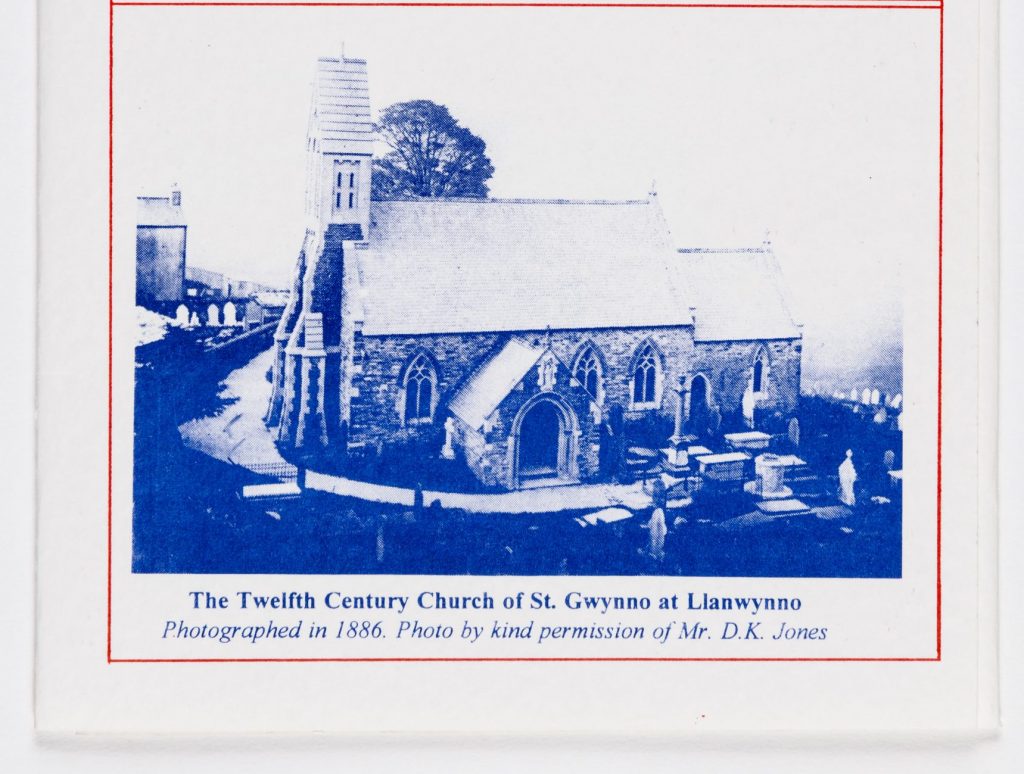 ACVMS 1995.148.1_001: Programme of Events showing St. Gwynno Church.
Many well-known people from the sporting world were mystery runners including David Bedford, Shane Williams, David Hemery, Mary Rand, Alan Wyn Jones, Colin Jackson. Linford Christie and Nigel Owens, to name a few.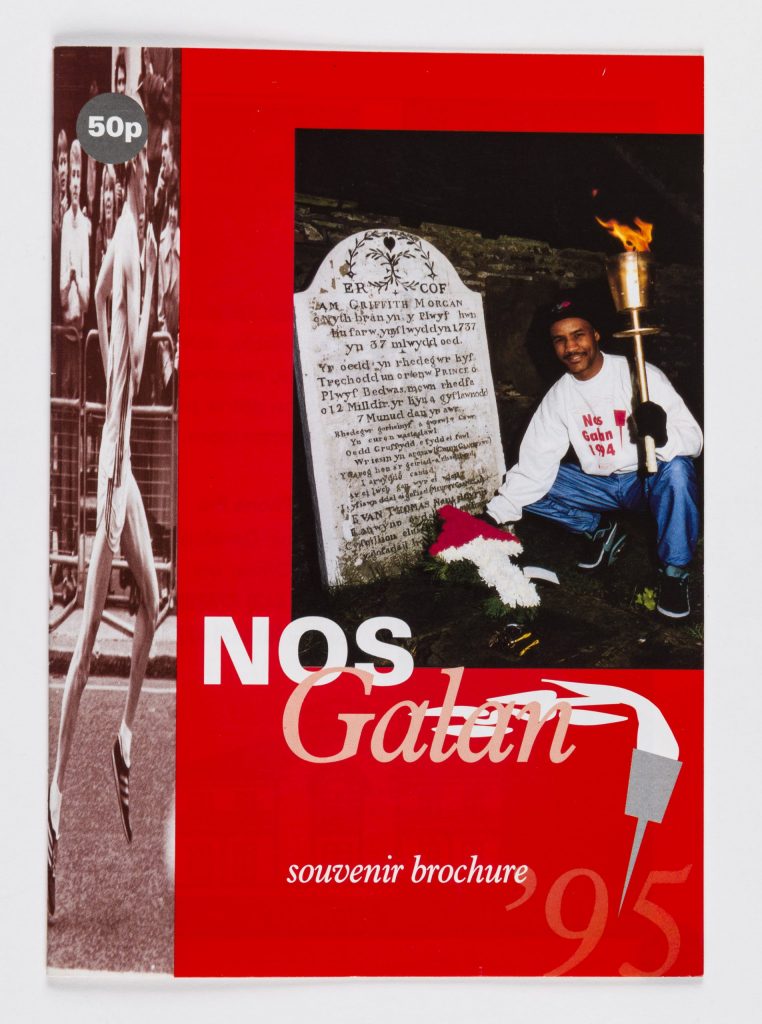 ACVMS 1998 781_001: 1995 Programme of Events, including Mystery Runner, Steve Robinson,
Former WBO World Feather weight Champion.
Over the years Nos Galan continued to attract more entries – up to 800, in fact. It was halted in 1973 for health and safety reasons but with new measures, it returned as "Nos Galan reborn" in 1984.
Bernard produced many of the programmes and only gave up organising the race in the earlier 2000s. R.C.T. and a Nos Galan Committee undertook a large amount of work running the Nos Galan.
Blog post written by volunteer, Robert Glare, December 2020.
This blog has been possible thanks to funding from National Lottery Heritage Fund
PART TWO of the blog is also available on the website. Click on this link to read it.
FURTHER READING:
Nos Galan 'A Day in the Life' – Click on this link to visit this online exhibition
The Story of Guto Nyth Bran – Click on this link to visit the blog post