New Year's Eve, known in Wales as Nos Galan, is usually celebrated in the traditional English way, but in a part of Cynon Valley, the night is observed with a unique event. Held at Llanwonno and Mountain Ash since 1958 the festivities consist of foot races run over a distance of 5 kilometres (3.1 miles).
They celebrate the memory of Gruffydd Morgan (Guto Nyth-Bran 1700-1737) a legendary cross country runner. The event was the inspiration of a local athlete and schoolmaster, Bernard Baldwin MBE, sixty-two years ago.
There is little factual knowledge of Guto's life but there is a wealth of fable in the Rev William Glanffrwd Thomas' book Plwy Llanwynno  (there are English translations). Guto was born in 1700 in one of the remotest parts of Glamorgan. The largest town in Wales then was Wrexham and Cardiff was just a small fishing town.
Guto like most other inhabitants of upland Glamorgan would have been a subsistence farmer; in their limited spare time, younger men would take part in rustic sports such as football played over considerable distances, squirrel hunting and foot-racing. The latter, which was still popular in the mid-nineteenth century, had a large following in this area; it was competitive and substantial cash prizes were awarded. The sport here was generally held on the vast open space of Hirwaun Common which was a convenient venue for both Rhondda and Aberdare men and well away from the attention of the authorities. Heavy bets were placed on local favourites and the result of the contest.
Events were regularly reported in local newspapers highlighting its popularity.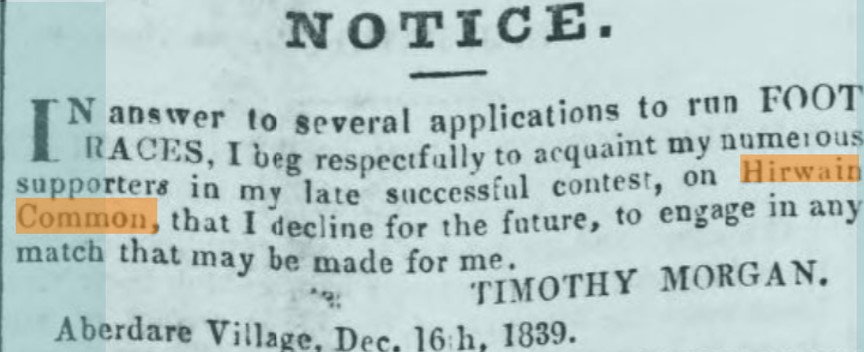 As late as 1843 Will o'Wain and the Welsh Bantam agreed to run 3 miles for sixty sovereigns aside on the Common (The Era, 4th June 1843) and there were lesser matches for prizes of 25 and 20 sovereigns. In 1870 there were complaints that the practice was becoming too common and a nuisance leading to gambling, fighting, drinking and all sorts of demoralisation (Western Mail, 12th May 1870).
The Llanwonno parish history records that the first race Guto won, run on Hirwaun Common, earned him a prize of £400. Such was his speed that eventually there were few who could compete with him.
His last race was in 1737 when he accepted a challenge from a runner named Prince to a 12-mile contest from Newport to Bedwas for a purse of 1000 guineas. Prince took an early lead but Guto was victorious, overtaking Prince in a dramatic last moment uphill sprint. Unfortunately, this was to be his last race as shortly after winning he collapsed and died on receiving a congratulatory slap on the back.
The legendry stories of Guto were passed down orally from generation to generation, until they were recorded by the Rev W Thomas (Glanffrwyd),first in serial form in the 1880s in a local Welsh newspaper called Y Darian.  From these articles we learn that he was able to run after and catch a hare, foxes and even birds. One tale records that he could sprint from his hometown to Pontypridd and back, a round distance of seven miles, before his mother's kettle boiled. Another story tells us that he could blow out his candle and be in bed before the light faded.
Since the inauguration of the event, it has grown in size and now attracts thousands of spectators with a field of 1,700 runners in 2017.
Races were suspended in 1973 because of Health and Safety concerns, but they were re-introduced in 1984. A highlight of the event is the mystery runner when each year since 1958 a professional athlete appears as a torchbearer.
The race has evolved from a midnight run to an afternoon happening with multi heats and participation.
Each participant in the race is presented with a commemorative medal.
Over the years a wealth of Nos Galan memorabilia has accumulated and the museum has a fine collection of items relating to the event.
A selection of these are displayed here:
There have been a number of torches over the years. This image (ACVMS 1995.161_002) shows the original. It was made by an employee of Cynon Valley Borough Council.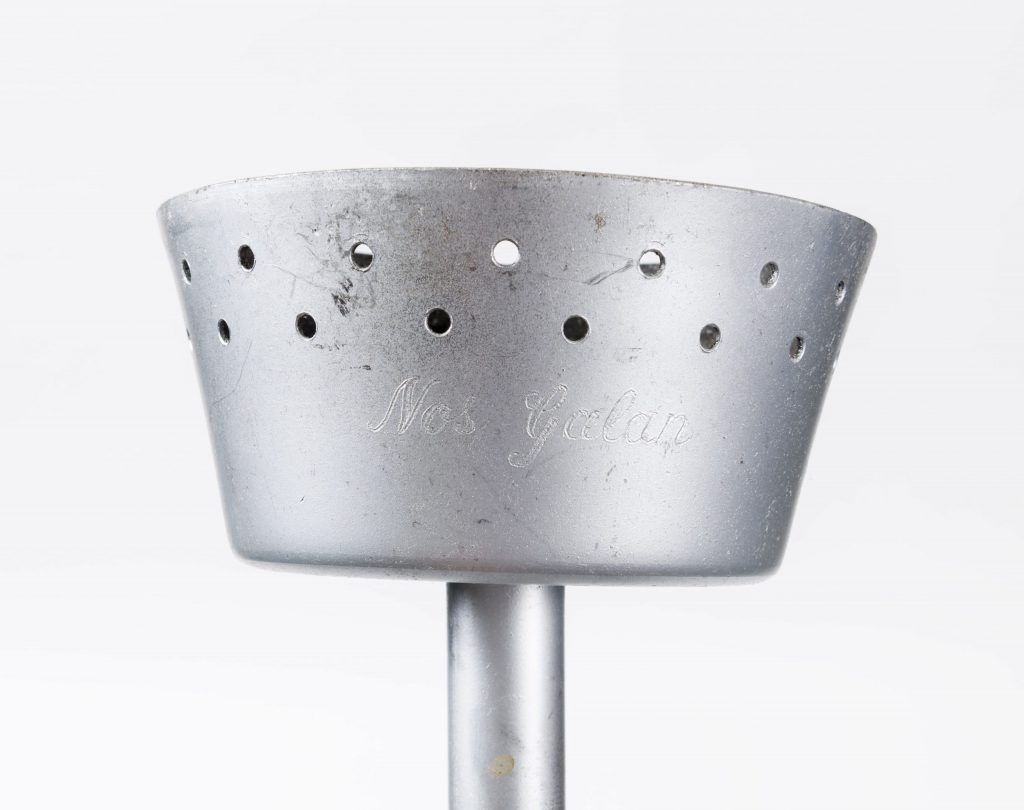 ACVMS 1995.157.2_001; The torch in 1987 held by the mystery runner standing at the grave of Guto Nyth Bran. The guest runner traditionally lays a wreath on Guto's grave at Llanwonno church.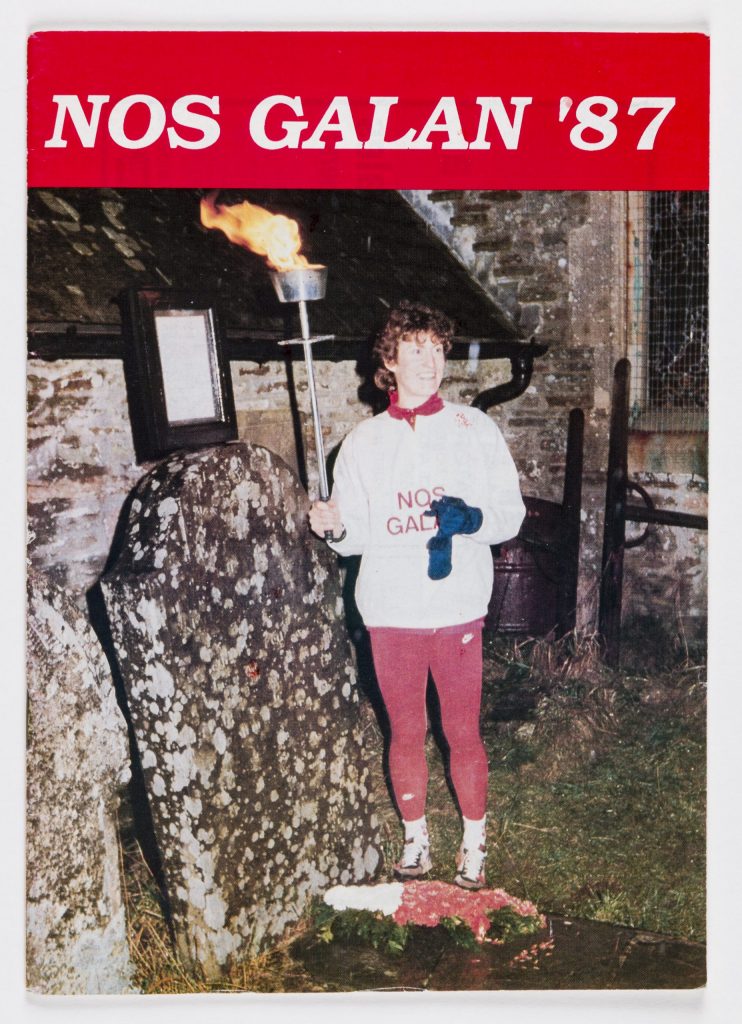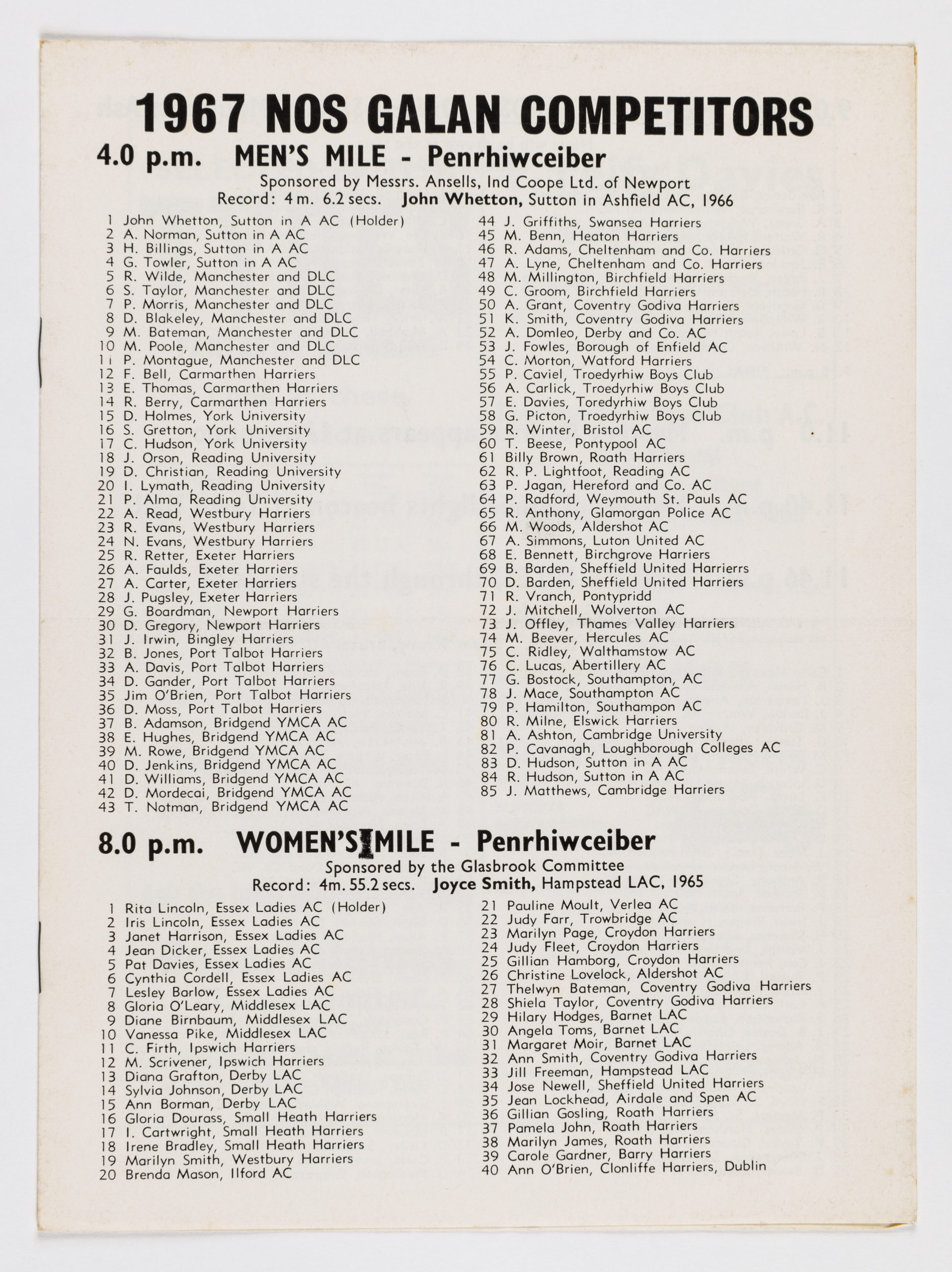 ACVMS 1998 2756_001; Page from 1967 Programme. Mile Race sponsored by a brewery.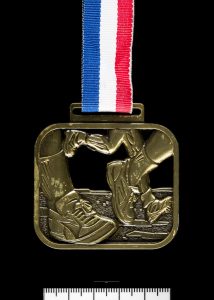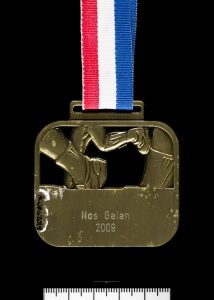 ACVMS 2018.64.5_001/2; 2009 Runner's medal.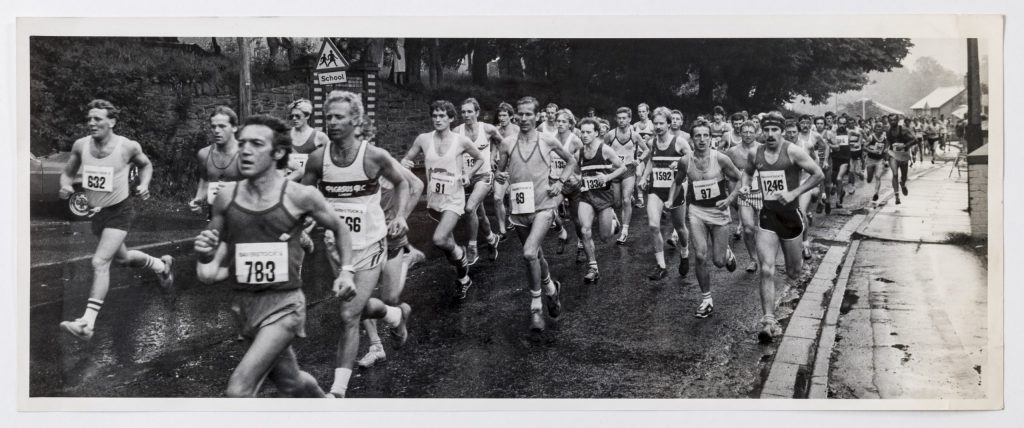 ACVMS 2009.454_001; The field displaying Baverstock logos on their number tags. The sponsors, Baverstock, were a hotel and restaurant at Dyllas, Llwydcoed.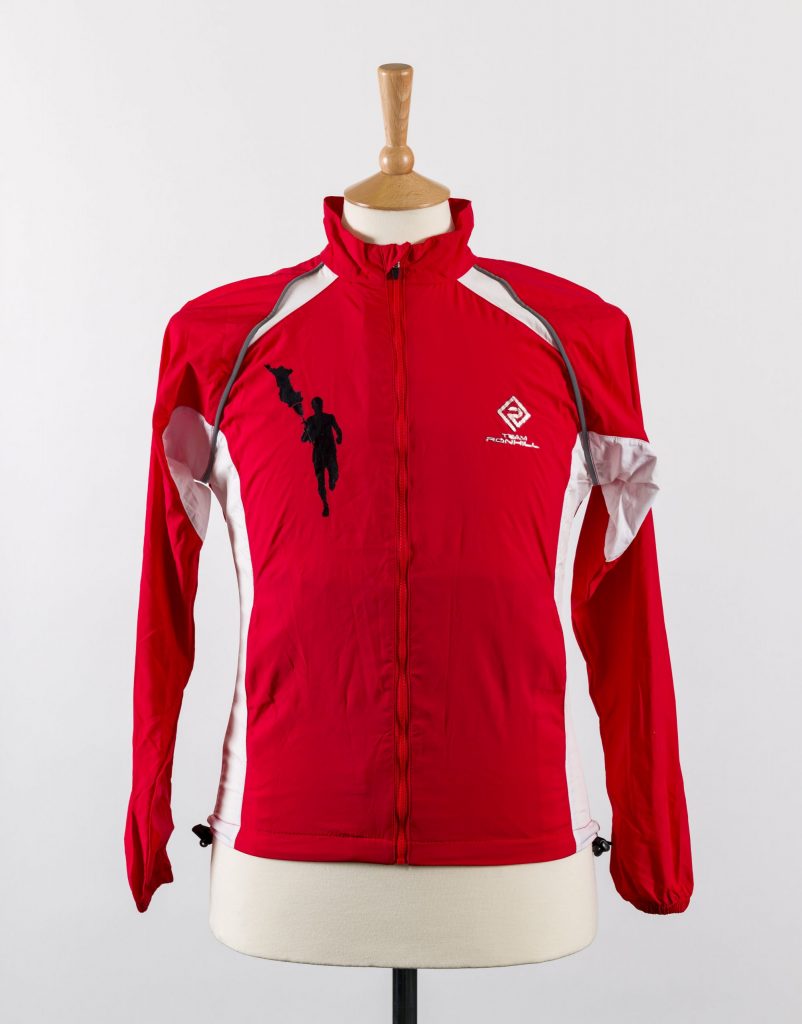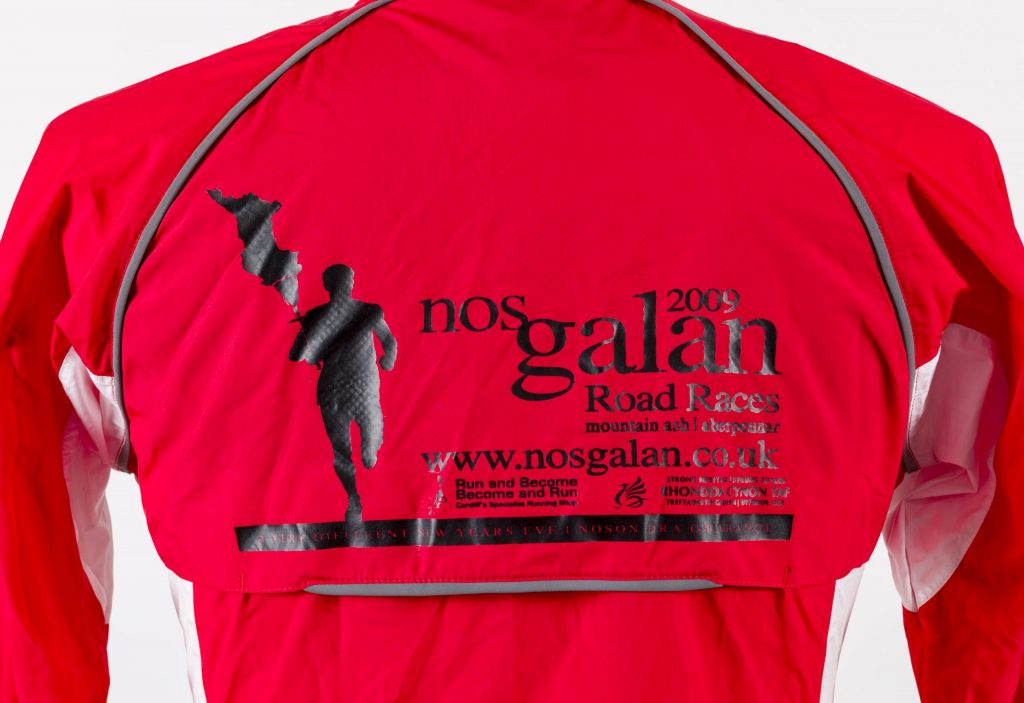 ACVMS 2018.60_001/4; Nos Galan sweatshirt dated 2009. The flame of the torch is a stylised map. The shirt is emblazoned Run and Become, Become and Run. It was sponsored by the Cardiff Sports Clinic. Run and Become.
ACVMS 2018.61.1_001/2; The 50th Anniversary of the run took place in 2008. The collection holds a new shirt, with a commemorative logo, that marked this special occasion.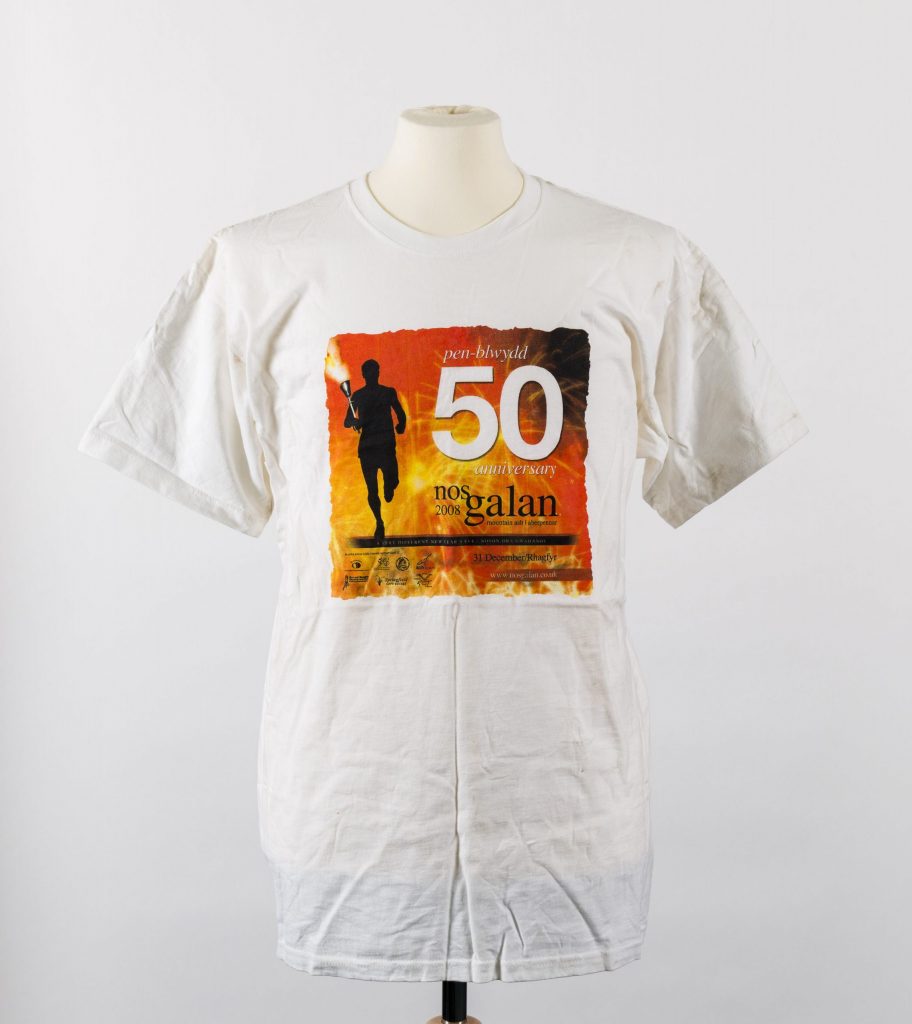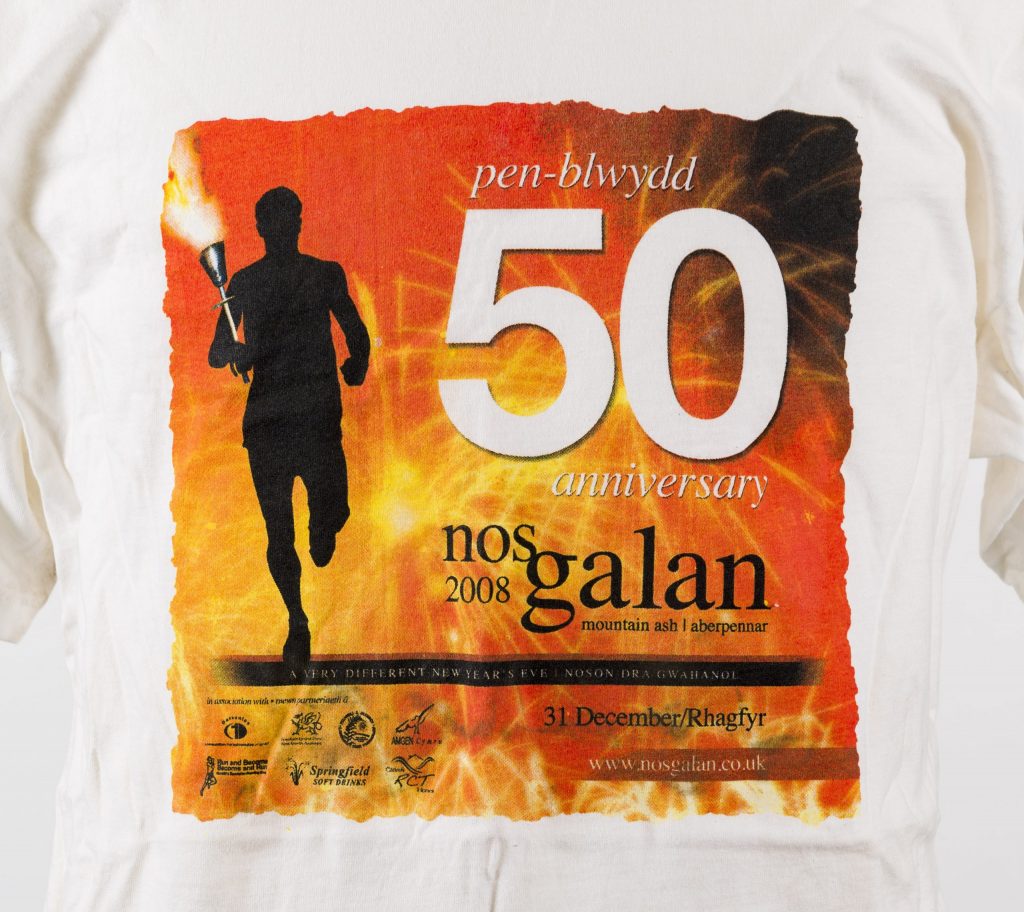 Blog post written by volunteer, Geoffrey Evans, December 2020.
This blog has been possible thanks to funding from National Lottery Heritage Fund.
FURTHER READING:
Nos Galan 'A Day in the Life' – Click on this link to visit the online exhibition
The Life of Bernard Baldwin PART 1 – Click on this link to visit the blog
The Life of Bernard Baldwin PART 2 – Click on this link to visit the blog