Our museum would not be here with you. Getting involved with the Cynon Valley Museum means you can directly help ensure the museum is here for for you and for the people of the Cynon Valley. Join our volunteer team today.
From the day to day running of the museum, to helping with school visits and designing and installing exhibits, there is a lot to get stuck into as a volunteer at Cynon Valley Museum. Join our team of volunteers today and help shape the future of the  Museum, download your volunteer application here!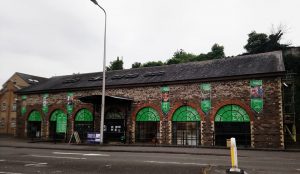 Volunteering opportunities
We are always looking for new people to join our volunteer team and have a wide range of opportunities for you to get involved in.
Front of House Volunteer
The role of the Front of House Volunteer is to support the museum's front of house activities with oversight by the Museum Assistant and reporting to the Museum Co-ordinator. Front of House Volunteers welcome visitors to the museum, complete operational tasks associated with the opening of the museum to the public and contribute to the smooth and safe running of the museum in line with all current risk assessments, and safety guidance.
Tasks
Meeting and greeting visitors and ensuring high quality customer service.
Answer Museum Telephone
Operation of Museum Shop, operating till system, promoting and upselling products and restocking stock.
Performance of stock checks and taking deliveries from suppliers.
Ensure visitors are provided with all relevant Covid-19 information ensuring all visitors are signed into NHS Track Trace Protect and/or sign into Museums Tracking system.
Support Museum Staff to open and close the museum
Carry out regular cleaning of the museum and ensuring museum looks well presented to the public
Carry out regular patrols of the museum
Help prepare rooms for room hires
Hours:
We are currently looking to recruit Front of House volunteers for Thursdays & Fridays
Collection Volunteer
The Cynon Valley Museum working together with RCTCBC Heritage Service has created the role of Collection Volunteer to help ensure the continued development and management of the collection held at Cynon Valley Museum. The role will include collection management, preventive conservation and display objects in public exhibition spaces at the museum.
Volunteer Tasks
Pest Management
Object Handling
Preparing objects for long-term storage
Auditing the collection and archive,
Assist with accurate recording and updating information on the Collection Management System
Assisting with condition audits
Displaying and creating exhibition displays in public galleries at Cynon Valley Museum
Digitising Museum Objects for use online and social media
Research objects to create object biography's for use in physical and digital engagement.