Yn dod yn fuan ar gyfer hanner tymor yr hydref hwn!
Thema Noson Tân Gwyllt
Dydd Sadwrn 4 Mis Tachwedd
11yb-1yh
Amgueddfa Cwm Cynon
Ar gyfer oedran 6-1.1. Mae angen cadw lle. Ffoniwch 01685 886729.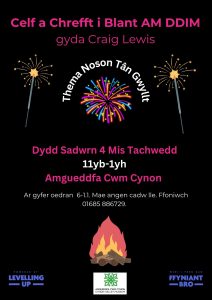 Coming soon for this autumn half-term!
Bonfire Night Theme – FREE Arts and Crafts
for children with Craig Lewis
Saturday 4th November
11am-1pm
Cynon Valley Museum
For ages 6-11. Please phone 01685 886729 to book your places.