'Perthynas Defnydd' Craig Lewis
Digwyddiad Agoriadol, Amgueddfa Cwm Cynon, Aberdâr, de Cymru.
Dydd Gwener 6 Hydref 6pm – 8pm
Croeso i Bawb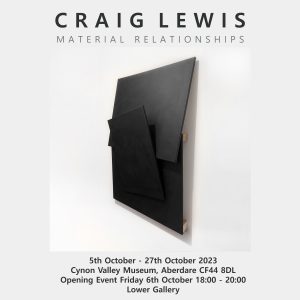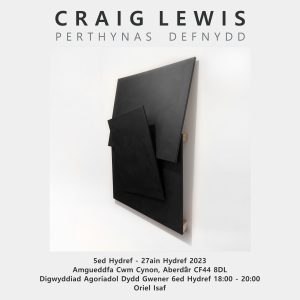 "Mae fy ngwaith celf yn archwilio'r perthnasedd strwythurol rhwng peintio a cherflunio, gan edrych ar sut mae cyfuniad o'r ddau yn gallu creu profiad gweledol diddorol ar gyfer y gwyliwr yn nhermau gofod, ffurf a phresenoldeb corfforol.
Trwy fabwysiadu egwyddorion minimaliaeth, mae'r arddangosfa hon yn ceisio archwillio'r rôl y mae peintio a cherflunio yn ei chwarae mewn cynrychioli gwrthrych a ffurf, tra'n herio'r canfyddiad traddodiadol o beintio fel dull cynrychioli darluniadol."
Craig Lewis, Arddangosfa 'Perthynas Defnydd'
5 Hydref – 27 Hydref
Amgueddfa Cwm Cynon
'Material Relationships'
Opening Event, Cynon Valley Museum, Aberdare
Friday 6th October 6pm – 8pm
All welcome
"My art practice examines the structural relationship between painting and sculpture, exploring how a synthesis of the two can create a visually interesting experience for the viewer in terms of space, form, and physical presence.
Adopting the principles of minimalism, this exhibition seeks to explore the role painting and sculpture play in the representation of object and form, whilst challenging the traditional perception of painting as a mode of pictorial representation."
Craig Lewis, "Material Relationships' Exhibition
5th October – 27th October
Cynon Valley Museum