Paul Robeson and Wales: A Proud Bond
Photo by Gordon Parks, Office of War Information, Public domain, via Wikimedia Commons
Introduction
'There is no place in the world I like more than Wales' – Paul Robeson, Western Mail. 24th February, 1949
For Black History Month this year, we revisit the powerful relationship between Paul Robeson and Wales. Next year will be the 125th birthday of the great, late Paul Robeson. Robeson was a hugely inspirational campaigner and multi-talented personality whose impact in challenging racism and social injustice is still felt now. Although Paul Robeson sadly died many decades ago in 1976, aged 77, the legacy he left endures, including his strong connection with Wales and the miners especially.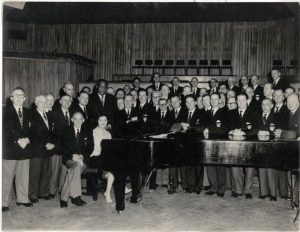 ACVMS 1996.325 Black and white photograph of Cwmbach Male Choir with Paul Robeson. Photographer Ron Bevan.
The article 'Paul Robeson and the Cwmbach Male Choir' (Paul Robeson and the Cwmbach Male Choir – Cynon Valley Museum Trust) explored how Robeson formed an enduring bond with Welsh mining communities following his first meeting with striking Rhondda miners in London in 1929. Famously, Robeson addressed the Welsh miners at the Porthcawl Eisteddfod in 1957 via a transatlantic telephone line when he was unable to perform in person because of a U.S. Government's travel ban imposed on him.
Then in 1958 Robeson was able to attend the Miners' Eisteddfod in Ebbw Vale in 1958, after winning back his freedom to travel following a successful campaign. Memorably, Robeson performed with the Cwmbach Male Choir at the 'Africa Freedom Day' event in the Royal Festival Hall in London on Easter Sunday 1960 (Cwmbach Male Choir, 2020).
This follow-up article will explore Paul Robeson's early life and delve into both some of his most significant, and also his lesser-known visits to Wales including; Robeson's visit to Caernarfon in 1934 and his solidarity and support in response to the terrible Gresford Colliery disaster near Wrexham, his participation in the International Brigades Memorial concert in Mountain Ash in 1938 and his visit to Tiger Bay in 1949.  It will consider the work of the Paul Robeson Wales Trust to honour these events through its exhibitions and the visits his son and granddaughter have made here.
Early Life
Paul Robeson was born in Princeton, New Jersey in 1898, the youngest of five children. Robeson's father had escaped slavery and transformed himself into a minister of religion (Sparrow, 2017); furthermore, Robeson senior was a strict role model who instilled a strong love of learning into his son (Swansea University, undated).
Exceptionally talented from a young age, Robeson faced the barrier of racial discrimination and adversity in a segregated, Jim Crow United States, yet his sheer talent, tenacity and determination ensured his light could never be dimmed (Swansea University, undated). For example, young Paul was a brilliant athlete and student, winning him a state scholarship to Rutgers College, New Jersey in 1915, but this was despite his bigoted high school principal who had attempted to interfere with the qualifying examination (Swansea University, undated).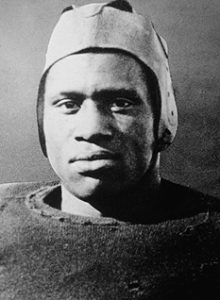 Paul Robeson as a young football player, circa 1919. Source – College Football Hall of Fame. Unknown author, Public domain, via Wikimedia Commons
This early experience of prejudice was decisive in making Paul determined to never be made to feel inferior, even when denied equality (Swansea University, undated). Indeed, Paul would go onto to achieve great success, often against the odds. After attending Rutgers, he graduated with honours and prizes from what was an almost all white institution (Sparrow, 2017).
Paul's impressive achievements included playing basketball professionally, excelling on the football field, becoming a celebrated and award-winning orator, achieving a law degree from Colombia University and winning fame as a successful black actor and singer who performed in twenty languages! (Sparrow, 2017). Paul Robeson achieved all this, yet he never stopped campaigning for the oppressed, including championing the struggles of the Welsh miners following his first fateful meeting with them in London in 1929.
Caernarfon and Wrexham 1934 and the Gresford Colliery Disaster
As a popular singer and entertainer, Paul Robeson performed in Wales several times in the 1930s and 40s. In 1934 he was performing in Caernarfon when news arrived of the disaster in the Gresford Colliery near Wrexham (Sparrow, J, 2016). This terrible event killed 266 miners with a fire as they'd worked underground; most of the men's bodies were never brought to the surface for burial as a result (Sparrow, J, 2016). Robeson immediately offered his fees for the concert to the fund established for the orphans and the children of the dead (Sparrow, J, 2016). This act of generosity and solidarity was a characteristic response of Robeson who gave several concerts and donated his fees to a range of working class causes throughout the 1930s (Affable Curmudgeon, 2016). Indeed, in the same year Robeson performed in Wrexham for the St John's Ambulance in the Majestic Cinema (Sparrow, J, 2016).
50th Anniversary Celebrations of Robeson's 'Secret Speech' to the Miner's Eisteddfodd in 2007
Decades later in 2007, to celebrate the 50th anniversary of Robeson's 'secret speech' to the Miners' Eisteddfodd in Porthcawl, several events were organised in Wales, including celebrations within Porthcawl itself (BBC, 2007). To honour Robeson's visit to Wrexham in 1934, his son, Pauli Robeson Junior, visited NEWI College in Wrexham to address an audience and the college held a special screening of his father's 1940 film, The Proud Valley. This classic film set in Wales was apparently the actor's favourite production because he had depicted a heroic black man and thus a positive role model for black audiences (BBC, 2007). It was filmed in the Valleys in 1940 (Swansea University, undated).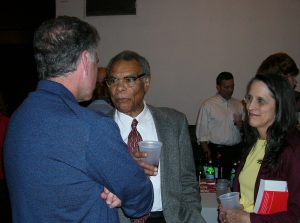 "Paul Robeson, Jr." by Marjorie Lipan is licensed under CC BY-NC-SA 2.0. To view a copy of this license, visit https://creativecommons.org/licenses/by-nc-sa/2.0/?ref=openverse.
The 80th Anniversary of Paul Robeson, The International Brigades and Mountain Ash, Pavilion 1938
Another significant Robeson related anniversary occurred in 2018, the 80th anniversary of his visit to Mountain Ash when he performed at a special concert held in the Mountain Ash Pavilion. The concert paid tribute to the 33 Welsh men who had joined the International Brigade (formed to resist the threat of Franco's fascist forces in Spain) and had died whilst fighting fascists there during the Spanish Civil War which took place between 1936-1939 (BBC, 2018). The concert also welcomed home a returning contingent (BBC, 2018). Men from the Cynon Valley had volunteered to go to fight in Spain, including Edwin Greening from Aberdare who wrote an account of his experiences called 'From Aberdare to Albacete' (Greening, 2006).
Incredibly, an estimated 7000 people attended the memorial event in a small town like Mountain Ash (Thomas, K, 2018). The struggle to resist fascism in Spain was an issue close to Robeson's heart and he had personally visited the International Brigade in Spain in the 1930s (Thomas, K, 2018). According to historian and former M.P. Hywel Francis, the concert was emotionally charged and deeply symbolic of the cause of internationalism, undoubtedly amplified by the presence of the great African American activist and singer (Francis, H, 2003). Robeson was introduced on stage by Arthur Honer, the leader of the Communist Party of Great Britain who remarked;
'In South Wales we have always lived for freedom and are determined to fight for it' (Thomas, K, 2018).
Establishment of the Paul Robeson Wales Trust in 1999 and subsequent exhibitions
The shared values of Robeson and the miners of South Wales are indisputable and the memory of this visit and others like it by Robeson proved powerful enough for local historians and community members to establish the Paul Robeson Wales Trust in 1999 to create an exhibition about Robeson and promote public awareness of his bond with Wales – it went on display in 2001 (Francis, H, 2003).
In 2018 a Paul Robeson exhibition was put together by the Paul Robeson Wales Trust and the South Wales Miners Library to celebrate the 80th anniversary of the Mountain Ash concert entitled 'Let Paul Robeson Sing' featuring performances by the Cwmbach Male Choir (who had sang with Robeson in the early 1960s – please see above) and the folk singer Martin Jones; the exhibition was displayed in the Mountain Ash Working Men's Club (because unfortunately the Pavilion had been demolished) and then in Cynon Valley Museum (BBC, 2018).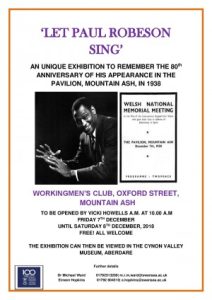 'Let Paul Robeson Sing' exhibition poster commemorating the 80th anniversary of Paul Robeson's appearance in The Pavillion in Mountain Ash in 1938 and used by Cynon Valley Museum to promote the exhibition in 2018. The exhibition was produced by The Paul Robeson Trust & South Wales Miners Library.
A note about Paul Robeson's visit to Tiger Bay in 1949
As well as his links with the South Wales Valleys and Wrexham, Paul Robeson also had a Cardiff connection. In early 1949 Robeson visited Tiger Bay, Cardiff to visit his uncle-in-law, Aaron Mansell, formerly of Baltimore, a communist and son of a former runaway slave; it was one of Paul's less well-known visits to South Wales (Swansea University, undated).
In Jeff Sparrows' brilliant biography of Robeson 'NO Way But This', Lesley Clarke, a key organiser of the Welsh Paul Robeson exhibitions in the National Museum of Wales, Cardiff in 2001 and in Pontypridd in 2015, recounts how as a child she had heard that Robeson was going to visit Loudoun Square in Tiger Bay and the excitement this generated locally (Sparrow, 2017). Such was the regard in which Robeson was held, a crowd quickly gathered outside Mansell's house, many of whom were Somalis; furthermore, some of them might have formers extras in Robeson's 1934 film 'Sanders of the River' – the production had recruited locals as extras for the film (Swansea University, undated). Indeed, Lesley Clarke herself auditioned for the part of the child of Robeson's character in 'Sanders of the River over a decade previously (Sparrow, 2017).
Conclusion
An iconic black role model, Paul Robeson's powerful stand for social justice, working class solidarity, anti-racism and internationalism continues to inspire decades after his passing and has led to community activists such as Lesley Clarke, historians, curators, writers, and educators to make great efforts to preserve his memory and bring his ideas, struggles and achievements to the attention of the contemporary public.
In Wales we have seen exhibitions organised in his honour in 2001, 2015 and 2018 and more recently in the Rhondda Heritage Park; exhibitions which celebrate his powerful bond with the mining communities of Wales and their common shared struggle for equality and justice. The work of the Paul Robeson Wales Trust has been vital in championing Paul Robeson's legacy in Wales and the research of Swansea University, and the Australian journalist Geoff Sparrow have also been invaluable in popularising this great figure. If you haven't already heard Robeson's wonderful voice, please go and seek out his recordings – I promise that his beautiful, sonorous voice will captivate and arrest you. Paul Robeson's life is rich in lessons for the struggle for justice and equality today.
Sarah Mayo
Cynon Valley Museum Assistant
References:
 Book:
Sparrow, J. (2017). No Way But This. London: Scribe Publications.
Newspaper Articles – Online/electronic:
Marsh, G., (2007). Legend's visit is 'still talked about to this day'. Wales Online. 11th October. Updated: 29 MAR 2013, 21:58. [date viewed] september 21st 2022.
Available from: Legend's visit is 'still talked about to this day' – Wales Online
Websites:
Prifysgol Abertawe – Swansea University., (undated). www.collections.swansea.ac.uk./s/paul-robeson-wales {20th September 2022]. Available from: Paul Robeson and Wales · Introduction · Swansea University Digital Collections
St David's Uniting Church., (2015). St David's Uniting. {15th September 2022}. Available from: Visit by Australian Journalist Jeff Sparrow | St David's Uniting (stdavidsuniting.org.uk)
Francis, H., (2003). www.hywelfrancis.co.uk [16th September 2022]. Available from: Paul Robeson His Legacy for Wales 2003 (hywelfrancis.co.uk)
Prior, N., (2018). BBC website [10th September 2022]. Available from: Exhibition marks Mountain Ash Paul Robeson concert – BBC News
Thomas, K., (2018). Swansea University website [12th September 2022]. Available from: Community to host exhibition marking 80th anniversary of Paul Robeson concert (swansea.ac.uk)
BBC Wales., (2007). BBC News website [01 September 2022]. Available from: BBC NEWS | Wales | North East Wales | Robeson secret speech anniversary
Blog:
Affable Curmudgeon., (2017). Paul Robeson and the Welsh Miners [online]. 7th December 2017. [Date Viewed: 23/09/2022]. Available from: PAUL ROBESON AND THE WELSH MINERS   | Affable Curmudgeon (wordpress.com)