On Friday 18th March, hundreds of people gathered to witness the unveiling the statue of Elaine Morgan OBE outside the Tŷ Calon Lân Medical Centre, Mountain Ash.
Elaine Morgan (1920 – 2013) was a pioneering writer and evolutionary theorist. This statue is the second non-fiction woman to be honoured this way in Wales, after Betty Campbell Wales' first Black female headteacher.
The statue was made possible due of the 'Hidden Heroines' campaign created by  'Monumental Welsh Women.' This not-for-profit organisation highlight and recognise the contribution of women to the history and life of Wales. Their mission is to erect five statues honouring five Welsh women across Wales with the hopes to normalise female ambition, success and achievement. The five women are: Betty Campbell, Elaine Morgan, Lady Rhondda, Sarah Jane Rees and Elizabeth Andrews. You can find out more about the group on their website:
At the opening event, we heard from many speakers.
BBC Wales' Felicity Evans described the prolific life of Elaine Morgan: 'Elaine had roots as well as wings.'  Her roots in Mountain Ash made it possible for her incredible success around the world. She described the statue as allowing current and future generations to have 'visible proof of the achievements of women that went before them.'
Jane Hutt, MS Minister for Social Justice echoed the sentiment of the Monumental Welsh Women campaign 'In Wales, we fight for women's visibility and equality.'
Emma Rodgers, the sculptor, described the process of making the bronze piece. Her aim was to make the sculpture 'a voyage of discovery' by combining all aspects, the art and science, of Elaine's illustrious career.
We also heard about Elaine and her life from Councillor Andrew Morgan, as well as friends and family, Gareth Morgan (son) and Tam (granddaughter).
The statue is a small reminder of the large contributions Welsh women have made to Welsh life and history.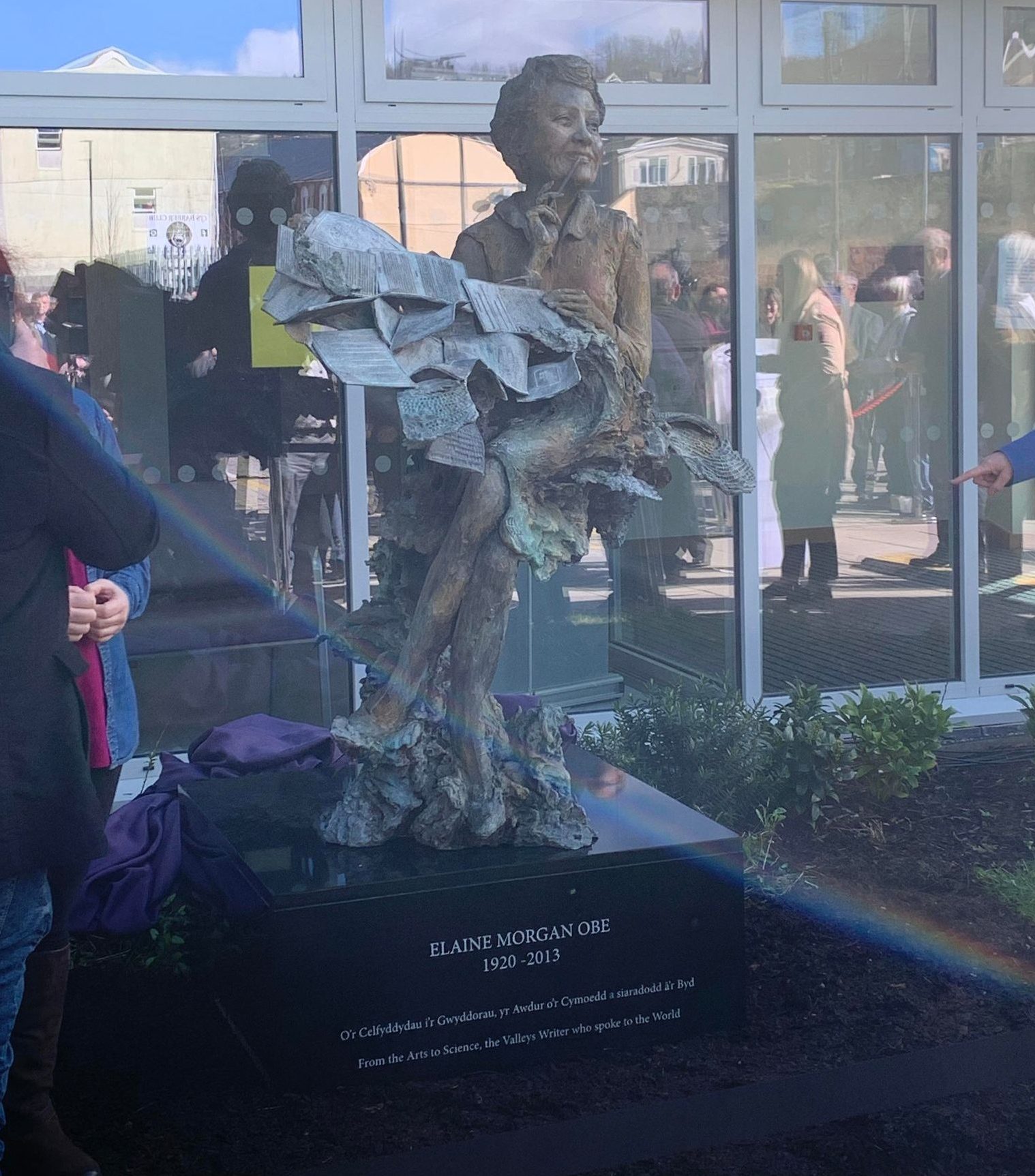 Elaine Morgan (1920 – 2013)
Who would you include in a list of the 50 greatest Welsh people of all time?
One Cynon Valley figure who made it in a Wales Online survey in 2016 was the author and anthropologist Elaine Morgan. She was born in Pontypridd, graduated in English at Oxford, but spent most of her later life as a resident of Mountain Ash. Elaine began her writing career after winning a competition in the New Statesman and subsequently joining the staff of the BBC drama department. Her success was marked by winning 2 BAFTA and 2 Writers' Guild awards, as well as the Prix Italia (1975) and the Writer of the Year Award (1979). In 2011 Elaine was also recognised as Columnist of the Year for her weekly column in the Western Mail. Her most controversial (some would say impressive) work ventured into the field of evolutionary anthropology, and in particular, the aquatic ape hypothesis. Elaine was married to Morien, a native of Ynysybwl and a member of the International Brigade, which fought on the side of the Spanish Republic, 1936-39. They had 3 sons, Dylan (deceased), Gareth and Huw, all of whom attended Ysgol Gynradd Gymraeg, Aberdâr.
Cerflun Elaine Morgan
Ar Ddydd Gwener, 18fed Mawrth ymgasglodd cannodd o bobl tu allan i Ganolfan Iechyd Tŷ Calon Lân, Aberpennar ar gyfer dadoruchio cerflun o Elaine Morgan OBE.
Roedd Elaine Morgan (1920-2013) yn llenor o fri ac yn anthropolegydd blaengar. Ei cherflun yw`r ail mewn cyfres er anrhydedd rhai o wragedd nodedig Cyrmu – yn dilyn hwnnw a ddad-orchuddiwyd o Betty Campbell, prifathrawes ddu gyntaf ein gwlad.
'Monumental Welsh Women' yw`r mudiad sy wedi bod ar flaen y gad wrth geisio cydnabod cyfraniad y 'Cewresi Cudd' yma i fywyd cyhoeddus Cymru. Mudiad nid-er-elw yw hwn, a`r bwrdiad yw codi pump cerflun tebyg, ar hyd a lled Cymru, er mwyn rhoi bri ar uchelgais, llwyddiant a champ gwragedd. Y pump gwraig a anrhydeddir felly yw Betty Campbell, Elaine Morgan, y Fonesig Rhondda (Margaret Haig Thomas), Sarah Jane Rees ('Cranogwen') ac Elizabeth Andrews. Ceir gwybodaeth bellach amdanynt ar wefan y mudiad.
Clwywsom gan nifer o siaradwyr yn Aberpennar, fore`r dad-orchuddiad, gan gynnwys,
Felicity Evans, o BBC Cymru, a soniodd am wreiddiau Elaine yn y dre fel sail i`w llwyddiant ysgubol rhyngwladol. 'Ei gwreiddiau', meddai, 'roddodd iddi adenydd'. Byddai`r cerflun, felly, yn ysbrydoliaeth i genhedlaethau i ddod.
Ategodd Jane Hutt, ASC, y Gweinidog dros Gyfiawnder Cymdeithasol, amcanion ymgyrch y 'Monumental Welsh Women'. 'Yng Nghymru', meddai, 'hyrwyddwn hyweledd a chydraddoldeb gwragedd.'
Y cerflunydd ei hunan, Emma Rodgers, soniodd am yr hyn a`i symbylodd wrth greu`r cerflun pres. Eisiau cyfleu`r syniad am 'daith darganfod' oedd arni, gan gyfuno gwahanol agweddau o yrfa lewyrchus Elaine – y gelfyddydd a`r gwyddoniaeth.
Clywsom ragor am fywyd a gwaith Elaine gan y Cynghorydd Andrew Morgan, a gan aelodau`r teulu, Gareth, ei mab (cyn-ddisgybl Ysgol Gymraeg Aberdâr), sy`n byw bellach yng Ngwlad Groeg, a gan ei hwyres, Tam, merch Gareth.
Ernes yw`r cerflun o gyfraniad mawr gwragedd Cymru i fywyd a hanes ein gwlad.
Biography and translation by Hywel Davies.