Happy LGBTQ+ History Month!
Cynon Valley Museum, in partnership with the Rhondda Cynon Taf County Borough Council Community Cohesion Team, is delighted to be hosting an LGBTQ+ History Month event on Saturday 26th February, 10:30am – 2pm.
There will be activities across the museum. In our Parry room we will be hosting talks:
Rania Vamvaka (she/her), of Glitter Cymru, a Cardiff-based community of ethnic minority LGBTQ+ People, will be giving a talk about  LGBTQ+ colonialist history and its impact on modern-day UK immigration policy. Please note: the contents of this talk may be triggering to some.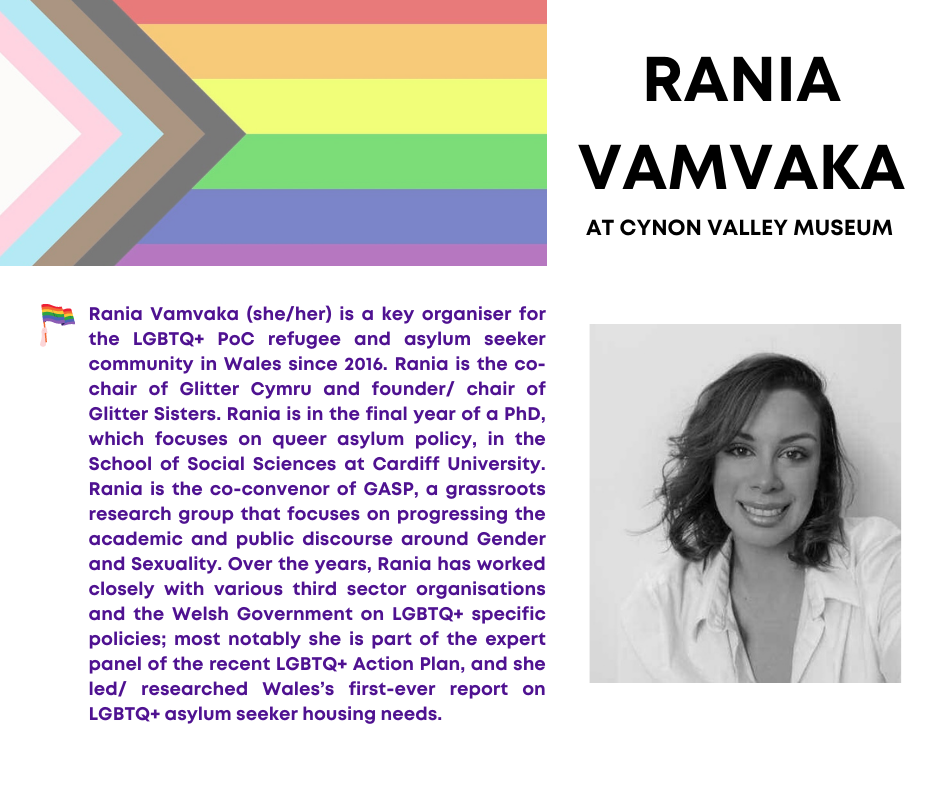 Dr. Alessandro Ceccarelli (he/him) will be talking about 'Queering Archaeology' the intersections of LGBTQ+ history and archaeology, as well as his involvement as a volunteer for Fast Track Cardiff and Vale. The Fast Track Cities initiative (FTC) is a global partnership whose core partners include the International Association of Providers of AIDS Care (IAPAC) and the Joint UN Programme on HIV/AIDS (UNAIDS).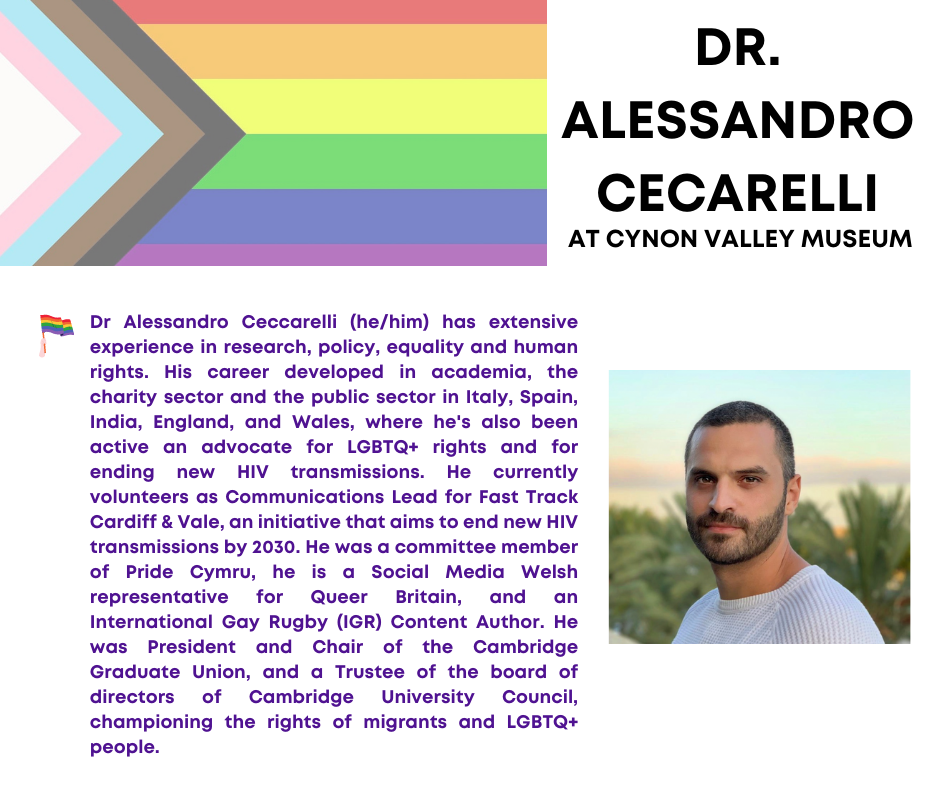 We will also be joined by a local school LGBTQ+ Forum, which will take part in a dance workshop.

led by a theatre company from South Wales valleys, Avant Cymru.
Book your ticket
Due to our Covid-19 guidance and social distancing, the talks in the Parry room will available to invited guests and members of the public who book a ticket. The tickets available will be very limited. To book your ticket, please follow this link: https://www.eventbrite.co.uk/e/lgbtq-history-month-event-tickets-265040692847
Other Activities
On the same day of the event, on the ground floor of the museum stalls set up by RCT CBC Community Cohesion and FFLAG available to the public.such as products on sale by The Queer Emporium, a shop in Cardiff dedicated to showcasing LGBTQ+ vendors, as well as
Additionally, between 15th – 26th February, a temporary exhibition will be on display at the museum 'Icons and Allies: An Exhibition of Welsh LGBTQ+ Role Models' by Pride Cymru. The exhibition features 20 inspirational people from the Welsh past, who contributed significantly to the history and visibility of the LGBTQ+ community. The activities on the ground floor will not require a ticket.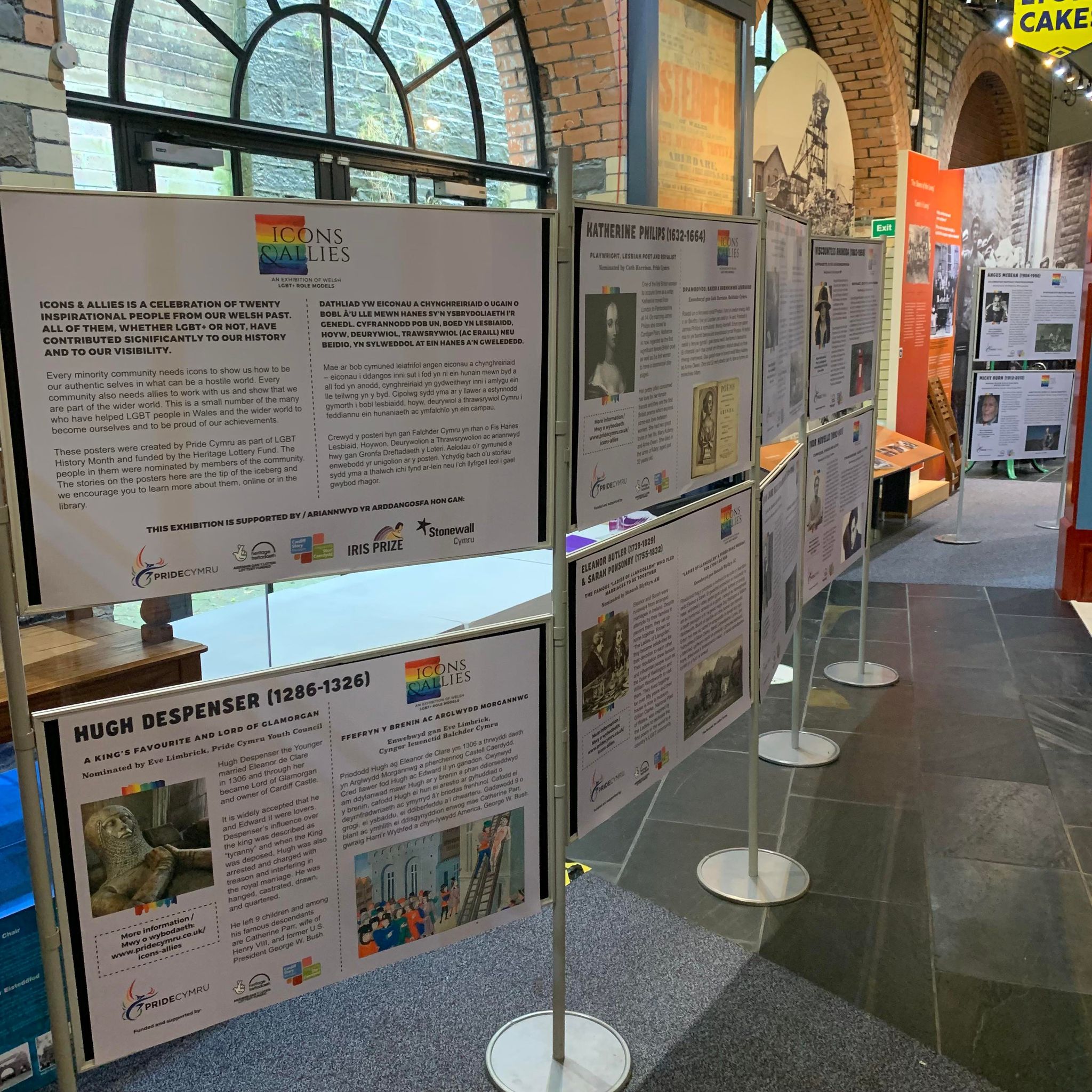 Cynon Valley Museum is committed to creating a space of support, sharing, and learning. The Chair of the Board of Trustees, Richard Jones, states:
"At Cynon Valley Museum we pride ourselves on being an open, welcoming, and safe place for everyone in the community.  To that effect, I am proud to announce that the Cynon Valley Museum is a safe space for members of the LGBTQ+ Community.  Trustees, Staff, and Volunteers welcome members of the LGBTQ+ Community to come to the museum and feel safe, free from any form of abuse and harassment."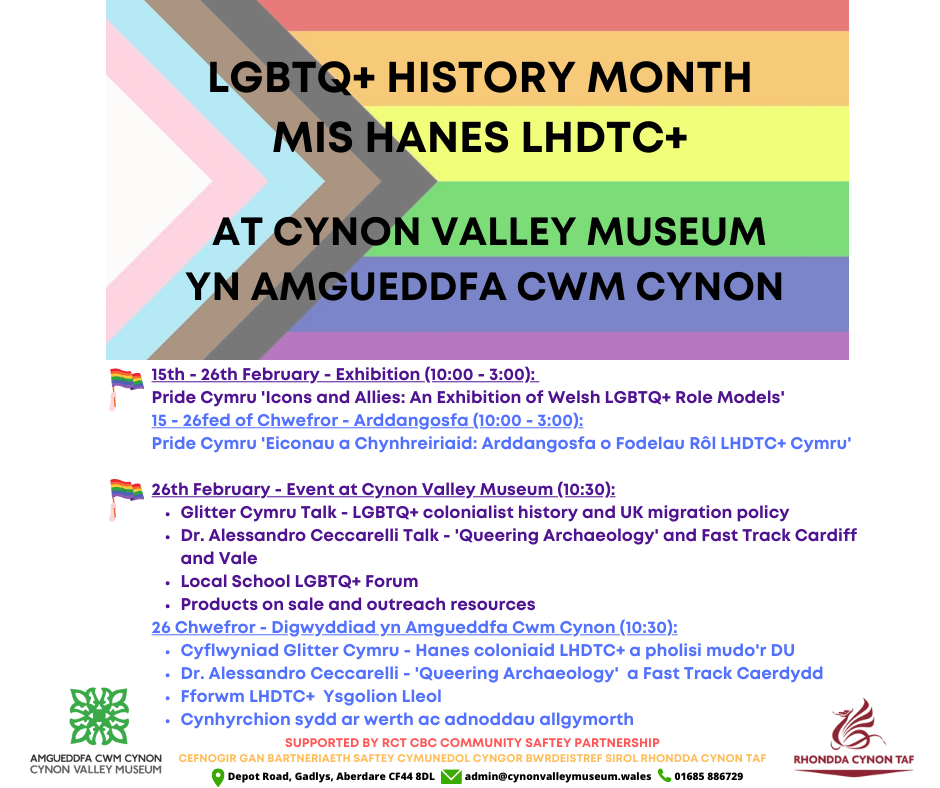 If you have any questions or queries, please contact the museum by phone or email – 01685 886729 / admin@cynonvalleymuseum.wales