The Museum collection displays boxing gloves, robe, tickets and memorabilia relating to Abercynon born boxing legend Dai Dower M.B.E, tangible objects tunnelling you back to a seemingly black and white 1950s past where televisions were rare, and the radio was the main source of sports entertainment for most people at home.
Dai Dower was the Valleys' fighter who won the British Flyweight title 1955-57, the British Empire Title 1954-57 and the European title in 1955 (Rhyfelwyr Cymraeg / Welsh Warriors, undated).  He won an impressive 34 of his 37 professional fights, nearly undefeatable – although not quite (BBC Sport, 2016). He fought, but sadly lost, in a world title challenge against the formidable Pascual Perez in 1957 and achieved all this by the time he was 25 in five action-packed years (Rhyfelwyr Cymraeg / Welsh Warriors). A collier, he become an icon and a legend of his time and remains fondly remembered by his peers, supporters and his childhood community following his death in 2016 aged 83 (Tegeltija, 2016).
Early Dedication
David William "Dai" Dower was born on June 20, 1933, in Abercynon, South Wales (History's Greatest, undated). According to sports historian Gareth Jones, Dai was taught to box by his father from the age of four in his childhood home of Herbert Street, Abercynon (Jones, 2011).  He was trained by Billy Mannings from the age of 11 at the Roath Youth Club in Cardiff and was so determined to overcome his small size he got round the rule that there should be no more than five pounds between opponents by wearing specially made lead-lined slippers at weigh-ins (Jones, 2011)! Unfortunately, as Dai matured, he barely gained weight and rather drastically he was sent to his Uncle Charlie, a Bournemouth hotel chef to help him gain some pounds (Jones, 2011)! Mission accomplished, young Dai would go onto great success as an adolescent amateur (Jones, 2011).
A rising star
As an amateur boxer of remarkable skill and grace Dai Dower became prominent in the 1952 ABA championship in 1952 (Jones, 2011) and represented Great Britain at the 1952 Summer Squad, winning two bouts against Abdelamid Boutefnouchet of France (3–0) and Leslie Donovan Perera Handunge of  Sri Lanka, then known as Ceylon (3–0) (Wikipedia, undated). However, Dower then lost to Soviet boxer Anatoli Bulakov, the holder of the Russian and European titles, 1–2 (Wikipedia, undated). According to Gareth Jones, some considered this defeat 'a dubious majority decision' (Jones, 2011).
Turning Pro
Such was this valley's lad's ascent that he would soon become a professional boxer (Tegeltija, 2016). Dower was triumphant in his professional debut at Maindy Arena in Cardiff against Vernon John, winning by a technical knockout (History Greatest, undated). Nat Seller, a former PTI in the RAF with a reputation for training champions such as Harry Mizler, Eric Boon and Freddie Mills became Dai's trainer, a key event in his ongoing success (Jones, 2011).
British Flyweight Championship Win, October 19th 1954
It would be in October 1954 that Dower was adjudged ready to fight in his first title, the British Empire Flyweight Title against the then reigning champion, Jake Tuli from South Africa (Jones, 2011). In our collection, we have a copy of the 'British Empire Flyweight Championship' fight programme between Dai Dower and Jake Tuli on October 19th, 1954, a remarkable piece of sporting history.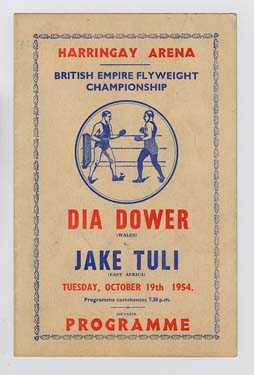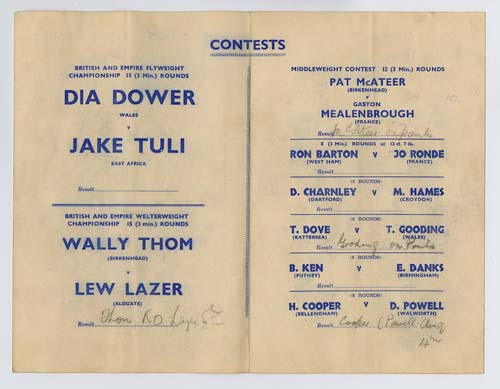 The preparations for this historic fight were meticulous (Jones, 2011). Seller subjected Dower to a gruelling training regime which involved running five miles over the hills of the home before he even went into the ring (Jones, 2011). Once judged fit enough, he sparred with Pat McCoy, significantly Tuli's former companion; on the night itself, Dower was perfectly placed to defeat the champion who had recently suffered a bad defeat and take the title as his own (Jones, 2011). On his return home to Abercynon the next day, Dower was given a hero's welcome by the thousands of locals who came to greet him (Jones, 2011). He was still working as a collier and a hero in their eyes (Jones, 2011). That love and respect have endured to this day (Tegeltija, 2016).
A Remarkable Record
Impressively Dower went on to win all his fights from 1952 until his match against Young Martin in 1955 (Rhyfelwyr Cymraeg / Welsh Warriors).  Then in 1956, he won five out of five matches, returning to his clear winning streak (History's Greatest). However, his career was disrupted when later that year he withdrew from the ring to join the army and complete two years of National Service (History's Greatest, undated).
A Contender for the World Title
Dower would only box again when given the opportunity to fight in the world championship in Buenos Aires in 1957 against the Argentinian Pérez (Jones, 2011). Unfortunately, Dower wasn't anywhere as near as fit and lean as before due to army life, and in the heat of an unfamiliar continent, against a formidable opponent, his challenge was herculean (Jones, 2011). Alas, the Cynon hero didn't stand much chance and it was over in two minutes, 48 seconds, ending the first world title bid by a Briton in South America and signalling the end of his own boxing career ultimately (Jones, 2011).
Post-boxing career
Nevertheless, what Dower accomplished remains impressive to this day and his boxing achievements opened doors for him; he would go on to play rugby for Bournemouth and became a P.E. teacher, first at a private school, and later at the Dorset Institute of Higher Education (Jones, 2011).
Enduring Recognition
Dai Dower set an example of what a talented athlete can achieve with opportunity, encouragement and drive and was made an OBE in 1998 (Tegeltija, 2016). In 2011 this former British champion was awarded a Lonsdale Belt, more than fifty years after winning the crown (BBC Sport, 2016). He was forced to give up his belt when he had been called up for national service all those years ago, so his friends at Bournemouth ex-Boxers' Association raised the money to buy him a replacement, indicating the high regard in which he was held (BBC Sport, 2016). Indeed, Dower is so well esteemed in his childhood village that there is an Abercynon street named after him – David Dower Close.
Only months before his passing in 2016, RCT Council voted to award Dai Dower with the prestigious Freedom of the County Borough – the highest accolade it can give someone – in recognition of his outstanding achievement (Tegeltija, 2016). Local dignitaries unveiled a blue plaque at his childhood home in Herbert Street, Abercynon in 2018 to honour his contribution to Abercynon life and the world of boxing (George and Lewis, 2018). A popular and respected folk hero to his family, friends, peers and the wider community, Dai Dower will always be a legend (George and Lewis, 2018).
References
Book:
Jones, G., (2011). The Boxers of Wales: Merthyr, Aberdare and Pontypridd. Cardiff: St David's Press.
Blogs:
George, E. & Lewis, R., (2018). Elaine and Rhys 4 Abercynon Ward [online]. 22 October 2018 [Viewed 14 December 2021]. Available from: David Dower M.B.E Blue Plaque Event – Saturday 3rd November – Abercynon Ward Labour Councillors (wordpress.com)
Unknown author. Undated. History's Greatest [online]. Undated. [Viewed 08 December 2021]. Available from: Dai Dower, Welsh flyweight boxer, Died at 83 | History's Greatest (historygreatest.com)
Web pages:
Unknown author / BBC., (2016). Dai Dower: Former British flyweight champion dies aged 83. BBC Sport. [12 December 2021]. Available from: Dai Dower: Former British flyweight champion dies aged 83 – BBC Sport
Tegeltija, S./ Wales Online., (2016). Tributes paid to one of Wales' most celebrated boxers Dai Dower MBE. Wales Online. [12 December 2021]. Available from: Tributes paid to one of Wales' most celebrated boxers Dai Dower MBE – Wales Online
Tegeltija, S./ Wales Online., (2016). Boxer Dai Dower posthumously awarded RCT's highest accolade on 'a special day for Abercynon'. Wales Online. [7 December 2021]. Available from: Boxing legend Dai Dower posthumously awarded RCT's highest accolade on 'a special day for Abercynon' – Wales Online
Tegeltija, S./ Wales Online., (2016). Former Welsh boxers pay tribute to Abercynon's Dai Dower at their annual meeting. Wales Online. [7 December 2021]. Available from: Former Welsh boxers pay tribute to Abercynon's Dai Dower at their annual meeting – Wales Online
Websites:
Unknown Author. (2021) Wikipedia. [09 December 2021}. Available from: Dai Dower – Wikipedia
Unknown Author. (Undated). Rhyfelwyr Cymraeg / Welsh Warriors. [01 December 2021]. Available from: Dai Dower – British, Empire and European flyweight champion. (johnnyowen.com)
Templeton, M., Ireland, R., O'Dell, D. & Daley, A. (Year unknown). Boxing History. [07 December 2021}. Available from: 80520-Dai-Dower-Abercynon.pdf (boxinghistory.org.uk)