Enter Poster Competition for Interfaith Week
Cynon Valley Museum has teamed up with RCT Council's Community Safety Partnership invites you to a celebrate Inter Faith week between Sunday the 14th and Sunday the 21st of November and take part in a poster competition culminating with 3rd, 2nd, and 1st prizes being awarded at Cynon Valley Museum in Aberdare on Saturday 20th November.
Cynon Valley Museum will be exhibiting Art work designed by local children showcasing young people's interpretation of faith and belief.  If you are between 10 and 18 and would like to enter the competition, please send your entry to Cynon Valley Museum by 11am Saturday 20th of November.
On the 20th November between 10am and 3pm Cynon Valley Museum will be celebrating Interfaith Week. Alongside the final of the poster competition, the Community Safety Partnership will highlight a variety of religions and beliefs whilst encouraging community cohesion and inclusion and there will also be a treasure hunt for the children with prizes for everyone! Admission to the museum is free.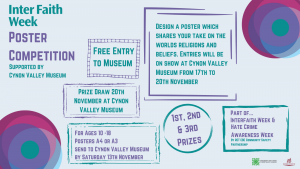 How to Take Part
To take part you must be between the ages of 10 and 18 and create a poster on either an A4 or A3 sized piece of paper and send or drop off at Cynon Valley Museum by 11am Saturday 20th November.