Cynon Valley Museum Welcomes Visit by National Lottery Heritage Fund
Cynon Valley Museum earlier in August were delighted to receive a visit from National Lottery Heritage Fund. It was an opportunity for the Museum Team to show how emergency covid-19 funding, funded by National Lottery players help ensure the museum was able to prepare and successfully reopen the museum to the public.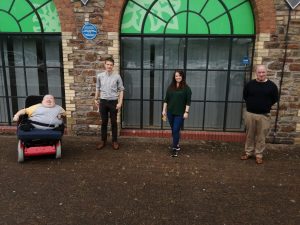 Funding from the National Lottery Heritage Fund, provided funding to upgrade the museums CCTV System, invest in PPE to open the museum safely to the public and funded a new staff member for 7 months to support the museums reopening. This grant has now been closed following its successful implementation.
Cynon Valley Museum is now open to the public 4 days a week, Wednesday to Saturday between 11am and 3pm. From September the museum is now able to take room and venue bookings in what is a major step to the museum fully reopening which it hopes to do later this autumn.
Cynon Valley Museum Trust would like to say thank you to the National Lottery Heritage Fund who were one of a number of funders who provided essential covid-19 emergency funding to the museum in response to the Covid-19 Pandemic. This funding was essential to the museum's weathering the impacts of the pandemic.