This blog post tells the story behind the Y Côr Mawr Commemorative Medal, belonging to the museum collection, and the connected story of the choir and its conductor, Caradog.
This fine silver commemorative medal was presented by Richard Fothergill of Abernant House, ironmaster and Member of Parliament for Aberdare and Merthyr Tydfil to each member of Y Côr Mawr following the choir's successful win at the Crystal Palace in 1873. Five hundred medals were struck, one for each choir member, and a singular gold piece for the choir's conductor, Caradog.  The medals cost £100 in total to manufacture, £11,000 in today's value.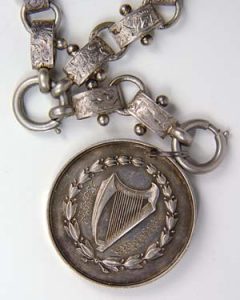 An example of a Y Côr Mawr Commemorative Medal from the Museum's collection – front (ACVMS:1996.206)
Caradog
We are all familiar with Caradog (Griffith Rhys Jones), if only through his statue that has dominated Victoria Square since 1920. Some years ago a New Zealand visitor to Aberdare remarked to me that all UK towns put up statues to bellicose soldiers or politicians, but Aberdare honoured a musician.
Born in Trecynon in 1834, Jones worked as a blacksmith at the Llwydcoed ironworks. A natural musician, he became a competent violin player and led and played in local orchestras before taking up choral work. He formed a competitive choir named, Côr Caradog (thus Jones' name became synonymous with that of the choir). He was later appointed conductor of the Aberdare United Choir which for many years won prize after prize at the eisteddfodau.
Competition
When a virtuoso mixed choir was created in South Wales in 1872 to compete at the Crystal Palace, London for a One Thousand Guineas Challenge Cup, Caradog was the obvious choice to train and lead it.
Members of the choir came from a wide area including Llanelli, Neath, Merthyr. Rhondda, Aberdare and Pontypridd. Aberdare, however, became the headquarters and its chairman, treasurer and secretary were all Aberdare men, and the largest number of singers (150) were from Aberdare.  Many rehearsals were held in the town including the final rehearsal for the second competition.
The competition was held on 4th July 1872 with the South Wales choir being the only entrant.
The following year a second competition was held, with Y Côr Mawr competing against Joseph Proudman's London Choir (Tonic Sol-Fa Association).
At the Second Competition the prize was won outright by Y Côr Mawr. Immediately, as the result was announced the Press Association telegraphed Aberdare from London stating, "The Welsh Choir has won the first prize. Mr Fothergill MP has announced his intention of striking a commemorative medal".
Celebration
The medals were presented to the choir members and officers, 500 in all, on the 2nd September 1873 at a garden party held at Abernant House to celebrate the coming of age of Richard Fothergill's heir, Richard Fothergill Jun.
Some 12,000 people paraded from the town to Abernant House for the celebrations, but only 2,000 ticket holders were allowed onto the lawns fronting the house. This area was decorated with flags and banners and prominent was a large, specially designed banner presented to the choir by the department store of Messrs. James Howells & Co of Cardiff. The prize trophies were also on display.
The choir assembled, in horse-shoe formation on the main lawn, and sang selections from the competition programme.
After the formalities there the choir marched off to the east wing of the mansion where Mrs Fothergill presented Caradog with the first medal, in his case gold, and various members of the Fothergill family distributed the silver medals to individual choristers who then proudly pinned them to their breasts.
Rustic sports, entertainments and fireworks were laid on at the Ynys field for those not allowed into the grounds of the house.
Wearing the medal became a matter of national pride and respect and accounts of Caradog's funeral in 1897 show that many of his choir members attended wearing theirs. In this photograph of a choir reunion held at Margam Castle in 1914 most sport their medals.
Notes
Abernant House was built on the site of Cynon Farm. The original Abernant House was built by James Birch and much enlarged by Richard Fothergill. It later became a Theological training college (St Michael's) for Anglican priests and later the Aberdare and District General Hospital. It was demolished a few years ago and the grounds are to be developed for private housing.
Because of administrative problems no further contests were held after 1873. The Gold Cup became a brass band competition trophy and is today festooned with band competition shields. It ended up with the LCC, and after a national campaign, it was returned to the National History Museum of Wales. It is on display at St Fagan's. In 1972 the cup was returned, on loan, to Aberdare Library for the choir's centenary celebrations.
This writer has seen six medals so far, but not one with a ribbon. If any reader has any information as to the existence of a ribbon, or its colours if there was one, the museum would be glad to hear from you.
Cynon Valley Museum has a number of examples of the medal. One, in particular, must have been greatly cherished as it has been engraved with the owner's name and attached to a fine silver link chain. It can be seen in the Music Case.
Geoffrey Evans, Cynon Valley Museum Volunteer, June 2020
Further reading:
For a detailed account of the medal presentations see Cardiff Times, 6th September, 1873, p6.
Gwilym Ambrose, The Aberdare Background to the South Wales Choral Union (Old Aberdare, Vol.10, 2008)
Trevor Herbert, Poplar Nationalism: Griffith Rhys Jones (Caradog) and the Welsh Choral Tradition. (Available online here)
Aberdare Times, 1872 and 1873, available to browse here.
You can read more about the gold challenge cup on the National Museum's website.
Thanks for reading!
We're working hard to bring online content to you during this period of uncertainty. You can see some of these on our Exhibition at Home page. If you'd like to support the Cynon Valley Museum during this time, please share this post with your friends and family. You may also like to make a donation! We're a registered charity and really appreciate your support, we are looking forward to welcoming everyone back to the museum as soon as possible.
Like this?
You might be interested in receiving Y Chwa/The Blast, a quarterly newsletter for the Friends of Cynon Valley Museum, which includes collection highlights, museum news, and similar articles to this. Click here to find out more about the Friends Group.