A Life
Victor Freed was a Russian Jew, who became a local businessman in Aberdare and built a shopping empire in South Wales. The 1901 Census shows that Victor Freed was born in 1883 in Russia to Solomon and Gertrude Freed. In 1901, the family were living in Aberdare, Solomon was a picture frame dealer whilst Gertrude was a furniture shop keeper. Interestingly, Victor's brother Nathan (aged 28) is detailed as the furniture shop manager, whilst Victor (aged 18) is recorded as a furniture canvasser. Victor also had a younger sister, named Jenny.
By the time he was 28, Victor Freed was married to Olga Freed, a German Jew, and together they had 6 children. Whilst the children were growing up, the family were known to live in the 'Bute Villa'. They also lived next door to another Jewish family, the Schwartzes, on Abernant Road, Aberdare. The entire family became involved in the Victor Freed business; the two daughters, Edna and Beatrice, worked as shop assistants at the radio department (1939 Census). His sons became involved in managerial aspects of the Jewish community in Aberdare, as Aubrey Freed was the last ever secretary of the Aberdare Synagogue and Reginald was the last Aberdare representative of the Board of Deputies.
Victor Freed died aged 83 in 1966. In his will he left £142,039 which is the equivalent of over £2,000,000 today.
The Business man

Freed's business was described as complete house furnisher's and musical instrument dealer's, specialists in high class pianos, radio, television and furniture. Trading began in 1904 at 57 & 59 Oxford Street, Mountain Ash, and soon expanded to Aberdare, Cardiff and other towns in South Wales. By the 1930s, Victor Freed shops also existed at 1, 58, 60 and 62 Cardiff Street and 7a Market Street, Aberdare. By the 1950s Victor Freed had expanded to 6-7 Duke Street, Cardiff. In the 1960s, Freed opened another store in the former Haggar's cinema building, nos. 5-6 Market Street, Aberdare. In 1970s Victor Freed also opened in Merthyr Tydfil.
Once his empire began to grow his shops were split into different departments: 1 Cardiff Street – pianoforte, furniture department; 60 Cardiff Street – television and electrical department; 59 Oxford Street, Mountain Ash – television department. Victor Freed pianos were a popular product; customers could choose between reputable brands such as Collard & Collard, Chappell and Brinsmead, at prices 25% below those found in the town. Freed's adverts also boasted being the supplier of instruments and/or furniture to schools and education committees throughout South Wales. Victor Freed was also known as a philanthropist, as he helped to furnish the 1960s council houses of Aberdare and allowed use of his products for local services and ceremonies. He also supplied Billy Thomas's Accordion Band with their drums and other instruments.
A Member of the JewisH Community and Aberdare Figure
Similarly, Victor Freed was a prominent member of the Jewish community in Aberdare. He was greatly involved in the Aberdare Synagogue since it first opened. In 1929, Victor Freed was the Chatan Torah in Aberdare Synagogue. He would have been called up for the first and last annual Torah reading cycle, to give a kiddush. This translates to a 'sanctification' of verbally declaring Shabbat (the day of rest), usually occurring once during prayers and again holding a cup of wine before the evening meal. The declaration includes reciting verses from the Torah regarding the holiness of Shabbat, blessing the wine and a blessing in which you thank God for the gift of Shabbat.
In 1941, he was elected as the President of the newly formed Aberdare Zionist Society. Also in 1941, he was elected as President of Aberdare Rotarian Club, after being a member for 8 years and in recognition of his public services in the valley. His son, Aubrey, also became President in 1968. Victor Freed was also a long-standing Aberdare Representative on the Board of Deputies (London).
In terms of supporting other Jews, he contributed to the United Appeal for Polish Jews (1935) and assisted with the plans for evacuating Jewish children from Cardiff, touring the hills and valleys on the outskirts of South Wales for suitable accommodation (1941). In 1949, Britain's smallest JPA (Joint Palestine Appeal) formed in Aberdare, consisting of no more than twelve families, and Victor Freed was elected Chairman and Edna Freed was elected as Honourable Secretary. Freed said that 'Aberdare, though a tiny community whose members are not wealthy, would strive to reach a target of £500 [1]. In December 1958, the Western Mail newspaper reported that leading members of the Jewish Community in Cardiff were helping to fund the wards of the new Penylan Home for the Aged Jews of Cardiff. It was announced that Mr Victor Freed was to donate an entire ward, complete with furnishings, in memory of his wife.
[1] Harold Pollins (Jewish Communities and Records), The Former Aberdare Synagogue and Jewish Community: Press Reports relating to the Aberdare Jewish Congregation, Wales, 1920 to 1968 (2016), <https://www.jewishgen.org/jcr-uk/Community/val2_aberdare/newspaper2.htm> [accessed 20 March 2020].
A Man of Chess
Victor Freed also had a very impressive chess career. He became South Wales chess champion and donated several trophies.  The Mountain Ash Chess Club existed between 1923 and 1936. Victor Freed played in several South Wales Chess Championships at Cardiff. In 1925 the event was played as a knock-out and Victor Freed was one of A. R. Marshall's conquests as he marched to the title.
In 1927 the press commentary on one of his games went:
'Sitting next to them were V. Freed, who, in non-combatant hours is a furnisher in Mountain Ash, and his opponent Mr. F. Jarvis of Porthcawl. Mr. Jarvis wore a charming blue tie and an inscrutable smile and essayed the demoralising effect of a nonchalant attitude.
Mr. Freed, with the advantage of a couple of stone more weight (Do these things count in chess as they do in boxing and racing?) remained unimpressed but I didn't; Mr. Jarvis made no fewer than two moves while I watched him.  I think he is a certain winner.
Freed finished with 4 out of 8 and in 5th place out of the nine competitors.'
The following year he tied for first place, beating Monty Harper, who like himself, played for Mountain Ash chess club, in the last round to draw level.  He beat the same opponent twice in the play-off to win the title.
After this he seems to have retired from actually playing competitively. However, he donated trophies to the Welsh Schools Association in 1955 for an annual jamboree Under 15 event, and to the North Cardiff club where he and his son served as President.
In 1927 the first Welsh International Correspondence chess match was held against Ireland and two family members, E. Freed and A. Freed, played on boards 38 and 39 respectively in a 50-board match.
VICTOR FREED AT CYNON VALLEY MUSEUM
The Cynon Valley Museum, holds a collection representing the history of the Cynon Valley. As part of wider project the JHASW have been researching the collection to identify what parts of it relate to Jewish cultural heritage. The following 9 objects have been found in the museum collection and relate to the life of Victor Freed.
Record sleeve with record.
A cardboard record sleeve which boldly reads 'Victor Freed, for everything musical'. The sleeve boasts pianos by leading makers, such as Collard & Collard, George Rogers, John Strohmenger etc. Also, a repairs service for all instruments and electricals is promoted, as well as 20-year warranty for all instruments purchased. The sleeve has a hallmark of quality symbol for 'His Master's Voice', the British record label created by The Gramophone Co. Ltd in 1901. Inside the sleeve is a 'Misere' record by Thea Philips and Francesco Vada, which was released in 1928. This record is a 78RPM which would have been played on one of the Grafonolas that Victor Freed Ltd advertised as their premium products
The store address provided is 7a Cardiff Street, Aberdare. Another branch is also mentioned: 57 & 59 Oxford Street, Mountain Ash. This suggests that the object is from the late 1920s, as Victor Freed began trading in Mountain Ash in 1904 but the business had expanded to multiples stores in Aberdare by the 1930s.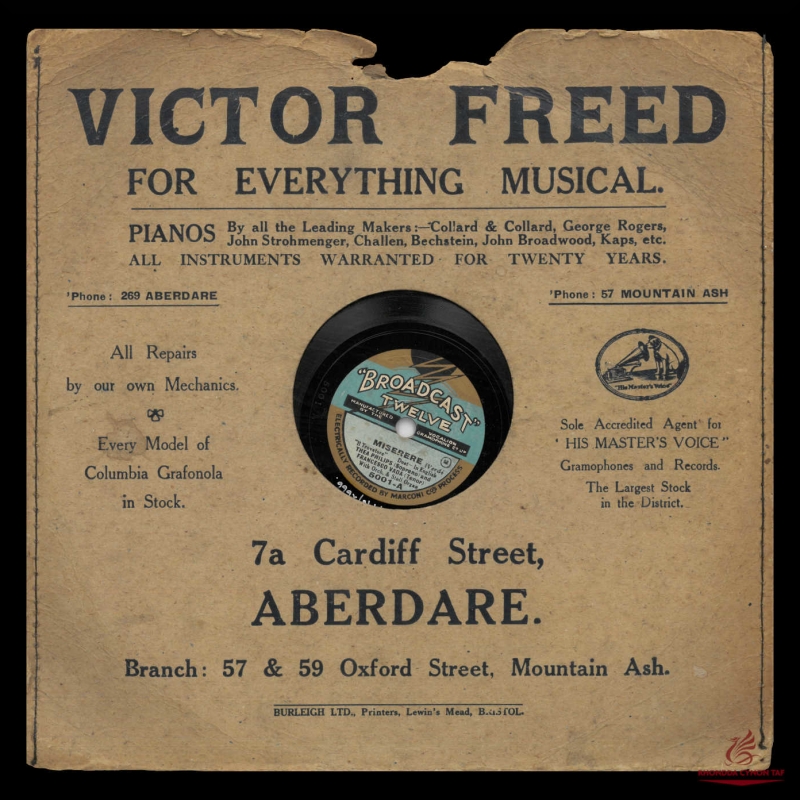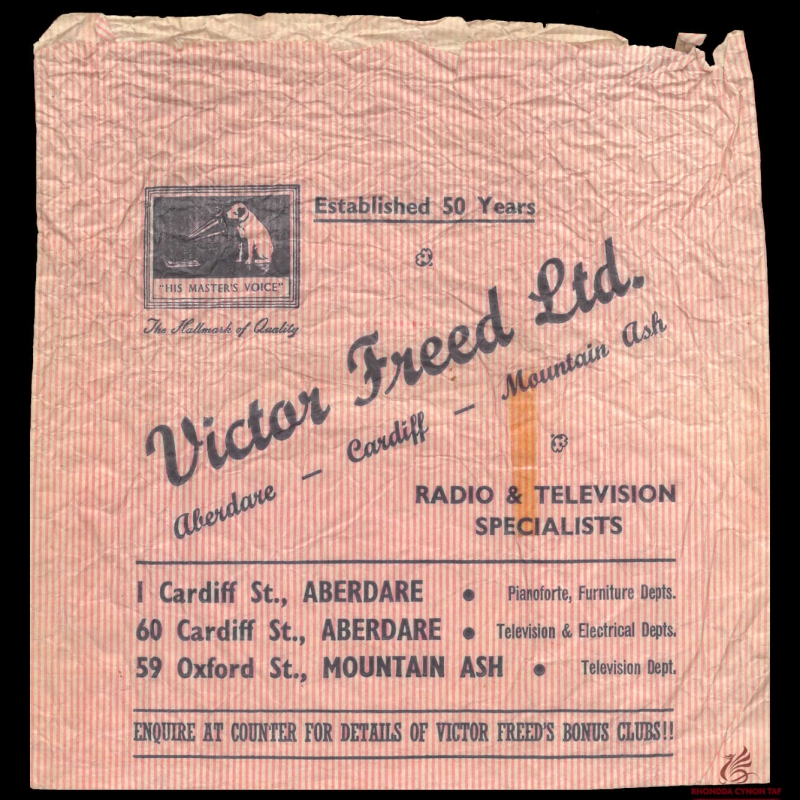 Paper product bag.
This paper bag is white with a striking red pinstripe design. It boldly advertises 'Victor Freed Ltd, Aberdare, Cardiff, Mountain Ash… Radio & Television Specialists'. The bag also provides addresses for the different Victor Freed department stores, for example, the Pianoforte and Furniture Department was at 1 Cardiff Street, Aberdare whilst the Television Department was located at 59 Oxford Street, Mountain Ash. The bag has a hallmark of quality symbol for 'His Master's Voice', the British record label created by The Gramophone Co. Ltd in 1901. It is possible that whatever was in the bag was purchased from 1954 onwards, as it reads 'established for 50 years' and Victor Freed Ltd began trading in 1904. Similarly, Victor Freed had expanded his stores to 6-7 Duke Street, Cardiff, by the 1950s which also confirms that this product was purchased during this period. The bag is relatively small; thus, it is difficult to say which particular product it would have held.
By the early 1900s the paper bags, made using wood pulp, quickly replaced the cloth bag. The creation of the paper bag allowed for ease of shopping, the protection of merchandise and a means of marketing for the business, and this object is a great example of this.
Job reference letter.
A letter consisting of plain paper and blue typed text. At the top of the letter is a blue company header, reading 'Victor Freed, established 1904'. Underneath, the company description reads 'Complete House Furnisher and Musical Instrument Dealer. 58, 60 & 62 Cardiff Street, Aberdare'. The top right of the letter also provides another address for 58 & 59 Oxford Street, Mountain Ash. On the top left and right side of the letter are two small illustration of a grand piano and a wooden chair.
The letter, dated 13 January 1934, is a character reference for the former Victor Freed Ltd employee, Benjamin Phillips. Freed explains, "I have pleasure in testifying that Benjamin Phillips, was in my employ for two months during the latter part of 1930, and during that time I found him to be honest, willing and he carried out his duties efficiently. I shall be pleased to answer any enquiries concerning him". Although the letter may not have been typed by Victor Freed himself, he has signed it at the bottom.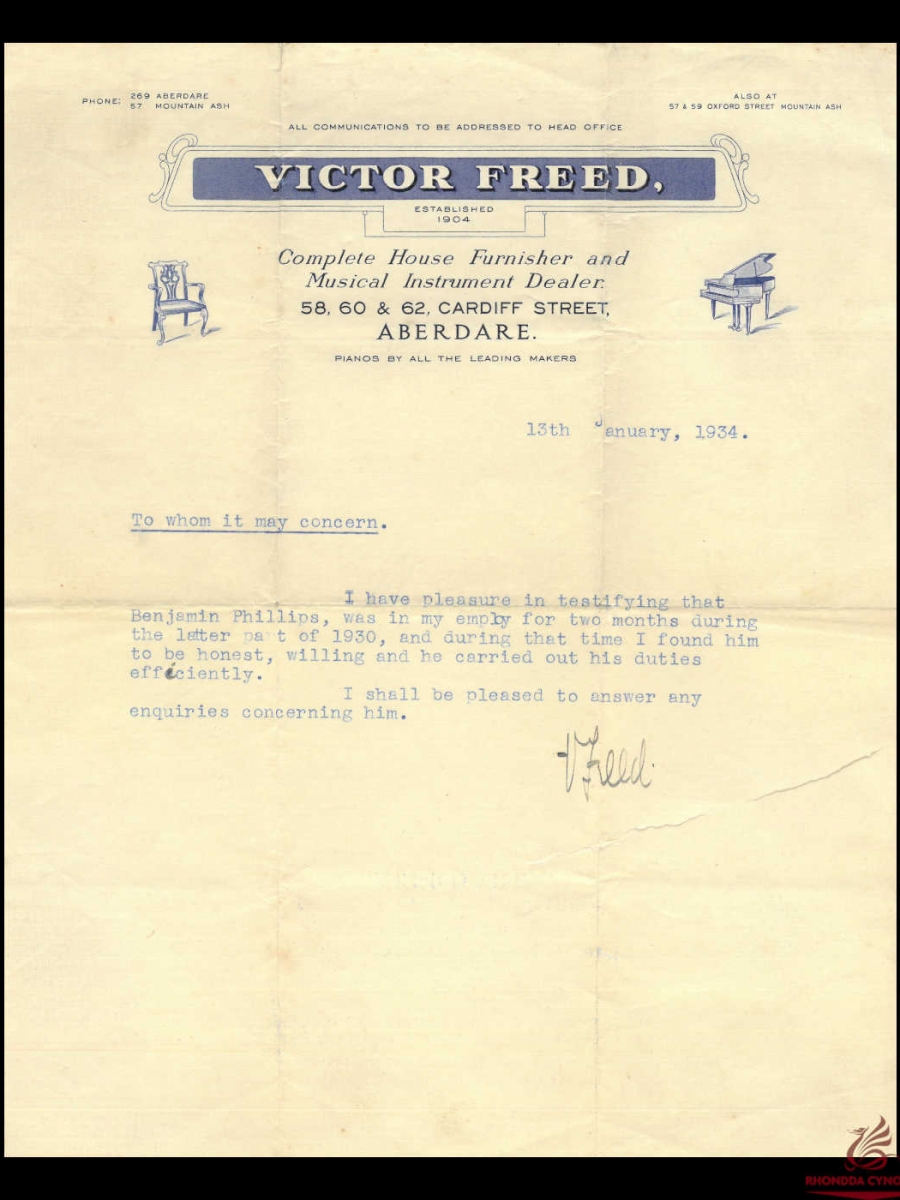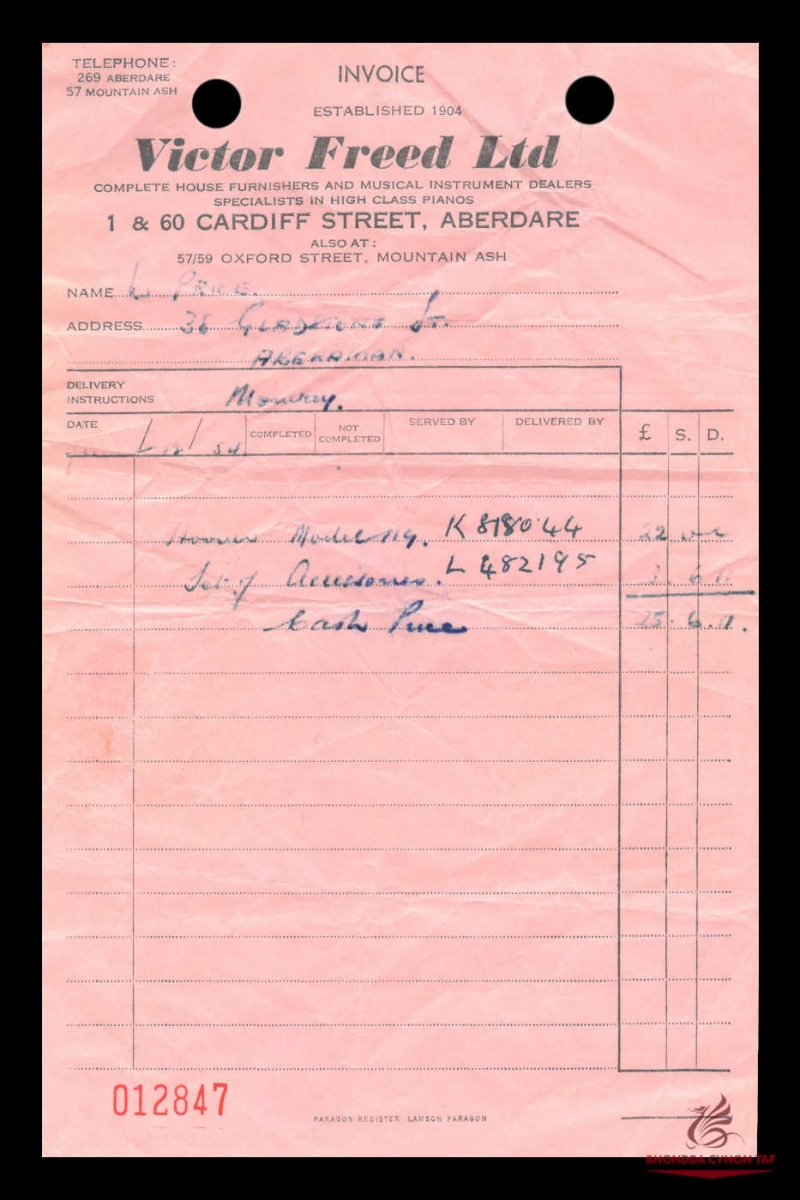 Product invoice.
A light-pink paper product invoice sheet from Victor Freed Ltd. The top reads 'Established 1904, Victor Freed Ltd'. Underneath, the company description reads 'Complete House Furnishers and Musical Instrument Dealers. Specialists in High Class Pianos. 1 & 60 Cardiff Street, Aberdare. Also at: 57/59 Oxford Street, Mountain Ash.'
The invoice is dated from 1954 and is addressed to Mr Price of 38 Gladstone Street, Aberaman. It records the purchase of 'Hoover model 119' and a 'set of accessories.' The total price came to 25 pounds, 6 shillings and 11 pence. The delivery instructions detailed are 'Monday'. During this time, it was popular for retail products to be sold under 'H.P. terms' (hire purchase or instalment plan). However, this customer seems to have paid the full amount in one cash transaction.
Vacuum and Accessories.
A vintage vacuum, the 'Hoover Junior' model 119, produced by The Hoover Company (Ohio) purchased from Victor Freed Ltd, Aberdare in 1954.
The Hoover Company was formed in 1908 and became an international power in vacuum cleaning by the 1950s. By the 1930s, the Hoover Juniors were being manufactured in London. The Hoover Junior model 119 was released in 1949 and enjoyed an eight-year run. Its release also provided a new, state-of-the-art development: the Vertiflex plastic flexible hose. This represented a real improvement on cloth-covered hoses, that lost suction over time. The customer also purchased the set of accessories with the vacuum; this included two different brush cleaning tools – a flat, long brush and a wider, soft brush – as well as the flexible hose.
With this hoover and accessory set, produced by such a popular and reputable brand, Victor Freed Ltd demonstrated that it lived up to its claims of providing access to great quality products. This also would have been considered a significant purchase for the people of a small town like Aberdare, to feel as if they owned a product being made and used in cities such as London.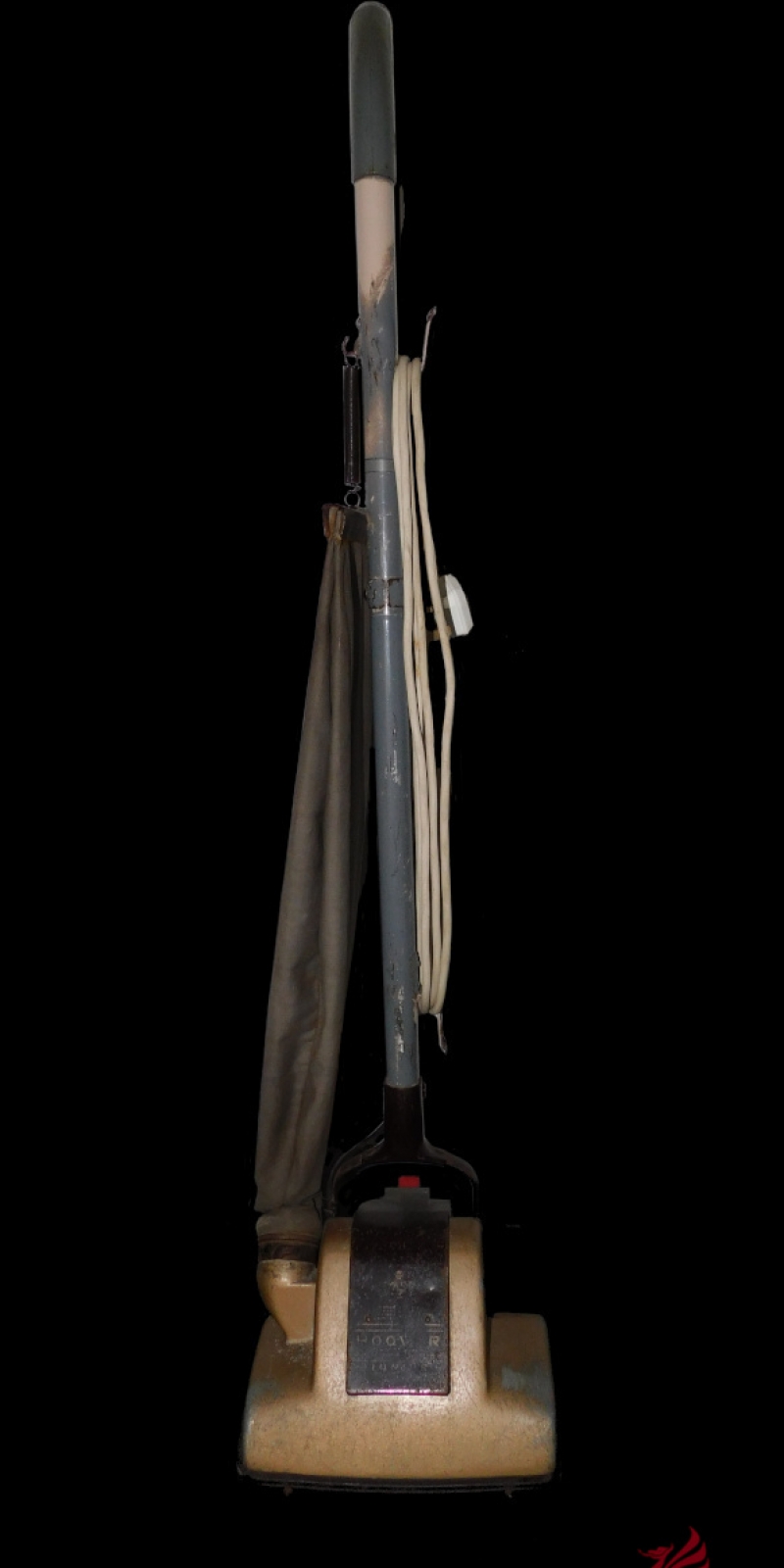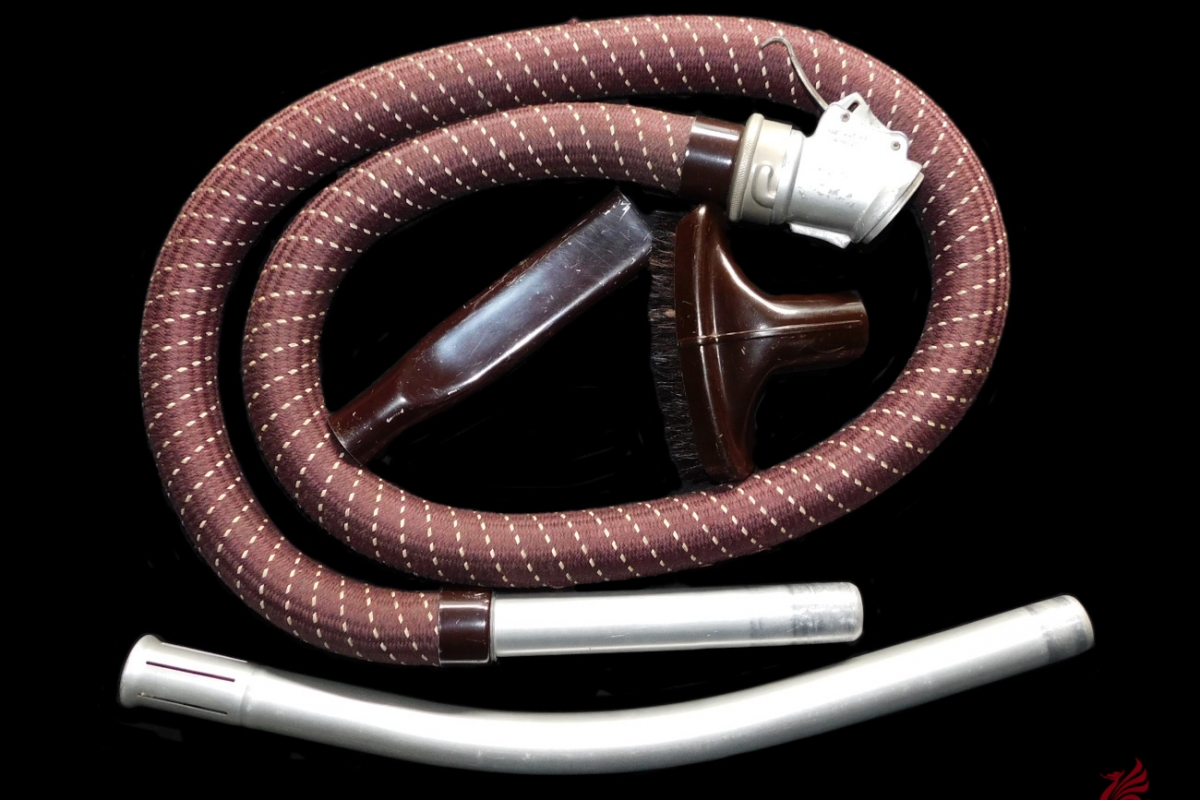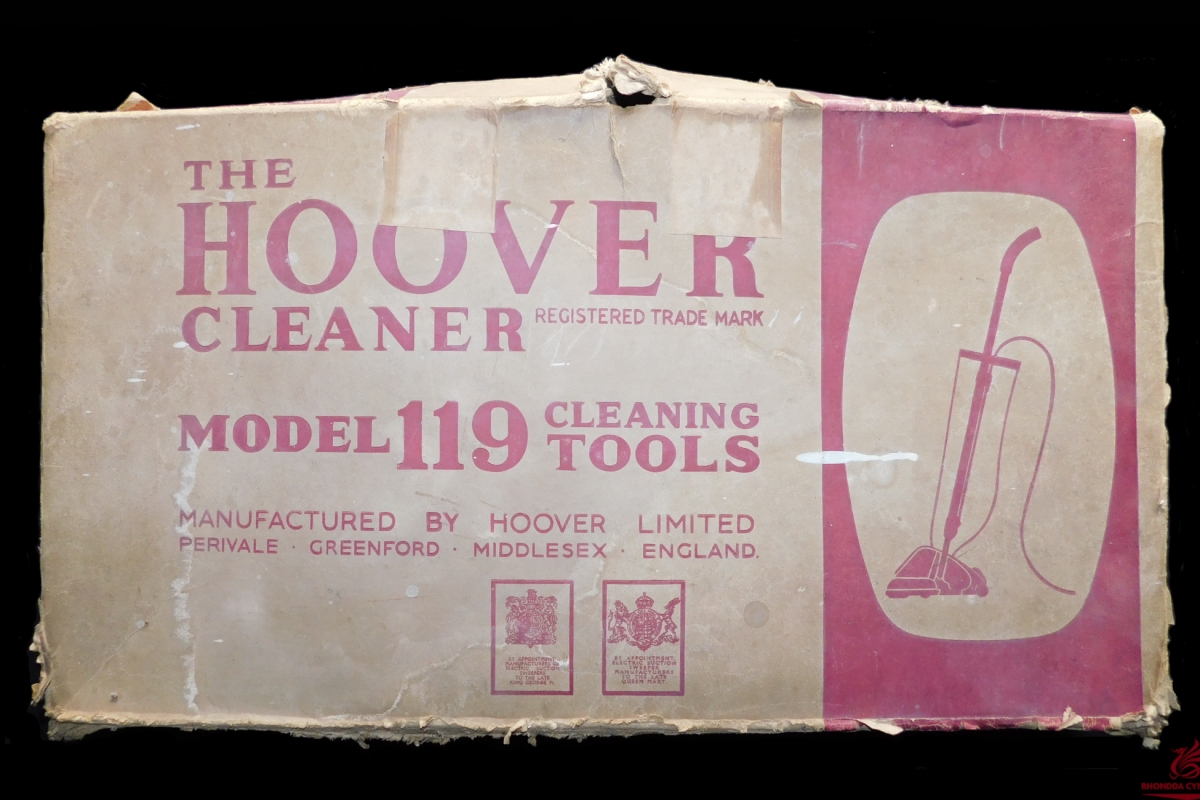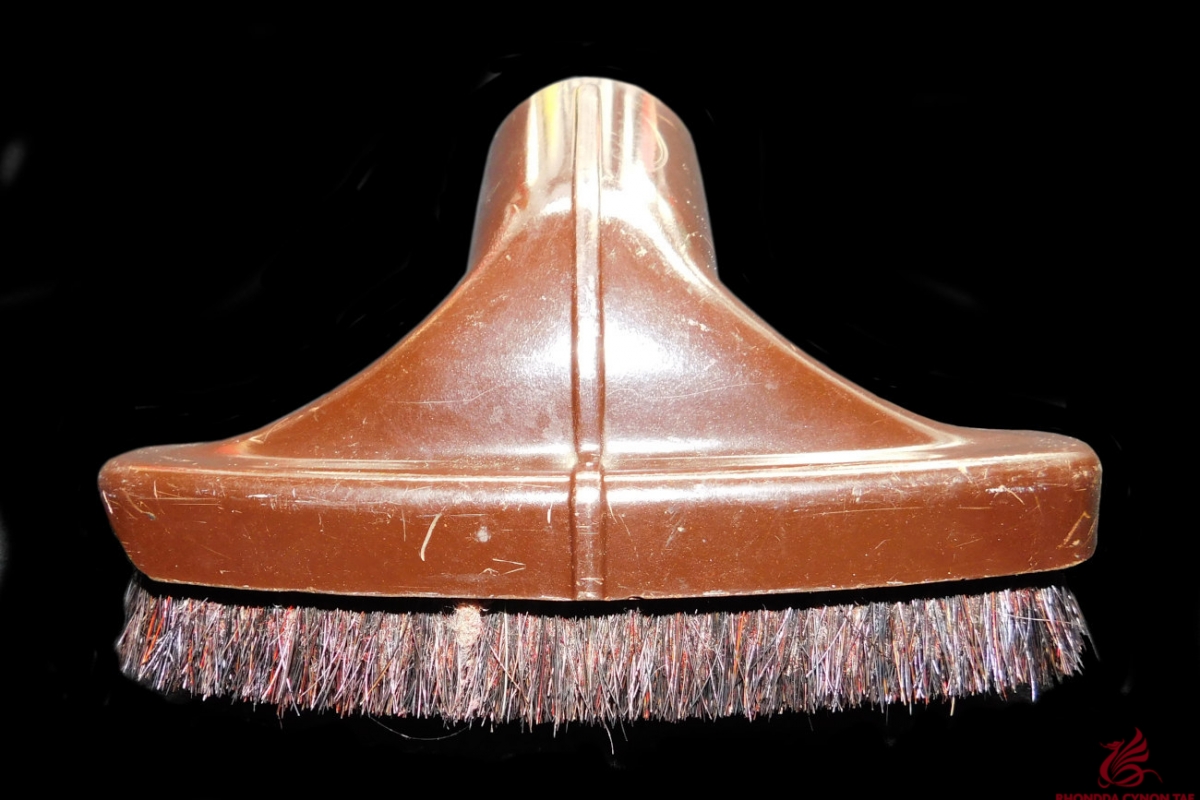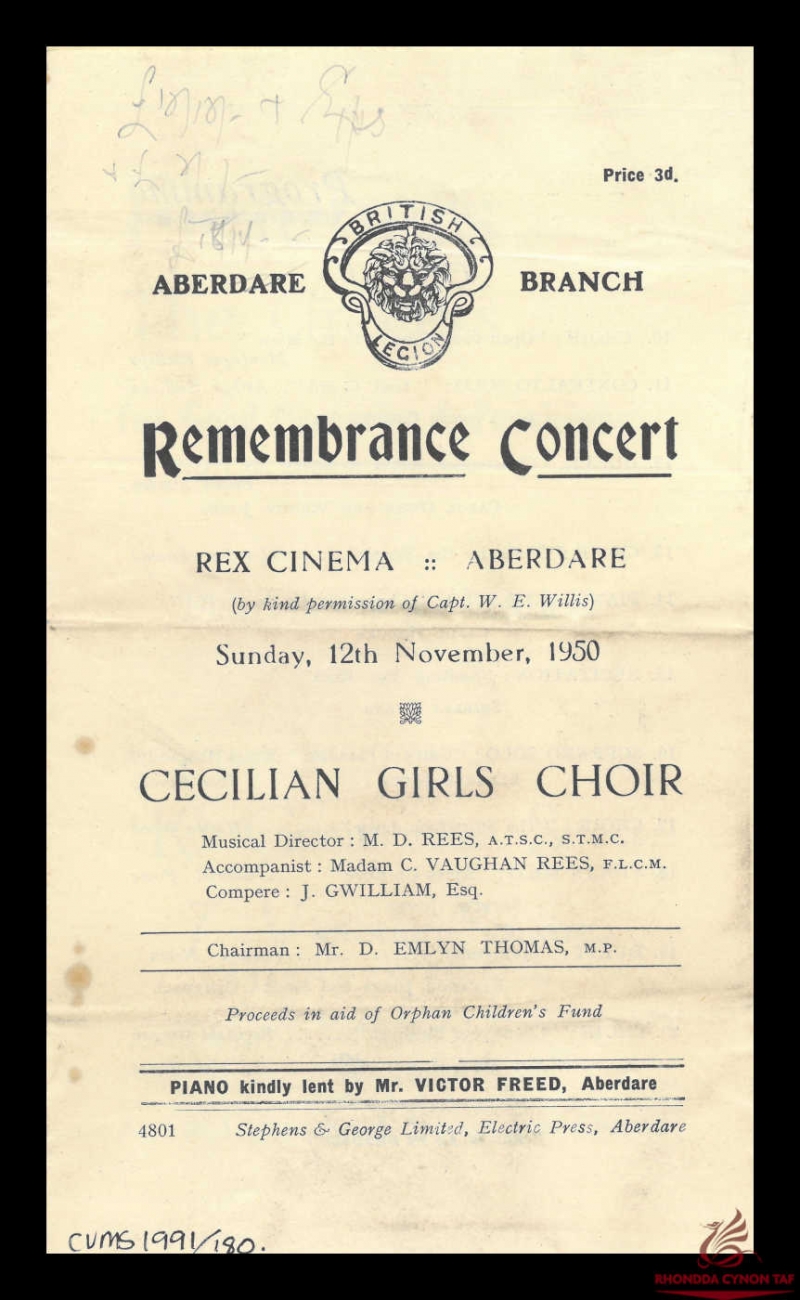 Remembrance leaflet.
A fold out paper leaflet for the Remembrance Concert held at the Rex Cinema, Aberdare. The leaflet shows that the Aberdare Branch of the British Legion held an annual remembrance concert on Sunday, 12 November 1950. The concert included the Cecilian Girls Choir and all proceeds from the concert went to Orphan Children's Fund. The contents of the leaflet present details of the hymns that the musicians performed. The front of the leaflet also notes that the piano used in the service was 'kindly lent by Mr. Victor Freed, Aberdare'.
This demonstrates not only a good deed by Victor Freed, who became recognised as a local philanthropist, but also his business acumen in taking advantage of a good means of advertising his business and products.
Football match leaflet.
A souvenir programme for the Welsh Schools' Football Association International Match, Wales v. Ireland. The junior teams played at the Ynys Stadium, Aberdare on Saturday, 8 May 1954. The image of the inside contains messages from former pupils of the Welsh Schools' teams and information on the teams. The image of the back page contains an advertisement for Victor Freed Ltd, a local company that specialised in furniture and electrical goods. The advert presents an illustration of a father and son watching and enjoying a sports match on their television. The advert reads, 'When it's sport – the menfolk are happiest… because they can see the big sporting events in their own home…' Thus, the advert is promoting the latest televisions at Victor Freed stores from brands such as 'Pye, Murphy, Bush Ekco, E.B., Ultra etc'. This is a good use of advertising because it appeals to the specific audience of this event and introduces them to a range of products and services that Victor Freed Ltd provides.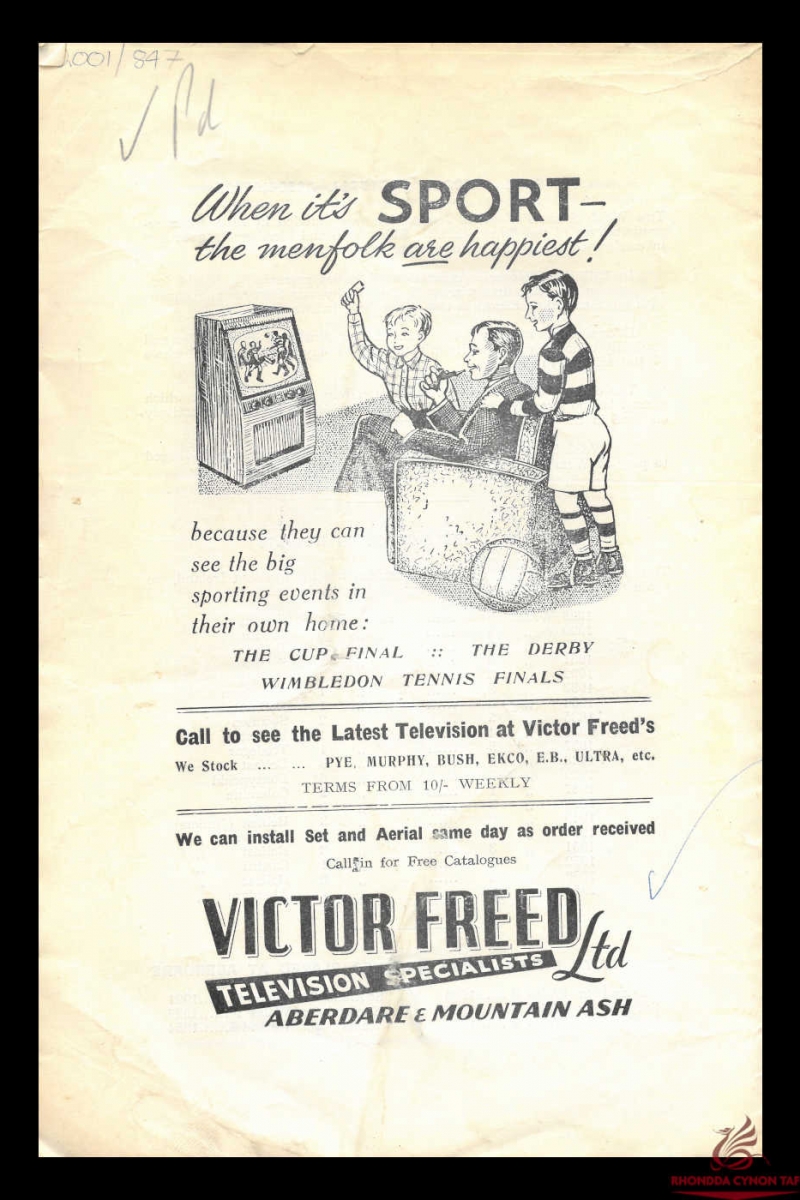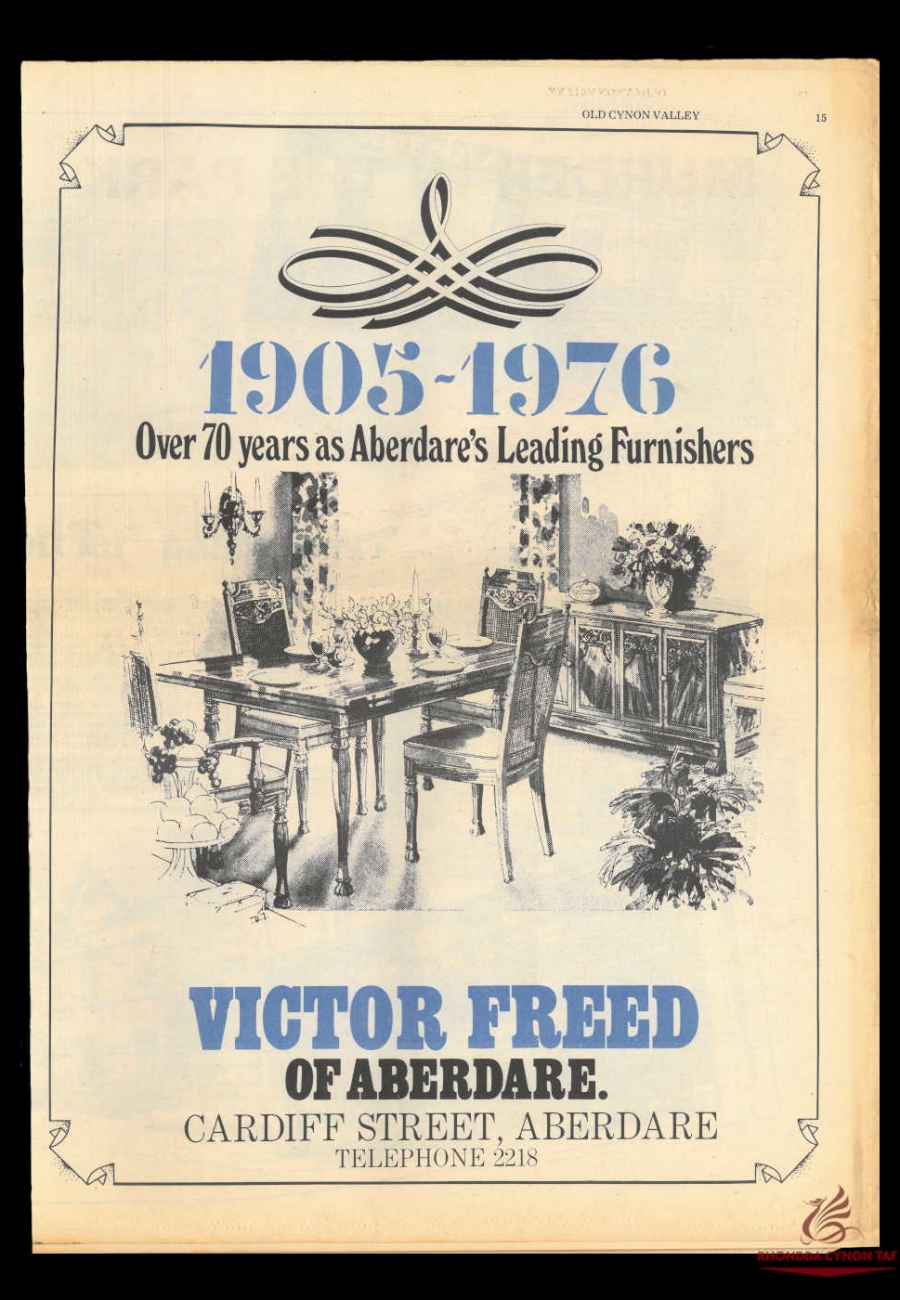 Colourful newspaper advert.
A 1976 special publication newspaper produced by the Mountain Ash and Aberdare Leader, titled 'Old Cynon Valley: a glimpse at the past.' On the front of the newspaper, the title is presented in large orange font. There is also a large illustration of Aberdare on the front page. This newspaper presents stories of the people, businesses and events of Aberdare and Mountain Ash. This includes a grand advert for Victor Freed Ltd. The advert text in a mix of bold black and light blue font states '1905-1976 Over 70 years as Aberdare's Leading Furnishers, Victor Freed of Aberdare, Cardiff Street, Aberdare'. Underneath the text is a detailed illustration of a dining room, with elaborate furnishings such as wooden table and chairs, a chest of drawers, drapes and a candelabra.
The inclusion of this grand advert in this special publication shows a reflection on the significance of Victor Freed Ltd in the communities of Aberdare and Mountain Ash. It not only advertises and praises the company's success but shows a sense of gratitude from the community for their access to good quality and stylish products. Victor Freed was renowned for providing high quality furniture to many people in the community; he helped to furnish Aberdare council houses in the 1960s and in the late 1950s he paid to furnish an entire ward for the Penylan Home for the Aged Jews of Cardiff.
Aberdare rotary club presidents board.
A wooden board that curves towards a point at the top. At the top is a metal symbol for 'Rotary International'. The board reads 'R.I.B.I. District No. 115 Rotary Club of Aberdare, Roll of Past Presidents 1924-1974'. It presents the names of the 50 names of the Aberdare Rotary Club Past Presidents. These names include Jewish businessman, Victor Freed (1941) and his son, Aubrey Freed (1968). Victor was elected as President after being a member for 8 years and also for being recognised for his public service in the valley.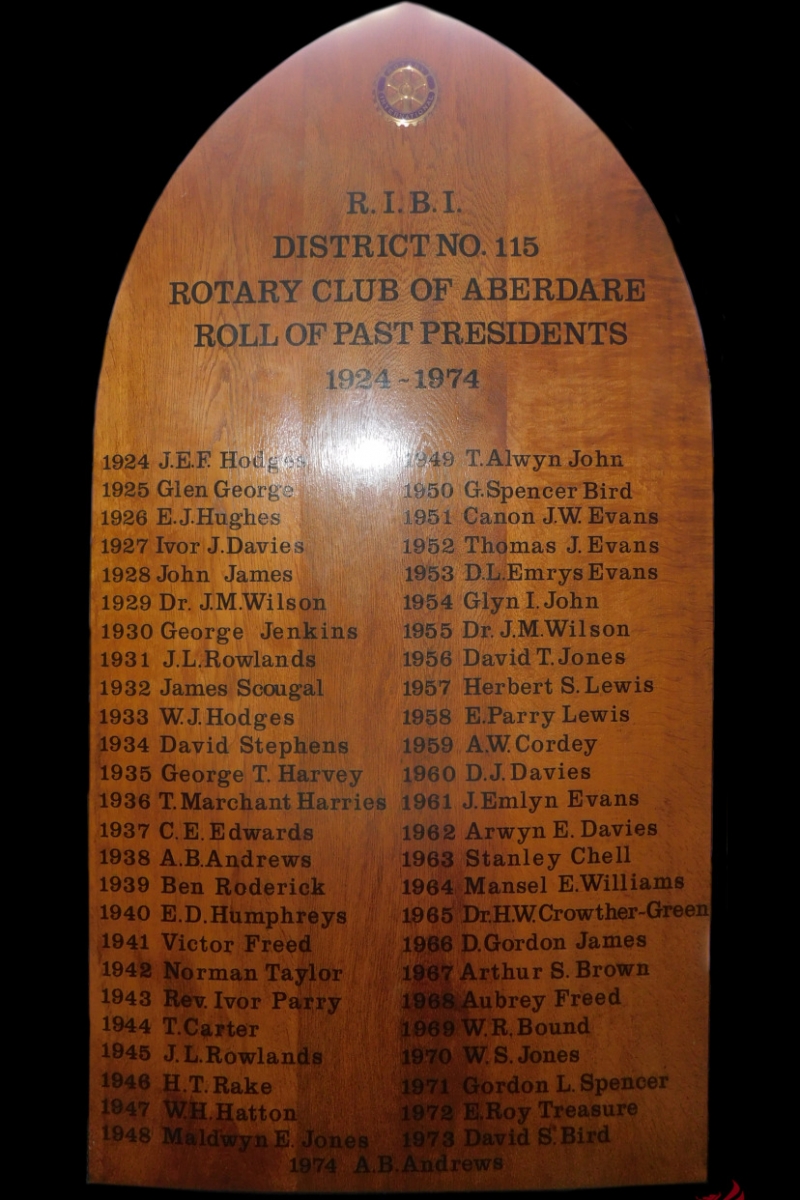 'Life of Victor Freed' exhibition was curated by Rhian Hall, JHASW volunteer.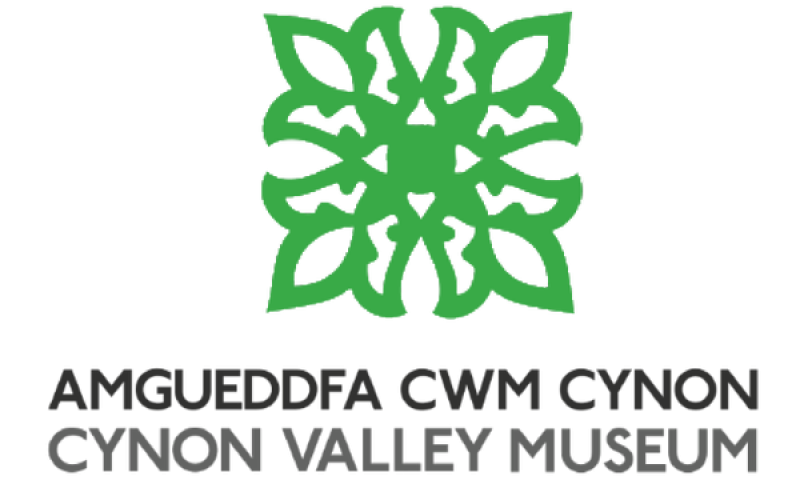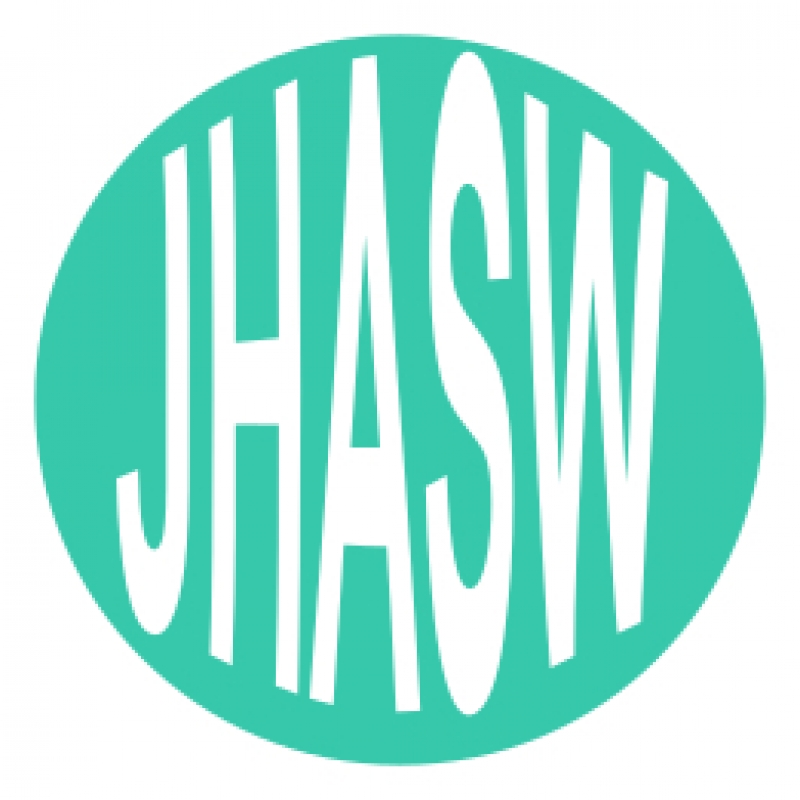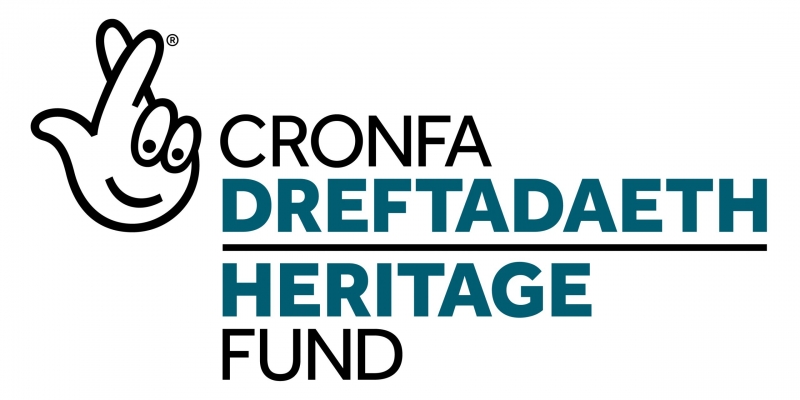 This exhibtion has been created by the Jewish History Association of South Wales as part of a funded project, funded by National Heritage Lottery Fund
For the full list of sources used in this exhibition please follow the link
To return to the exhibition Merchants and Moneylenders: Popular Jewish businesses in the Cynon Valley in the 19th-20th century. Please follow this link