Abraham Shumanski, also known as Jack, was born in Warsaw, part of the Russian Empire, on the 18th August 1895 to Woolf and Bessie Shumanski. The family came to Cardiff circa 1901. Abraham had two brothers, Isy and Mark, and two sisters, Polly and Sophie. The 1911 census lists Abraham (Abe) as a watch repairer.  In October 1920, Abraham married Rachel Harris at the synagogue in Merthyr Tydfil. He was still a watchmaker, residing at 18 Wood Street with his father. Rachel was a draper, living in Merthyr. Abraham and Rachel did not have children.
Rachel was the daughter of Mark and Sophia Harris. Mark Harris was a prevalent figure in the Aberdare's Jewish Community. In 1927, he was recorded as the Aberdare synagogue congregation secretary, and in 1930 he was elected as the Aberaman and Aberdare synagogue congregation President. Similarly, in 1929 he acted as the Chatan Bereshit for the synagogue service, being called up for the first and last annual Torah reading cycle, to give a kiddush (a blessing), alongside Mr Victor Freed. In a 1953 volume of CAJEX, Mark Harris ('of Aberdare') is pictured at Neville Hill, Abergavenny. This became a meeting place for fellow Jews of South Wales and Bristol. The picture shows a big group of people in a marquee under a banner reading 'Achei Brith Am Byth.' The Order Achei Brith grew from the formation in 1888 of a friendly society to provide insurance against complete loss of income and as a means of social life among a group of Jewish refugees who had fled to Britain to escape religious persecutions in Central and Eastern Europe.
Abraham's business, The Record Salon, began trading at 16, Lewis Street, Aberaman, and he was an agent for Cardiphone, Decca and Dousana gramophones and HMV records. His private address at the time was 6, Glancynon Terrace, Aberaman.
By the time of the 1939 census, Abraham and Rachel were living at 37, Oxford Street in Mountain Ash. He is described as a watch and clock repairer and Rachel (known to the family as Rae) was described as a Manageress in a Jeweller's shop. It seems they were living above the shop as their dwelling address was the same as the address found on The Record Salon products and advertisements i.e. 37, Oxford Street; there was also the shop at 16, Lewis Street, Aberaman. The business must have become more successful because they opened a third store at 49b Commercial Street, Aberdare. The Record Salon sold 45rpm records of popular artists such as Gerry and the Pacemakers and the Beatles. LPs were sold but had to be ordered. Clocks and watches were also sold.
By 1957, Abe and Rachel moved to 309 Albany Road, Cardiff. They were still trading from Oxford Street, Mountain Ash and travelled there every day. However, they sold the shop at 49b Commercial Street, Aberdare, to their employee Grace Jones. During the 1960s, The Aberdarian Magazine featured adverts for the business. They read 'everything on record at The Record Salon (Grace Jones), 49b Commercial Street. Also – jewellery and fancy goods for every occasion'.[1]
It is unknown when they sold the business, but after retirement, they continue to live on Albany Road, Cardiff.  Jack died on 7 December 1973 aged 78 and is buried in the Cardiff United Synagogue cemetery in Ely. Rae died on 13 March 1977 aged 77 and is buried alongside her husband.
Abraham Shumanski was great-uncle to Stanley Soffa of the Cardiff Reform Synagogue, a current active member of the Jewish History Association of South Wales.
[1] The Aberdarian (1968), <http://www.abgs.org.uk/aberdarian/Mag68/Mag68.htm> [accessed 14 July 2020] (p. 34).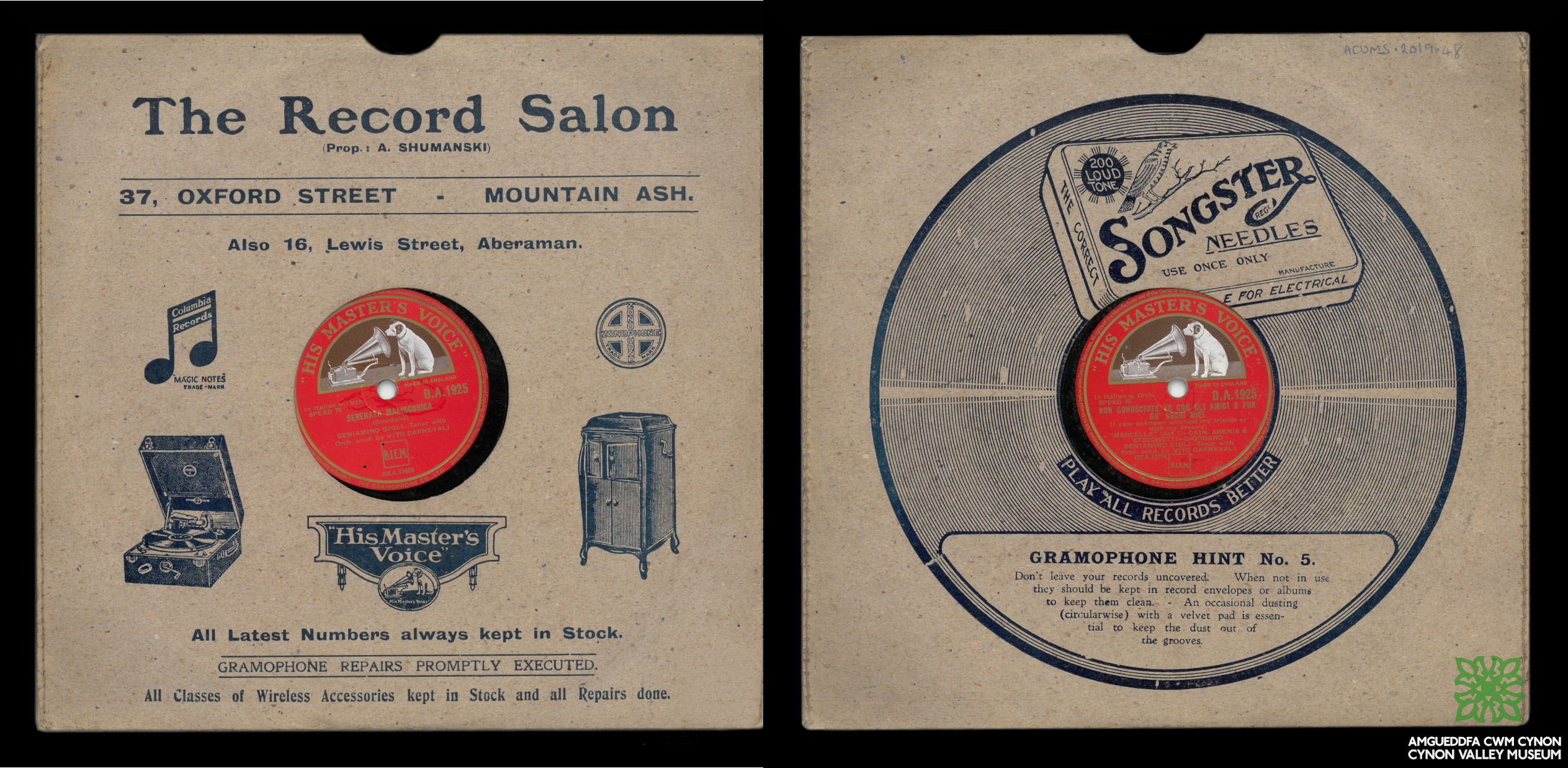 A cardboard record sleeve with a vinyl record inside. The front of the sleeve presents the trading name 'The Record Salon' and addresses 37 Oxford Street, Mountain Ash and 16 Lewis Street, Aberaman. The business proprietor is named as; 'A. Shumanski' (Abraham). The illustrations on the sleeve include 3 trademark symbols for Columbia Records, Zonophone and His Master's voice as well as two depictions of record players. The sleeve also reads 'All Latest numbers always kept in Stock,' 'All Classes of Wireless Accessories kept in Stock and all Repairs done.' The record inside is Serenata Malinconica by Beniamino Gigli. The back of the sleeve shows an advertisement for 'Songster' vinyl player needles, the illustration depicts a vinyl with a box of the advertised needles on top and the slogan 'Play All Records Better.'
Sources.
Archives Hub, Papers of the United Jewish Friendly Society, <https://archiveshub.jisc.ac.uk/search/archives/a5c9901f-9d96-3421-b11d-f0c27b6a95e2?terms=%22Order%20Achei%20Brith%22> [accessed 14 July 2020].
Nevies, L., 'Those were the days', CAJEX Magazine, 1953, Volume 3, Number 4, pp. 67-68.
'Provincial News Items: Aberaman and Aberdare', Jewish Chronicle, 10 January 1930, p. 36.
'Simchat Torah: Bridegrooms of the Law – Provincial', Jewish Chronicle, 25 October 1929, p. 15.
Sinclair, Julian, 'Chatan Torah and Chatan Bereshit', The Jewish Chronicle, 10 October 2012, <https://www.thejc.com/judaism/jewish-ways/chatan-torah-and-chatan-bereshit-1.36917> [accessed 14 July 2020].
The Aberdarian (1968), <http://www.abgs.org.uk/aberdarian/Mag68/Mag68.htm> [accessed 14 July 2020] (page 34).