Jane Cooper was a women's clothing shop situated on Cardiff Street, Aberdare. They offered a variety of clothing styles from costumes to elegant event gowns and suits, in a range of sizes. One Jane Cooper advert reads 'Slender Styles for the W.X. and O.S. Ladies.' (Aberdare Leader, 6 March 1948).  In terms of vintage clothes sizes 'W.X' referred to as 'extra woman' and 'O.S.' referred to as 'outsized' which shows that Jane Cooper aimed to accommodate all body sizes.
Jane Cooper was managed by a Jewish businesswoman Ruth Golding (Goldberg). Ruth was born in England in 1898 to Ida Schlachter and Samuel Britz, both Russian Jews. Ruth was raised in Penrhiwceiber with her three brothers, including Charlie Britz, who also became a well-known shopkeeper of Lewis Street. It was after Ruth's second marriage to Harry Goldberg in 1939 that "Jane Cooper" was born. By 1946, Jane Cooper occupied 10, 11, and 12 Cardiff Street, Aberdare.  Ruth became known as Jane Cooper to some Aberdarians. Ruth had three daughters: Cynthia and Yetta Joyce, born 1926 during her first marriage to Norman Cohen, and Rachel, born 1942, during her marriage to Harry Goldberg. Cynthia Kahn went on to publish a book titled 'Wild Water Lilies' a memoir of her life in Cynon Valley during the Second World War. Cynthia describes the irreligious Jewish household that she grew up in Penrhiwceiber during the 1930s and 1940s. She never went to cheder (a religious school for Jewish children) which meant she was unable to follow the services at the synagogue. Interestingly, at 16 years old she began attending Hebrew and Jewish history lessons with the 'very religious' Sam Kahn (her future father-in-law). Similarly, Cynthia Kahn wrote of how she spent her days working in her mother's clothing shop, 'Barbara Gold's.' Newspaper advertisements from the Aberdare Leader during the 1940s show that Barbara Gold's was another women's clothing store, located at 50 Commercial Street, Aberdare, selling 'Ladies' and Maids' inexpensive dresses and coats.' This implies that Ruth Golding owned another store similar to Jane Cooper under a different trade name. By the 1960s, Jane Cooper was replaced by Chic Fashions located on the corner of Cardiff Street and Station Street, Aberdare.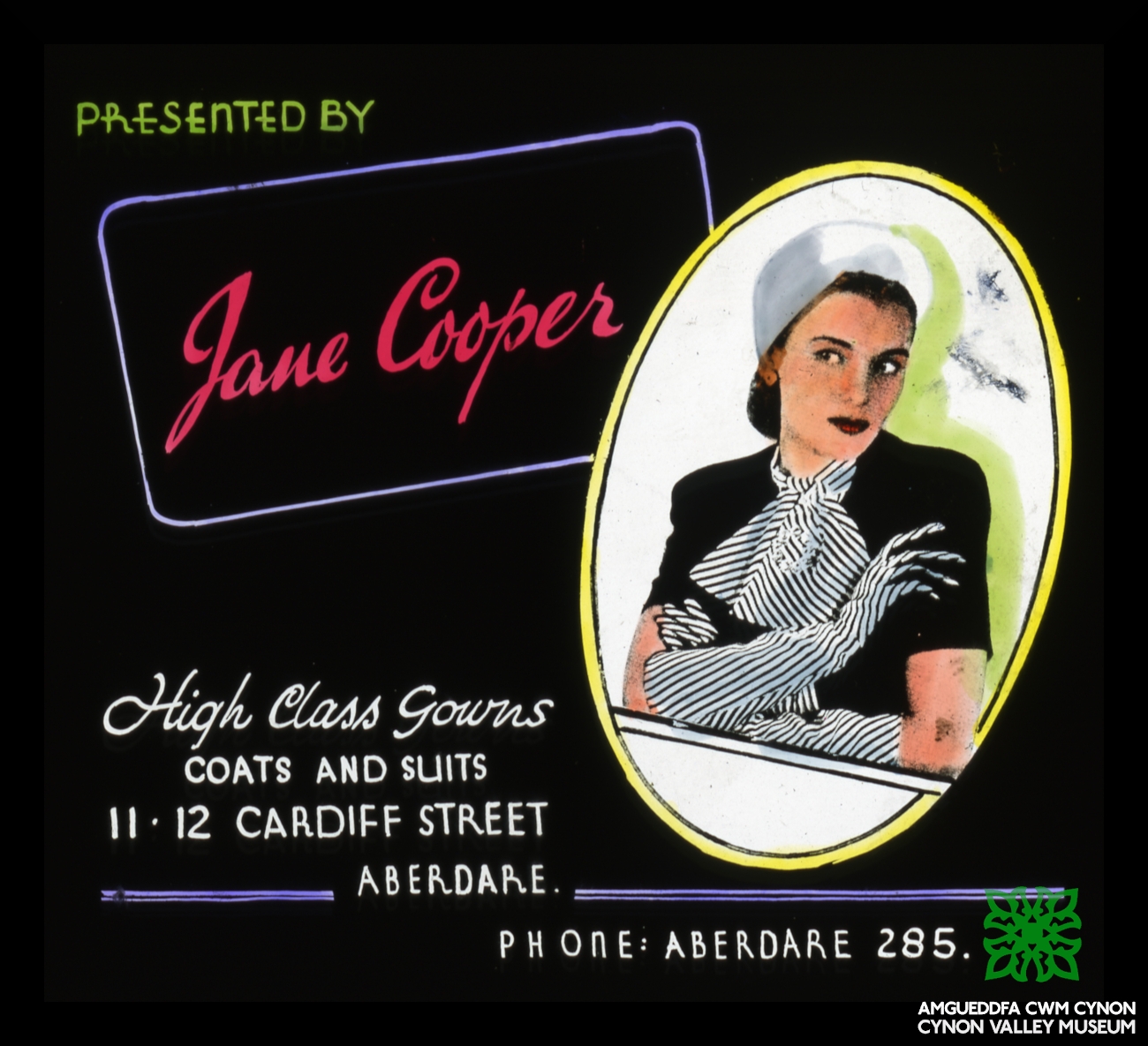 A glass slide advertisement for Jane Cooper, a women's clothing store on Cardiff Street, Aberdare. It is likely that advertisements in this medium would have been displayed in cinema theatres before the film began. The advertisement has a striking design; a black background and coloured text, including the company name 'Jane Cooper' displayed in stylish red text. There is an illustration of a woman in a smart dress with a matching neckerchief and gloves. The advert also reads 'High class gowns, coats and suits, 11 – 12 Cardiff Street, Aberdare.'
Glass slides such as this were commonly known as 'magic lantern' slides, consisting of hand-painted images on glass. This process dates to the 17th century. The slide commonly consists of two pieces of glass; one pane contains a hand-painted image and the second pane is placed over this image for protection. They were then used in a projector, known as a Magic Lantern.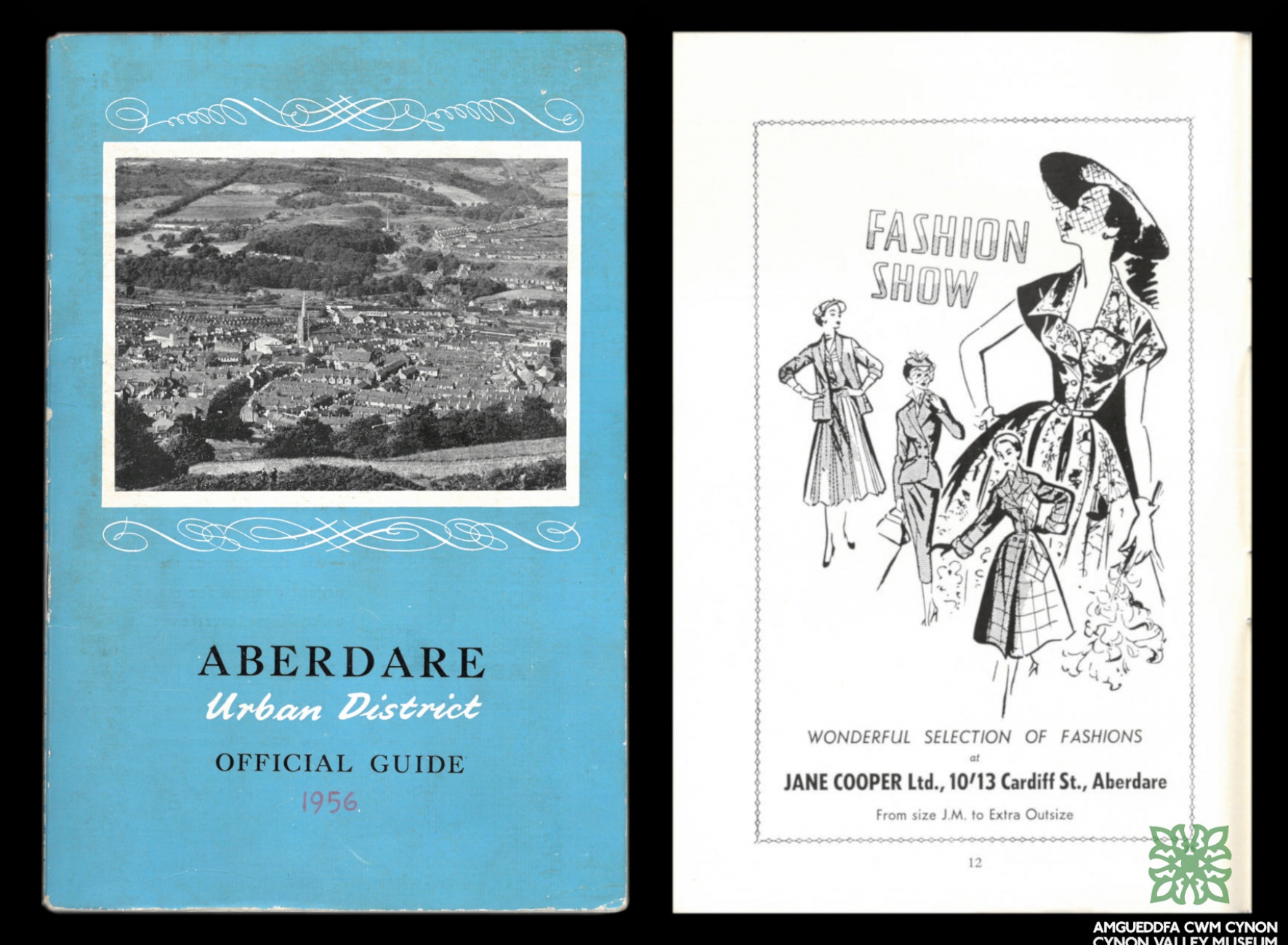 The Aberdare Urban District Council Handbook and Directory for 1956. The first image shows the light blue cover with a black and white aerial photograph of Aberdare. The booklet contains the history of Aberdare, including the people, places and businesses. Some of the adverts inside are for Jewish businesses in Aberdare. Page 12 shows an advert for Jane Cooper Ltd, 10-13 Cardiff Street, Aberdare, a women's clothing store which provided a 'wonderful selection of fashions.' An illustration shows four women in elaborate outfits, from summer dresses to winter coats, skirts and suits.
Sources.
Circa Vintage Archive, Decoding vintage sizing (2015), <http://circavintageclothing.com.au/2015/09/30/vintage-sizing/> [accessed 14 July 2020].
Kahn, Cynthia, Wild Water Lilies: The Wartime Diary of a Young Girl (Surrey: Beack Publications, 2005), pp. 47-61.
Rhondda Cynon Taf Library Service Digital Archive, 1504 – Chic Fashions, <https://archive.rctcbc.gov.uk/cy/view-item?i=15606&WINID=1587658995791> [accessed 14 July 2020].
The Aberdare Leader, 6 March 1948, p. 8.