Celf a Chrefft ar gyfer Oedran 6-11
Amgueddfa Cwm Cynon,
11-1yh, Dydd Sadwrn 14 Hydref
Sesiwn Celf a Chreft AM DDIM gyda'r artist Craig Lewis. Mae angen cadw lle. Ffoniwch 01685 886729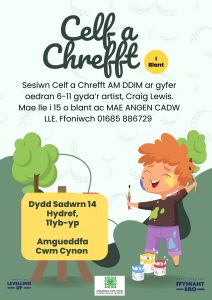 Arts and Crafts for kids 6-11
Cynon Valley Museum,
11-1pm, Saturday 14th October 2023
FREE Arts and Crafts session for ages 6-11 with artist Craig Lewis. Please phone 01685 886729 to book your places.