When looking down from Penrhiwllech Trail, above the lake at the Dare Valley Park, you will see a field with a large hut, in front of a row of houses. This field was the site of the 1936 Quoits International Match between Wales and England, a victory for Wales (205 – 113). A previous meeting of the two countries took place at Aberaman Park in 1922, also a victory for Wales (212 – 187).
Quoits is only a game, rather like hoopla played in gardens and school fetes, surely? No, quoits were a contested sport, not a contact sport as such, but not far off.
The origins of Quoits
It is thought that quoits originated from the Greeks' sport of discus throwing, a discus was once a weapon of war. It was certainly played in England, Scotland, and Wales during the 14th century using metal rings that were thrown up and down a pitch with target pins at either end. It was mainly associated with agricultural and working-class people, in particular with the mining industry. It was made illegal in 1388 for some years as it was thought it encouraged drinking and time-wasting. But later it was organised a lot more and became a recognised pastime.
The museum has a collection of objects relating to the quoits history of the valley on display in the Main Gallery.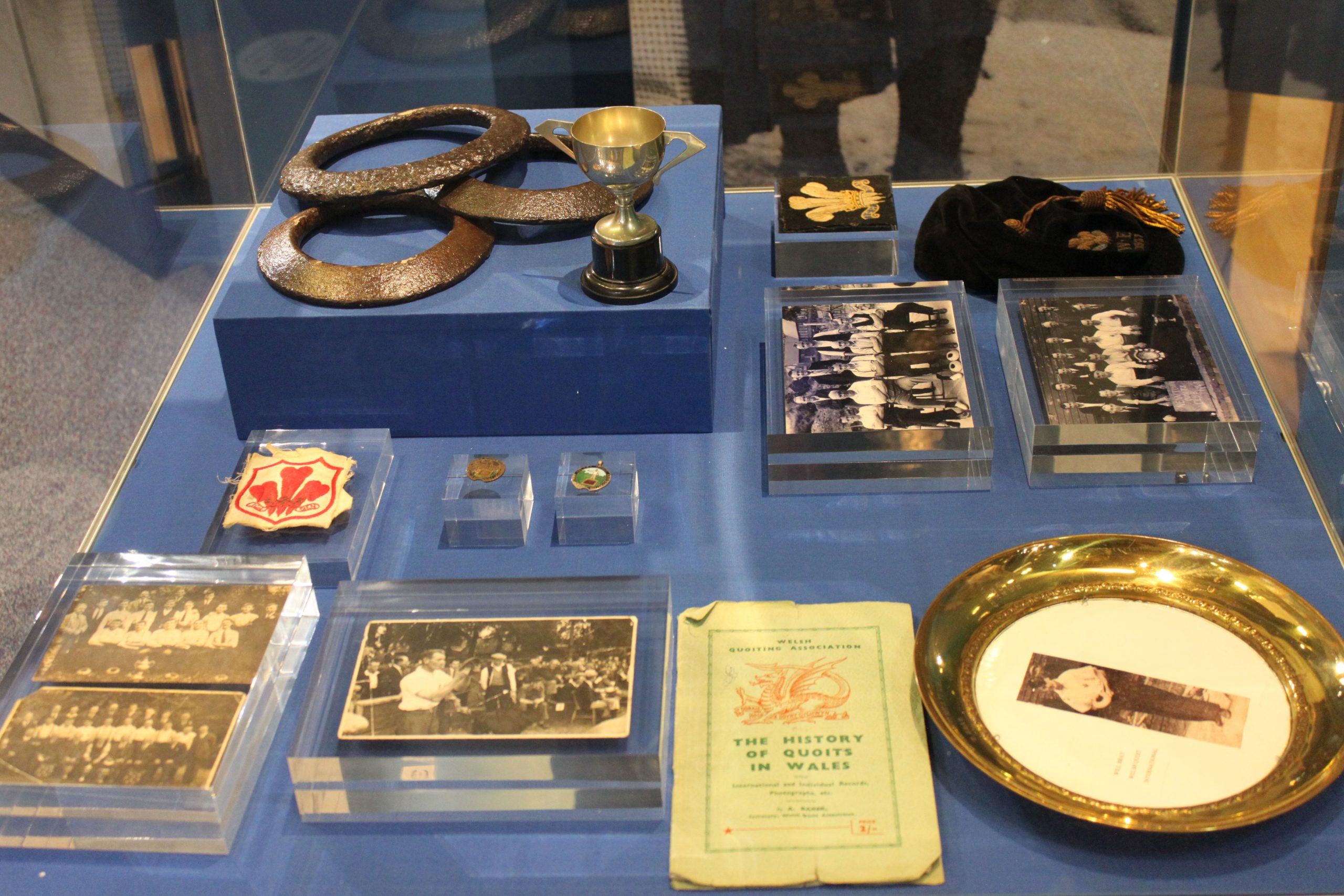 How is the game played?
The first official rules were set down in 1881. There are several versions, the Northern Game, East Anglian Quoits, and the Long or Old game. The differences between each version seem to be the size and weight of quoits, length of pitches.
Wales played the Long Game with the heaviest quoits 11lbs (5kilos) and a pitch length of 18 yards (16.50 metres).
At each end of the pitch, there is a 3ft (90cm) square filled with clay, in the centre a small peg or strip of paper. A pair of players, one from each side have 2 quoits (metal rings) which they throw at the peg at the far end of the pitch, The idea is to get as near to the peg as possible, and then throw the quoit back to the other end. The measurements are recorded for both ends and points are awarded for quoits nearest to the pegs. The first player of the pair to reach 21 wins. If each player during his turn can get to 21 first and keep his opponent's score down as well by tactical throwing all the better. When all the 12 players have thrown, the points are added and the highest wins.
Some players specialise in getting the quoit in front of the pin or even over it to prevent the opponent from getting nearby. Others could throw the quoit at such an angle that they knocked the opposition's quoit out of the square to allow some contact.
The consistency of the clay was important, and each home side had their own idea of the best for their style, rather like cricket. Each player had a helper called a" lighter" who would place a piece of paper within the square according to the tactics for his thrower to aim at.
Quoits were very popular pre-and post-World War Two. In South Wales mining areas quoits was especially popular. It was a very interactive activity as whole families would play on Saturday afternoons.
An international match could take several hours to play. Internationals were played into the 2000s and there are some clubs in England and Scotland and a handful in North Wales. The 14th British Open Quoits championship took place in Suffolk in August 2019 and Welsh Championship in May 2019.
Quoits in South Wales
In 1892, the South Wales and Monmouthshire Quoits League was formed. The association's main aim was to encourage the enjoyment and competition of the sport.
The Welsh Quoiting Association Secretary, Albert Baker wrote 'The History of Quoits in Wales' in 1949. The booklet records all known information about the sport in Wales compiled from newspaper cuttings and conservations between team members and teams.
Many valley villages formed teams such as Abercynon, Trecynon, Newtown, Ton Pentre, Mountain Ash, and played against each other frequently. In 1906 the Merythr Express Championship took place in Abercynon. Four local teams played against each other for the title. In the first round Ton Pentre won by one point to Abercynon (147 – 146). In the second round, Heolgerrig won against Tirphil (168 – 110). In the final round, Ton Pentre defeated Heolgerrig, who had been the champions for the previous two years, by 40 points (145 – 105). Mr Morgan of Heolgerrig presented the champion cup to the president of the Ton Pentre team, Mr W. D. Wright, who explained how quickly Wales was coming to the forefront of the sport, and how it would be difficult to pick members for international matches due to the talent amongst them all! (The Aberdare Leader, 11th August 1906, page 2).
In terms of international matches, the Welsh team first defeated England in the second International played at Bridgend in 1897.
Some other notable matches include:
In 1899, an international match between England v Wales took place at Castle Hotel, Merthyr Tydfil, which resulted in Wales winning 293 to 257.
In 1912, after a very keen contest, Wales lost for the first time at Llwynypia, on their home soil, in 1912 (223 – 212).

The International Match of 1936
The International Contest between England and Wales took place at the Globe Quoit and Welfare Grounds in Cwmaman, Aberdare has been recorded as a very memorable event.
The Welsh team included players such as William Davies, Griff James, and Llew Baker from Aberdare, and Dan England, William Mellish, William C. Bray from Mountain Ash.
Before the match, there was a grand performance by Cwmaman Institute Band that was enjoyed by all. The match lasted five hours, but in the end, Wales emerged victorious, winning 205 – 113.
William C. Bray
A local quoits champion, William Bray played in the Newtown Quoits team. In 1948, he was the team Captain 1948 in an international match played in Harpenden.  He brought the Welsh team to victory, 177 – 164.
The museum has a small collection of items formerly belonging to Mr Bray, including photographs of local teams, and even the quoits he used to play his matches with.
William "Dice" Davis
One important individual in the Aberdare Quoits team was William "Dice" Davis. William of Aberdare was the Gareth Edwards of quoits "Grand old man of quoits." Dice represented Wales on 25 occasions winning 17 games. He won Welsh Championship five times. Dice was a big man 6ft 3inches and was a colliery worker all his life. During matches against England, Dice and his "helper" always spoke Welsh which always unsettled their opponents.
The plaque on the frame reads 'William Dice Davies Esq. Welsh Quoit International An appreciation from his quoiting friends in honour of his service to quoiting. A native of Aberdare, Glamorgan. He played for Wales on 25 occasions. Reserve International on 3 occasions. Captain of Welsh team on 5 occasions and International Referee on one occasion. Secretary of Welsh Quoiting Board for 7 years. Champion of Wales on 5 occasions. Champion of South Wales on 10 occasions. Champion of Aberdare Valley on 3 occasions and winner of numerous quoiting trophies and tournaments.'
Blog post written by volunteer, Robert Glare
Do you have any information or memories about Quoits in the Cynon Valley? Leave a comment or get in touch with the museum!
Sources:
Traditional Sports, 'Quoits (England, Wales, Scotland, USA), Available at: https://www.traditionalsports.org/traditional-sports/europe/quoits-wales.html
Historical Folk Toys, 'Quoits, https://www.historicalfolktoys.com/catcont/3012.html
UK Quoits, 'The History of Quoits in Wales: A Few Reminiscences', Available at: http://www.ukquoits.org/page31.html
UK Quoits, 'Details of International Contest Played at the Globe Quoit and Welfare Grounds, Cwmaman, Aberdare 1936', Available at: http://www.ukquoits.org/page92.html
People's Collection Wales, 'A quoits team from the Cwmdare area, early 20th century', Available at: https://www.peoplescollection.wales/items/11935
Cynon Valley History Society, 'Hanes: Quoiting in the Valley' 2017, Available at:  http://www.cvhs.org.uk/hanesarchive/2017_Hanes_78.pdf
UK Quoits, 'Details of International Contest Played at Aberaman Park, Aberdare 1922.' Available at: http://www.ukquoits.org/page97.html
The National Library of Wales, Welsh Newspapers, The Aberdare Leader, 11th August 1906, page 2, Available at: https://newspapers.library.wales/view/3577026/3577028
UK Quoits, 'The History of Quoits in Wales – International and Individual Records' Available at: http://www.lindahome.co.uk/Quoits1/introduction.html
UK Quoits, 'Captains of The Welsh Team – 1896 – 1948', Available at: http://www.ukquoits.org/page26.html
Out Of The Blue Artifacts, 'The History of Quoits in the Valley's', Available at: https://outoftheblueartifacts.com/the-history-of-quoits-in-the-valleys/
Rhondda Cynon Taf Libraries Digital Archives, Available at: https://archive.rctcbc.gov.uk/home