Thank You to All Of Our Supporters
As we approach Christmas and 2021, Cynon Valley Museum, would like to take a moment to say thank you to everyone who has given support to us amidst the Covid19 pandemic and helped ensured the Museum has negotiated 2020 and will enter 2021 ready to reopen to the public as soon as it is safe to do so.
We would firstly like to say thank you to all of our volunteers who have stood by us through our closure ready to return when it was safe for them do so and supporting the museum by researching and creation of articles for "Stories From The Collection". We would have not been able to do anywhere near as much without your dedication and support for the museum and we certainly would not have been able to reopen like we did albeit for only two weeks due to changes to Welsh Government Guidance. We can't wait to see you back in the museum soon.
We would also like to say thank you to you, our community. Thank you for sharing our museum social media posts, reading our online articles, and visiting our digital exhibitions and when we are open supporting us by shopping local in our museum shop and gallery.
Thank you to everyone who has made a donation to the museum, from shopping on Amazon Smile, to making a donation or becoming a Friend of Cynon Valley Museum. Your generosity and support has been invaluable.
Finally, we would like to say thank you to our funders who have helped the museum cover essential costs as we faced a loss of income through the museums continued closure. Funders include, Pen Y Cymoedd, Welsh Museums Federation, National Lottery Heritage Fund and Interlink.
Museum at Home: Always Open Online
As we head into 2021 we will remain closed for now as we wait until it is safe to reopen. In the meantime our website is always open. With 15 exhibitions and many stories from the collection there is something for all. Make sure to keep up to date with the latest exhibitions and articles coming out this December, January and February.
Stay in Touch: Sign Up Now to Our Newsletter
Stay in touch and hear the latest museum first by signing up to our newsletter.
How to Support Cynon Valley Museum
Support from our community remains vital, you can support us today by sharing social media posts, by signing up to Amazon Smile, by making a monthly or one off donation or by becoming a Friend of Cynon Valley Museum.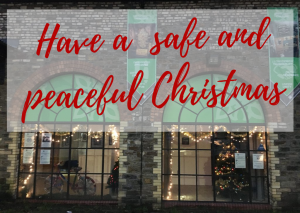 From everyone at Cynon Valley Museum,
We wish you a Safe and Peaceful Christmas and New Year