At Cynon Valley Museum, we pride ourselves on creating an environment accessible for all. On 9th November 2019, we launched the Sunflower Lanyard Scheme, which aims to create a safe and welcoming environment for all visitors.

The Sunflower Lanyard Scheme helps to create awareness for individuals with 'hidden disabilities.' These hidden disabilities include autism, crohns disease, dementia, depression, and anxiety. You can use the Hidden Disabilities Sunflower to tell people about the type of assistance you require. By wearing the sunflower lanyard, the museum staff will know that an individual may need help, extra assistances, or special requirements.
The Cynon Valley Museum have joined this scheme to show our understanding and commitment to accessibility to all. We recognise visitors with a hidden disability and are confident to provide them with additional help or assistance.
Throughout the museum site there will be signs that appear in specific areas that will help to explain what can be expected, in terms of sounds, sights and smells. This will provide clear explanations and instructions and allow individuals to prepare for upcoming environments.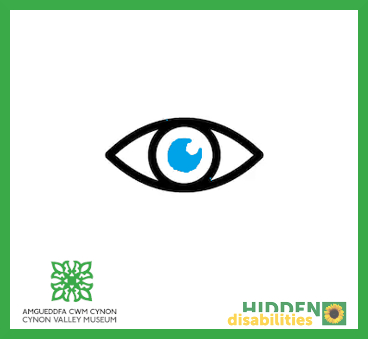 The eye sign indicates certain conditions or elements of the museum site that may be uncomfortable or unsettling to see for some visitors. For example, the bright spotlights in reception or throughout the museum exhibition. Also, throughout the main exhibition there are objects varying in size, shape and colour which may be overwhelming for some individuals to experience.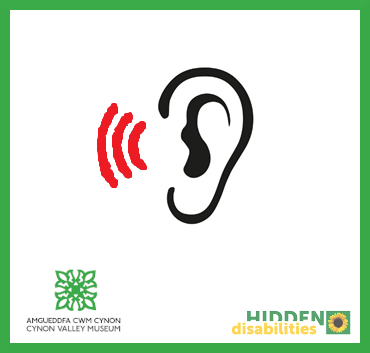 The ear sign indicates the possibility of loud or abrupt sounds. For example, in the reception there may be sounds of visitors/staff chatting, the sounds of the shop till being used, doors opening and closing. Throughout the exhibition, there are TV monitors that play videos, including music, speaking/shouting, and cheering.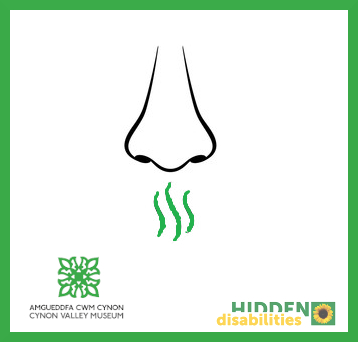 The nose sign indicates the possibility of strong or distinctive smells. For example, the smell of the soaps and candles in the museum reception/shop. The smell of coffee and food coming from the café next to the reception.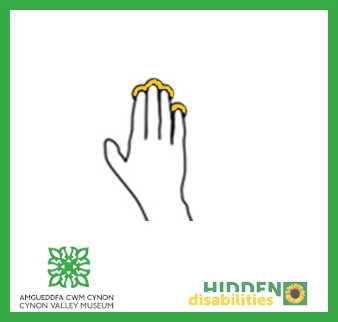 The hand sign indicates certain objects and textures that can be felt in the museum. For example, throughout the main exhibition there are interactive activities in which visitors can touch object replicas. The museum shop also provides opportunity for touching/feeling different things.
There will be leaflets available in reception with all the information above, which can be used as you travel around the museum.
If you would like to wear a sunflower lanyard on your visit to the museum,
please make arrangements before by following the link here, or by approaching the front desk on your arrival at the museum.
If you have any requirements, queries or questions, please don't hesitate to ask a member of staff.