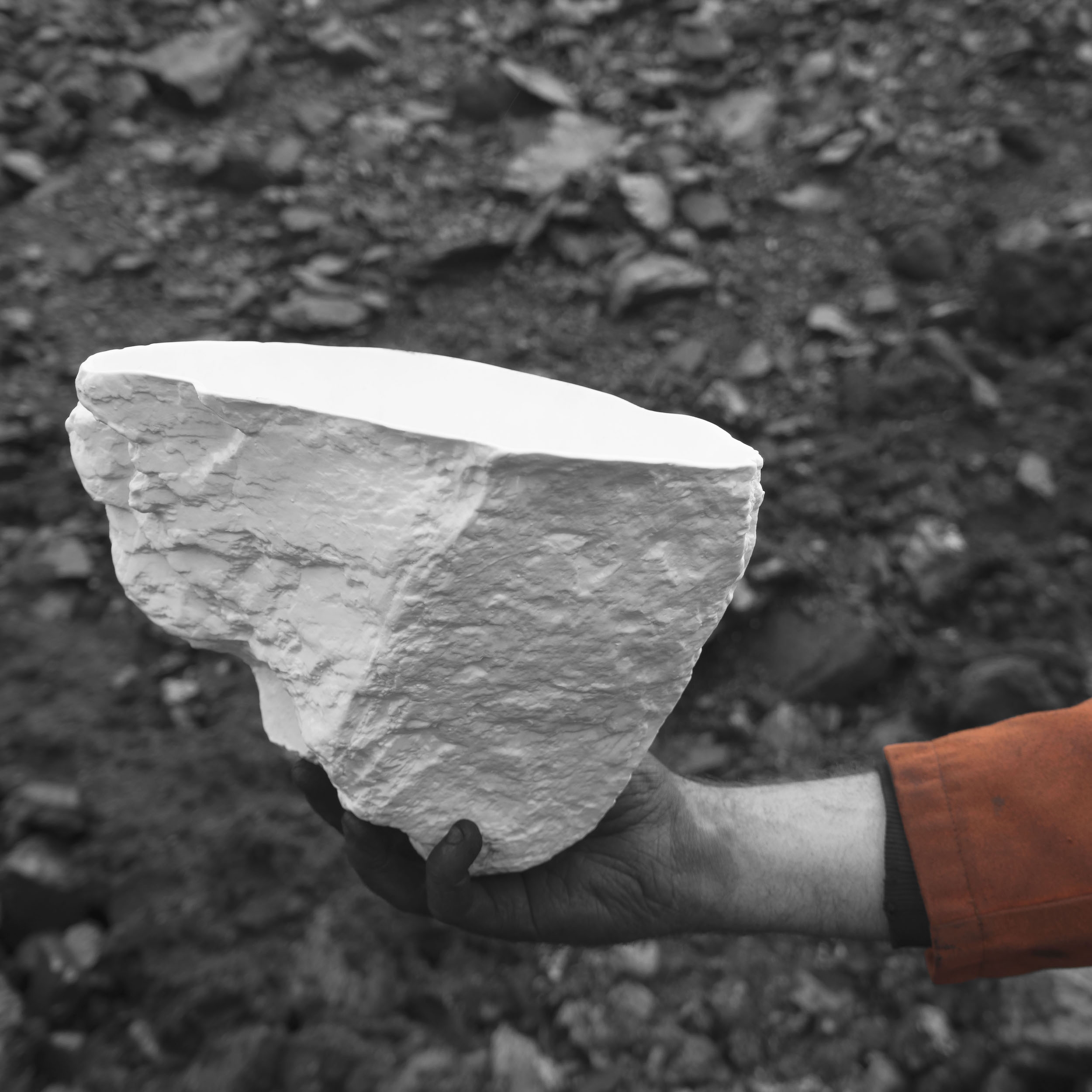 Exhibition at Home: Kim Colebrook
Ceramic Art Inspired by the History and People of the South Wales Valleys
Kim came to ceramics in her 50's, a sort of mid life crisis without the sports car! Born in Abersychan and now living in Abergavenny, Kim's career has been in the tourism and heritage sectors, mainly working in Wales. After 12 years with the Wales Tourist Board (now Visit Wales) she set up as an independent consultant in 2006, and has worked on a diverse range of projects since then.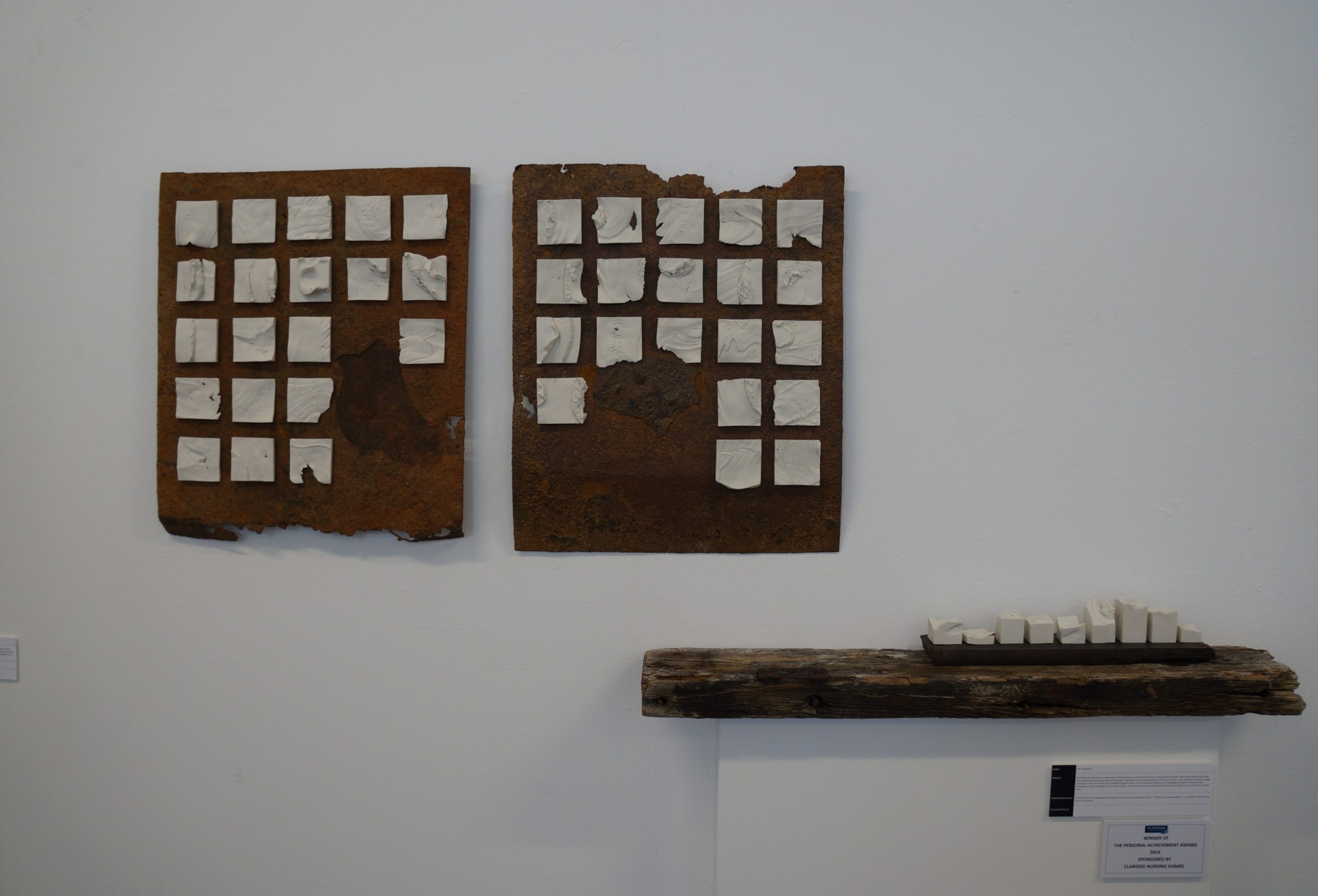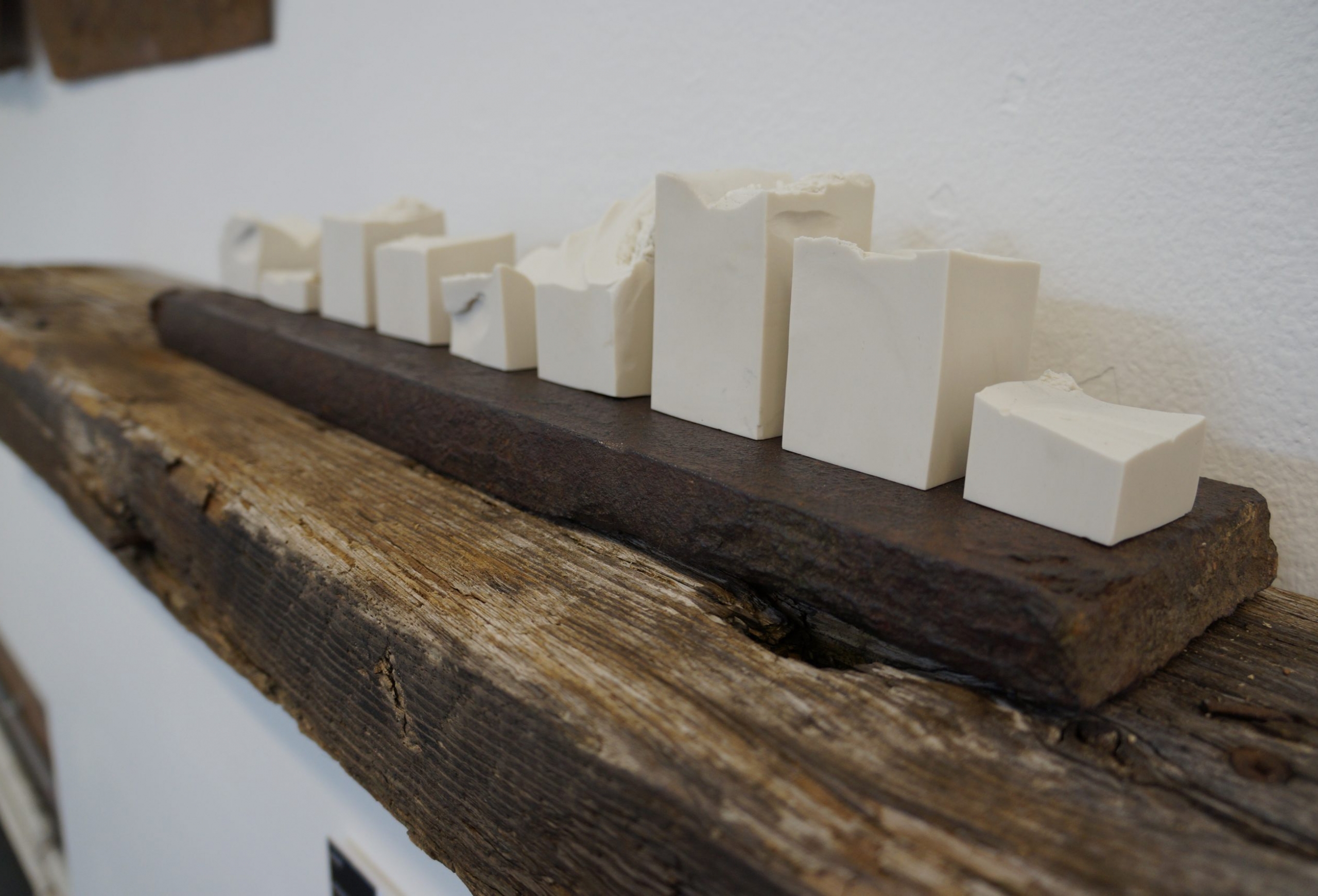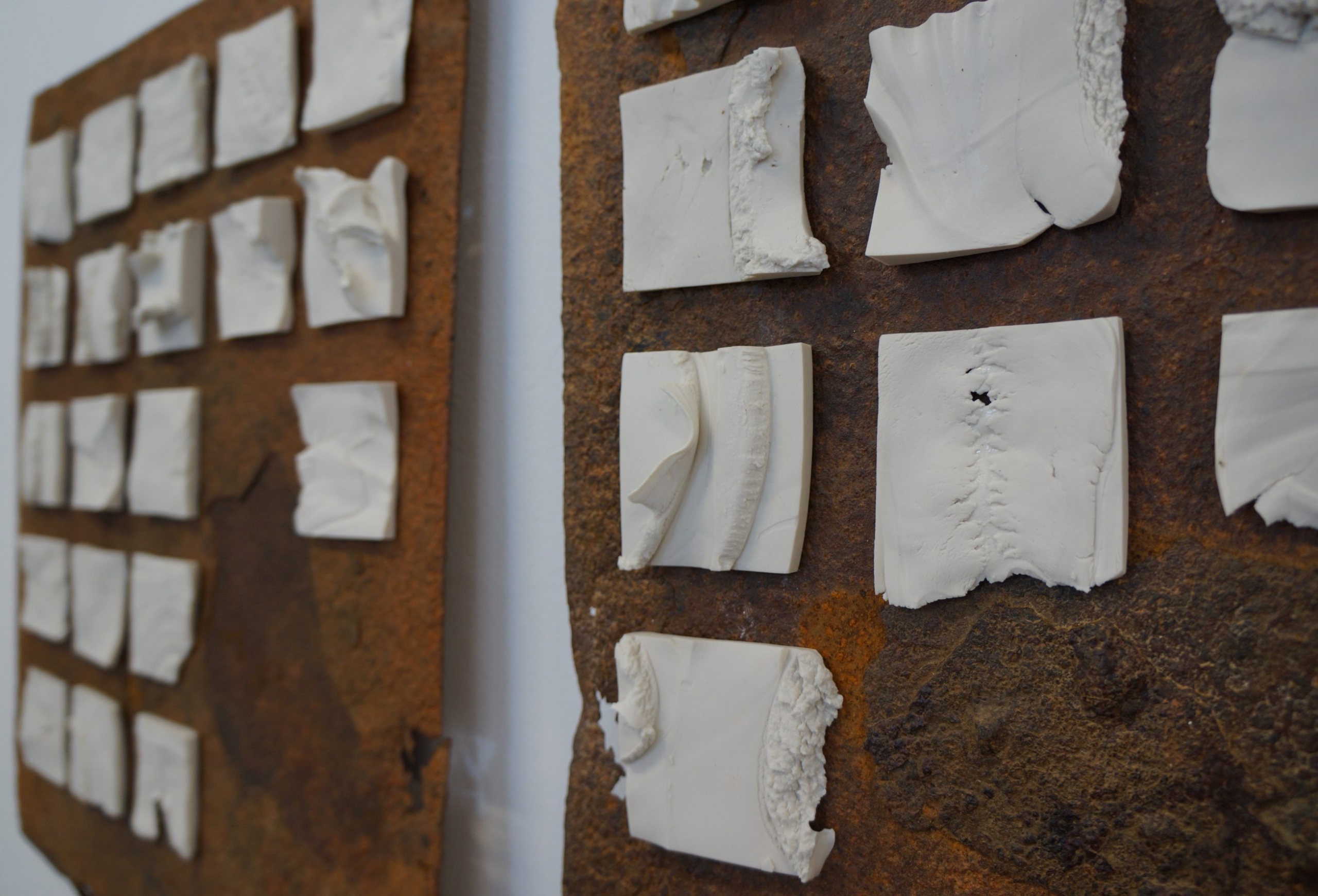 Having started art classed Kim joined the Portfolio course at Hereford College of Arts in 2013, and discovered the joy of working with porcelain; and also discovered ways of linking this new passion with her lifetime interest in the history of south Wales (she researched and published the first work on British Ironworks, Abersychan in 1982 whilst completing her Geographical Techniques course). Kim's final work on the course was inspired by the textures of decay at this ironworks (Image 1, 2 and 3)
Kim went on to study the Contemporary Design Crafts BA at Hereford, and continued to focus on ways of linking ceramics with history. One of the first works as her "Edmund de Waal" moment – over 100 vessels with various iron oxide applications and firings (image 4) – and this wall display inspired other works in particular the start of a technique of layering oxides into porcelain, in a sort of loose Nerikomi fashion (a traditional Japanese method of creating patterns with coloured clays), mirroring the layers of geology and the faults in the South Wales Coalfield. This has been a key element of Kim's work for a number of years. (Images 5 – 11).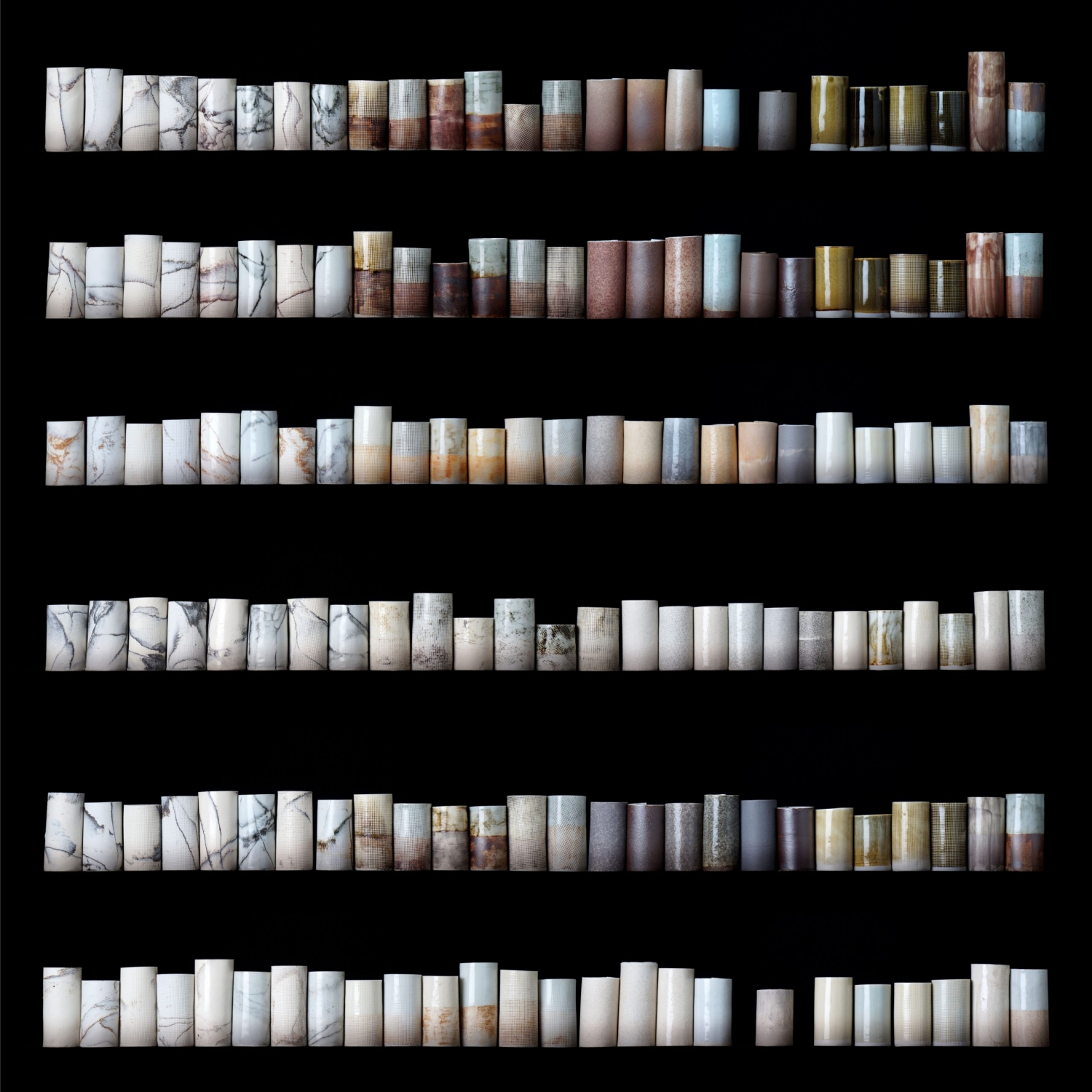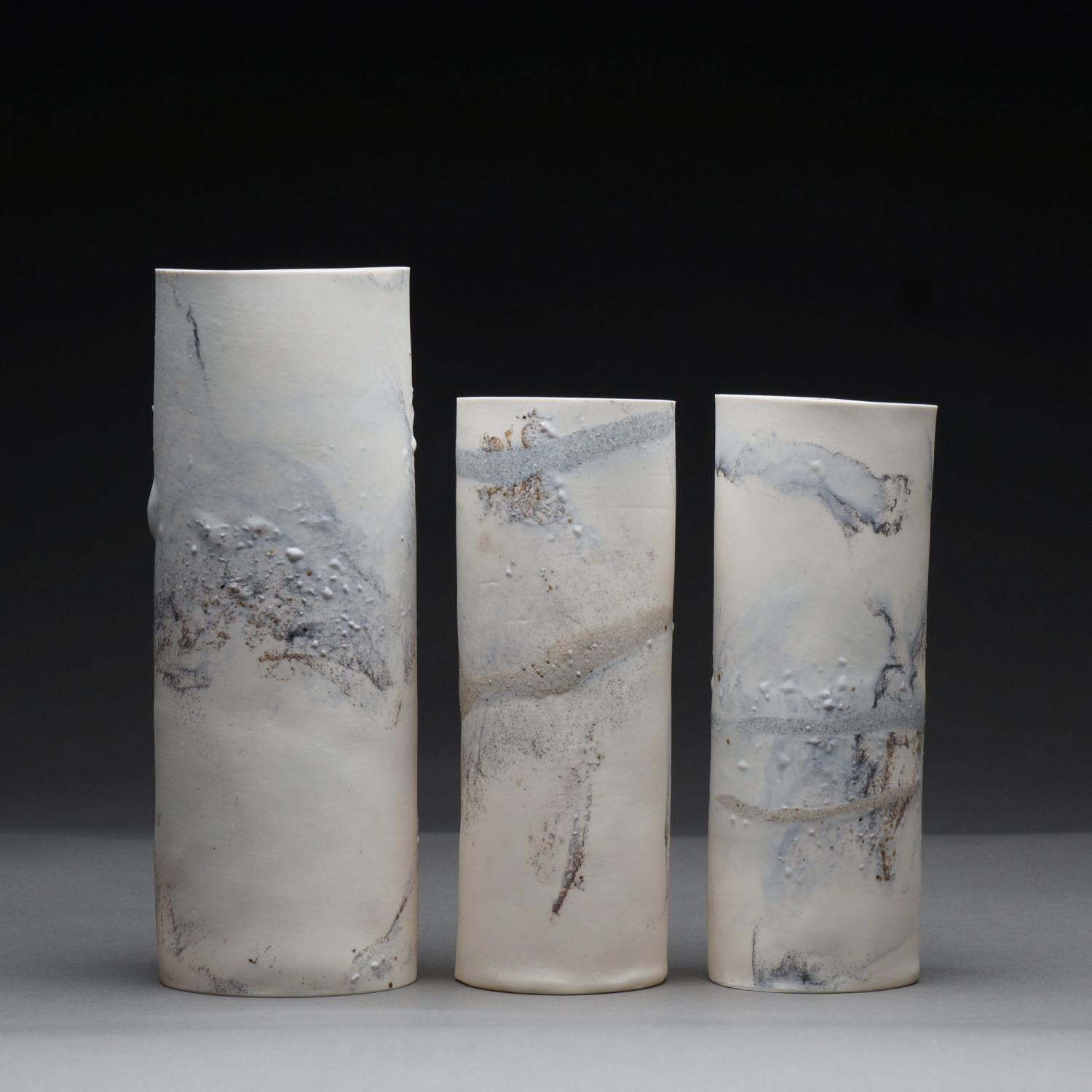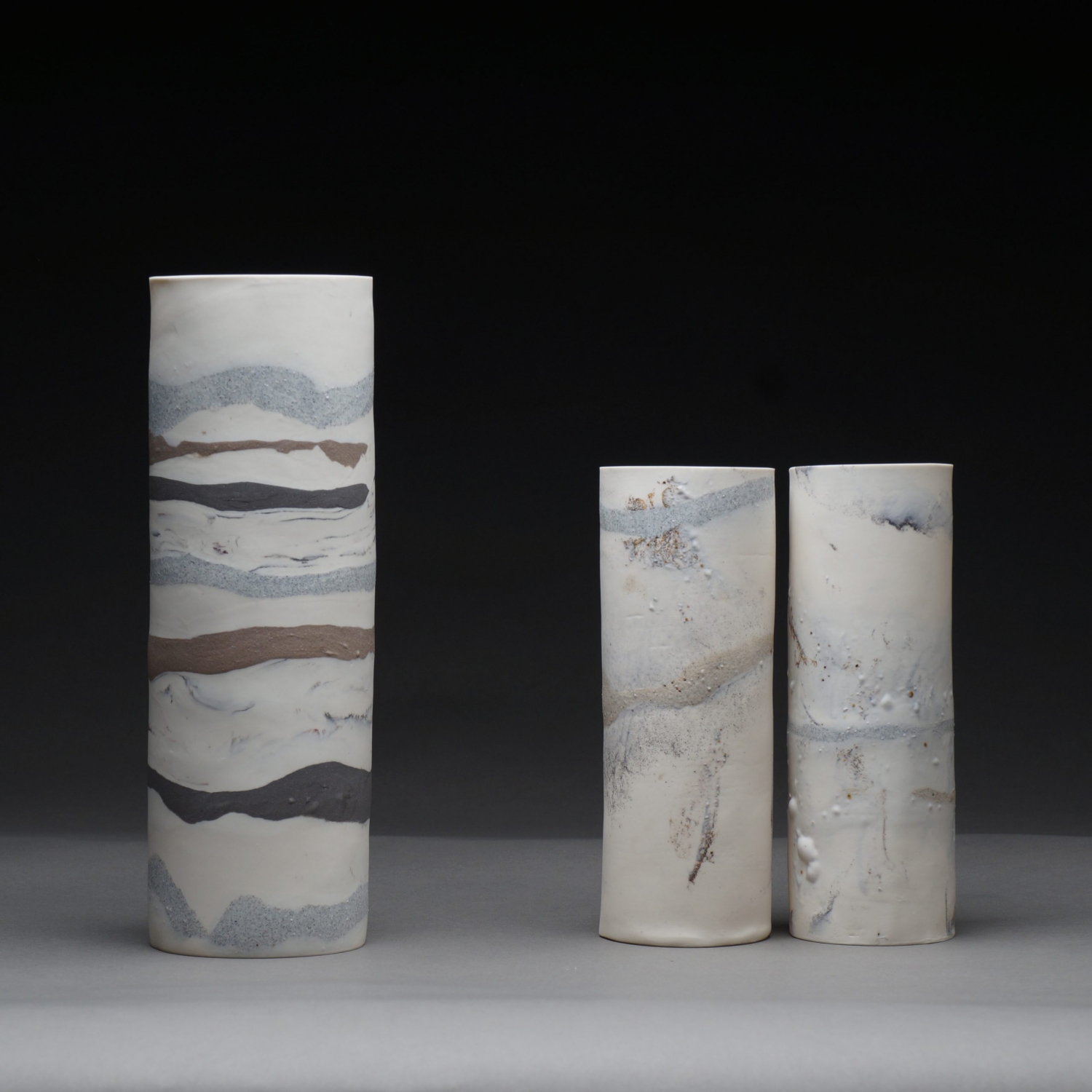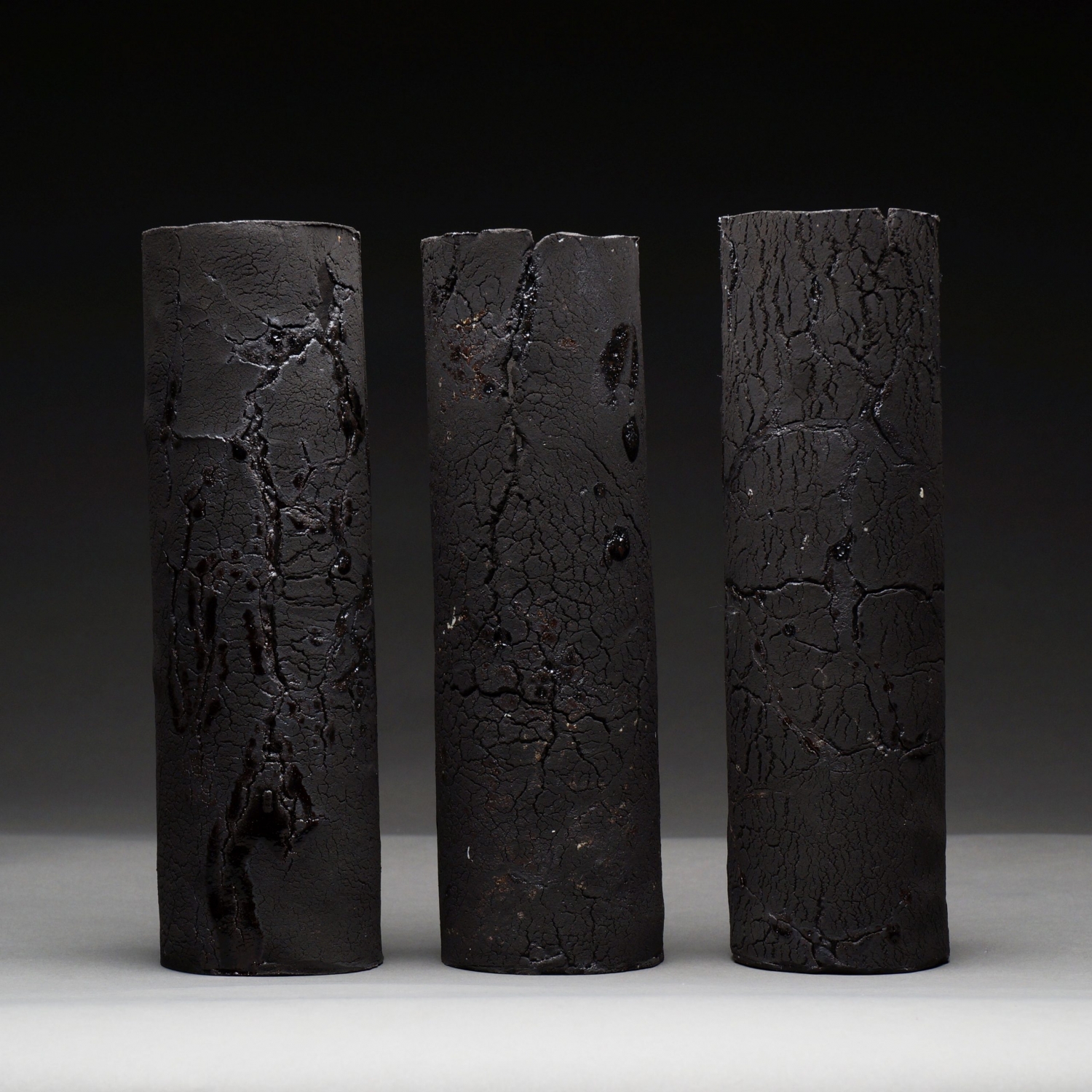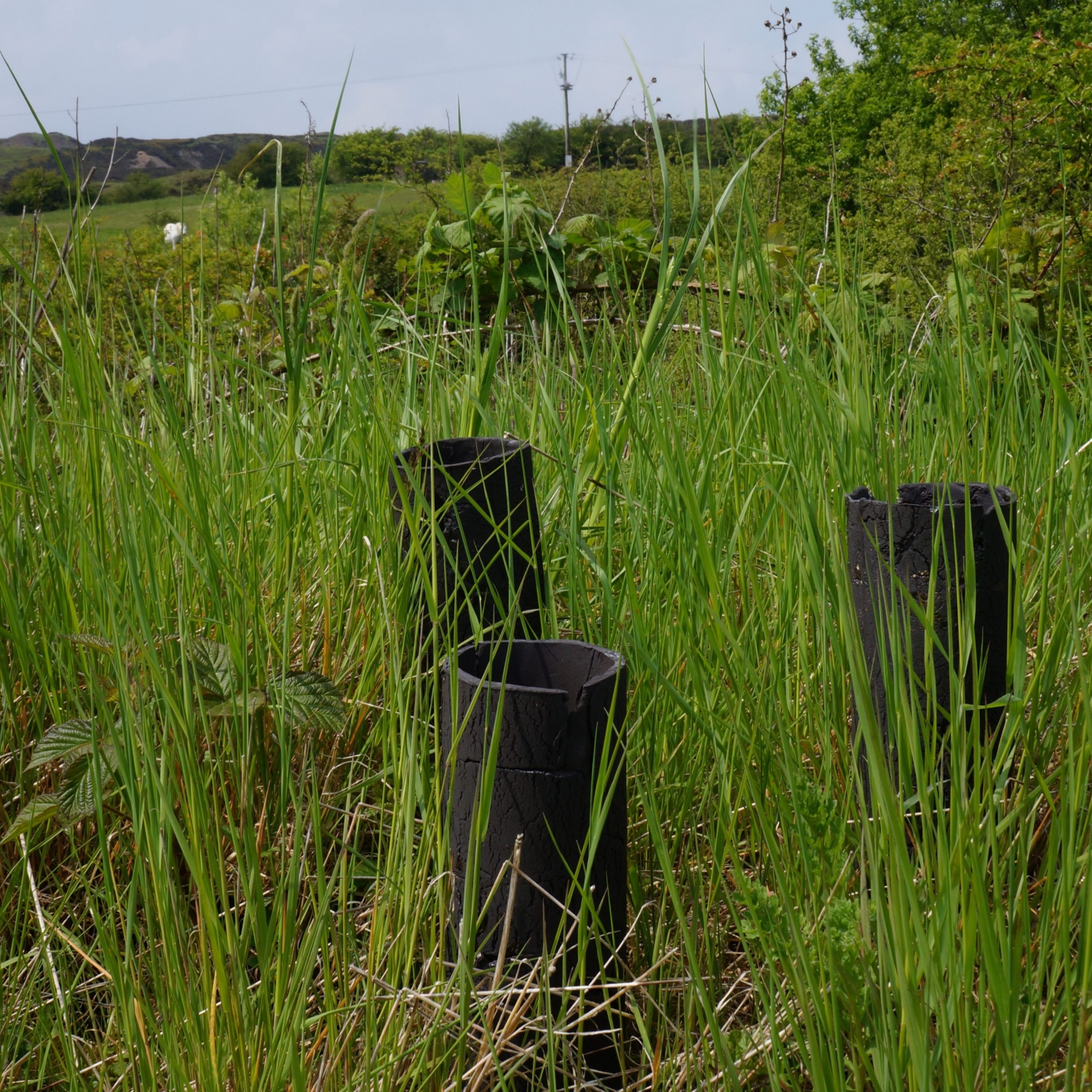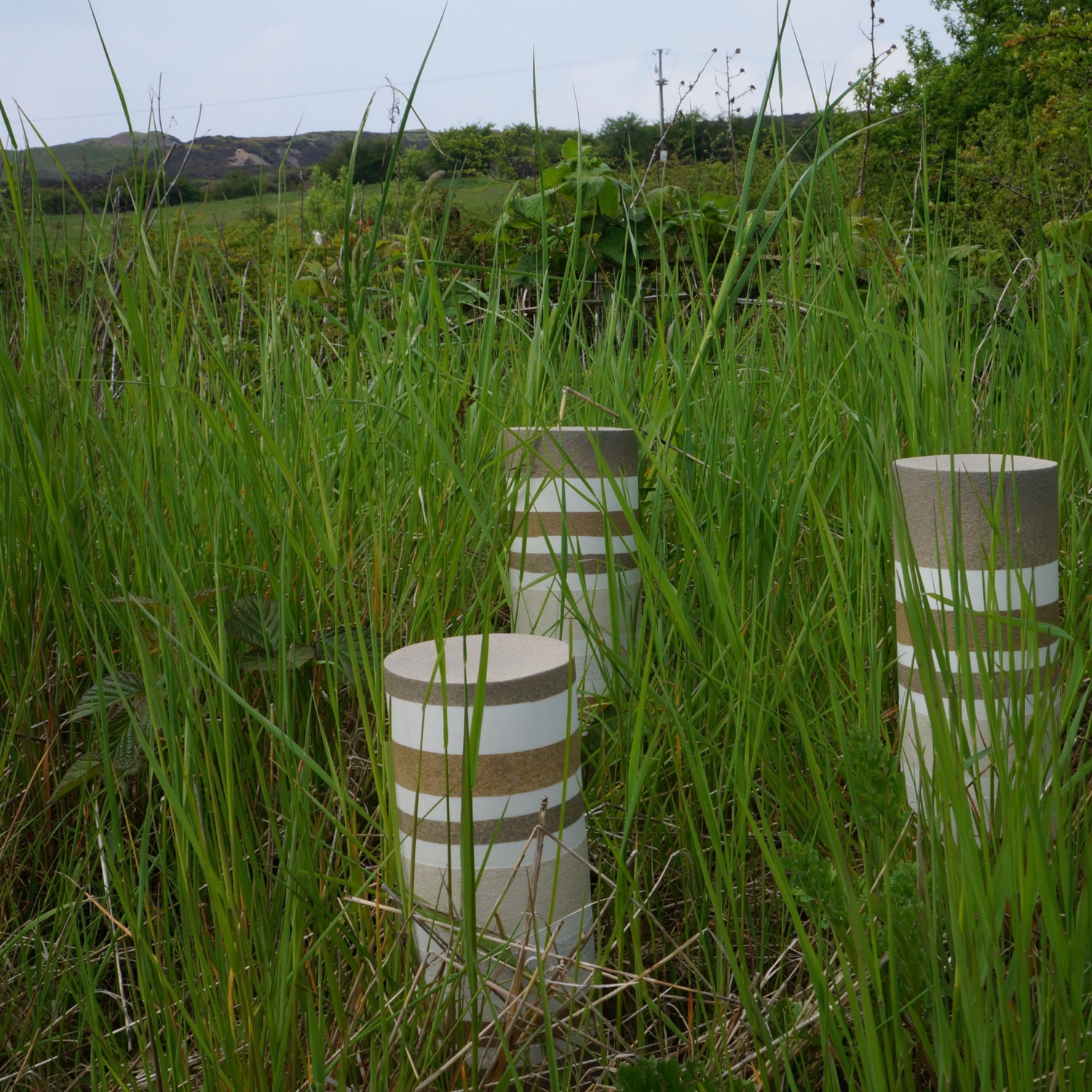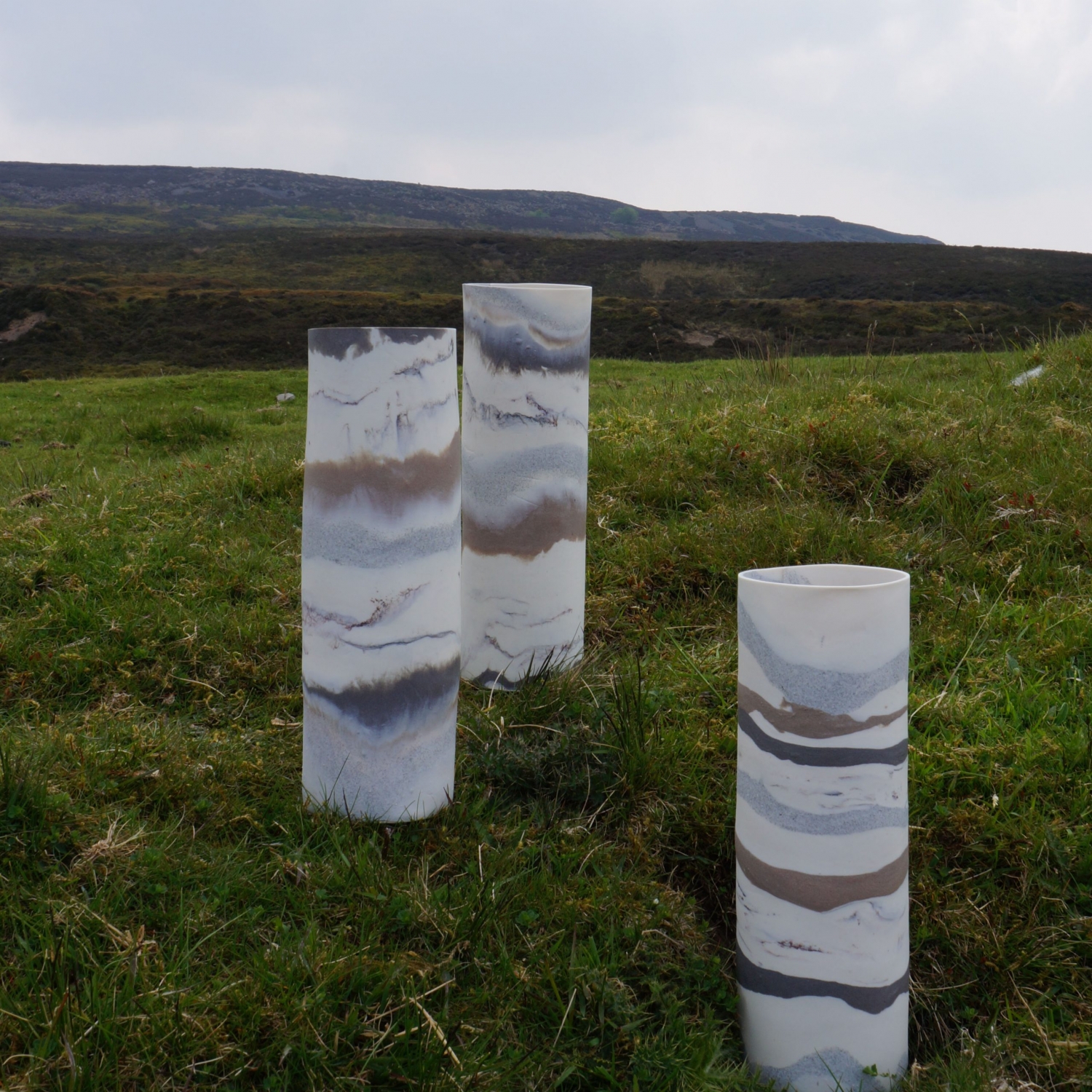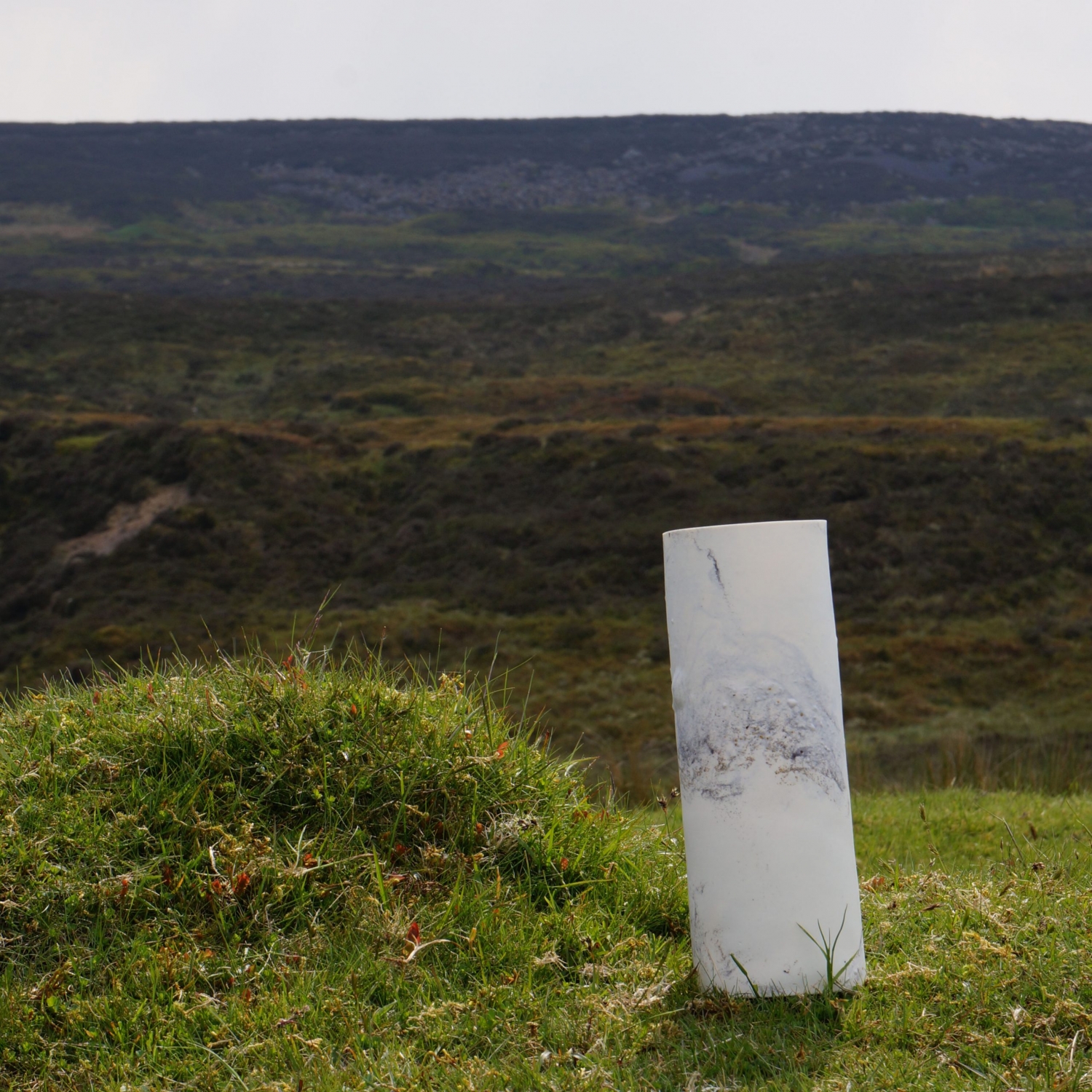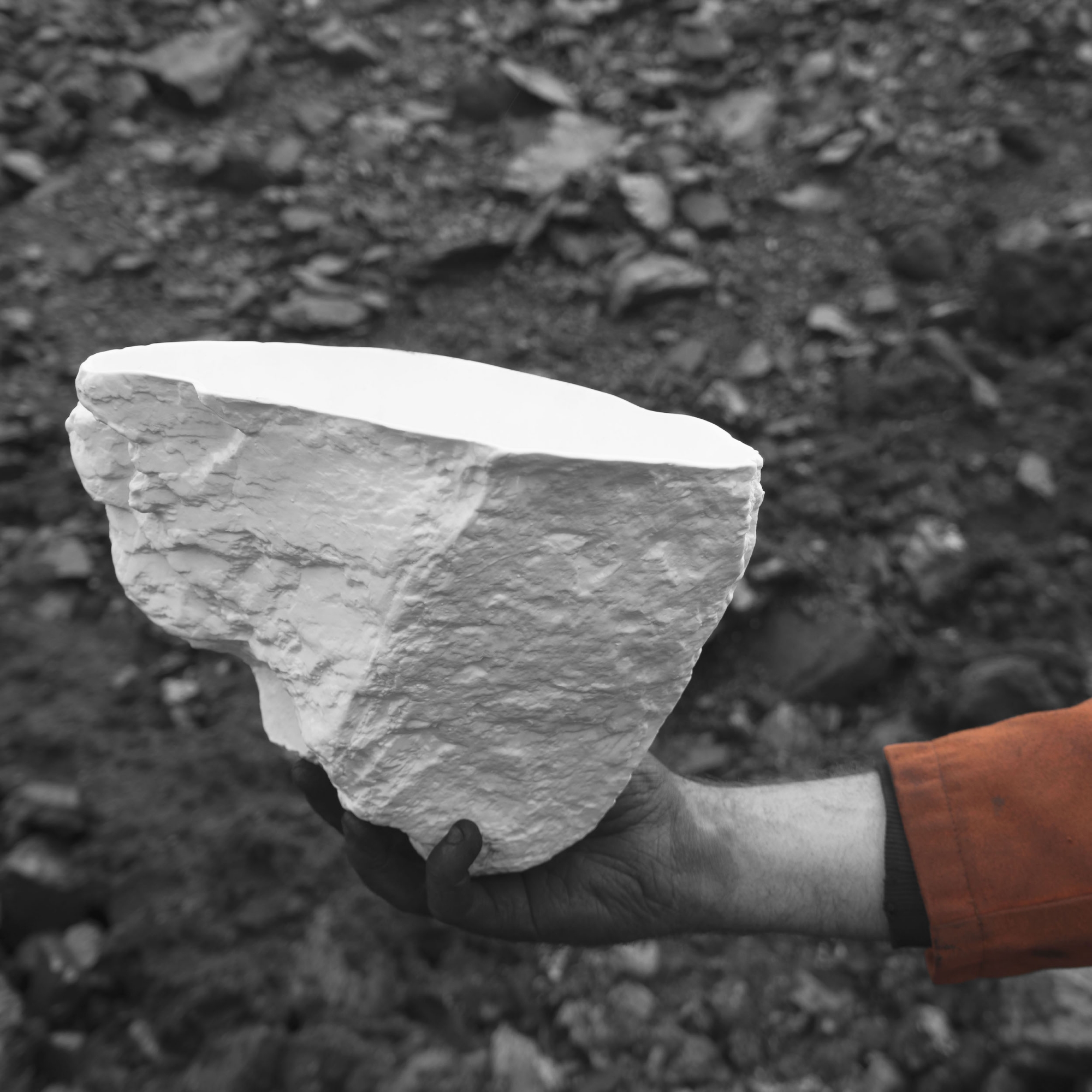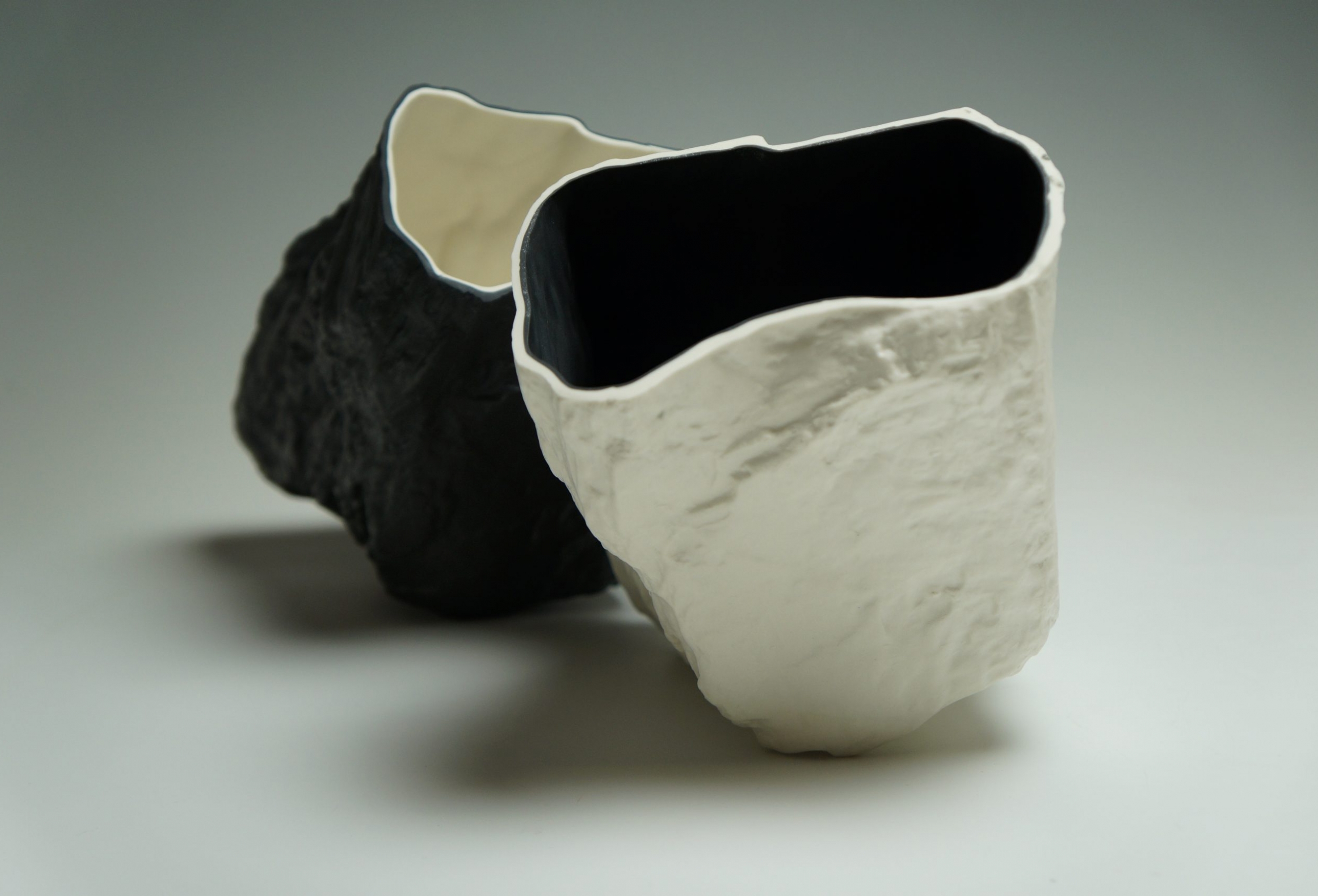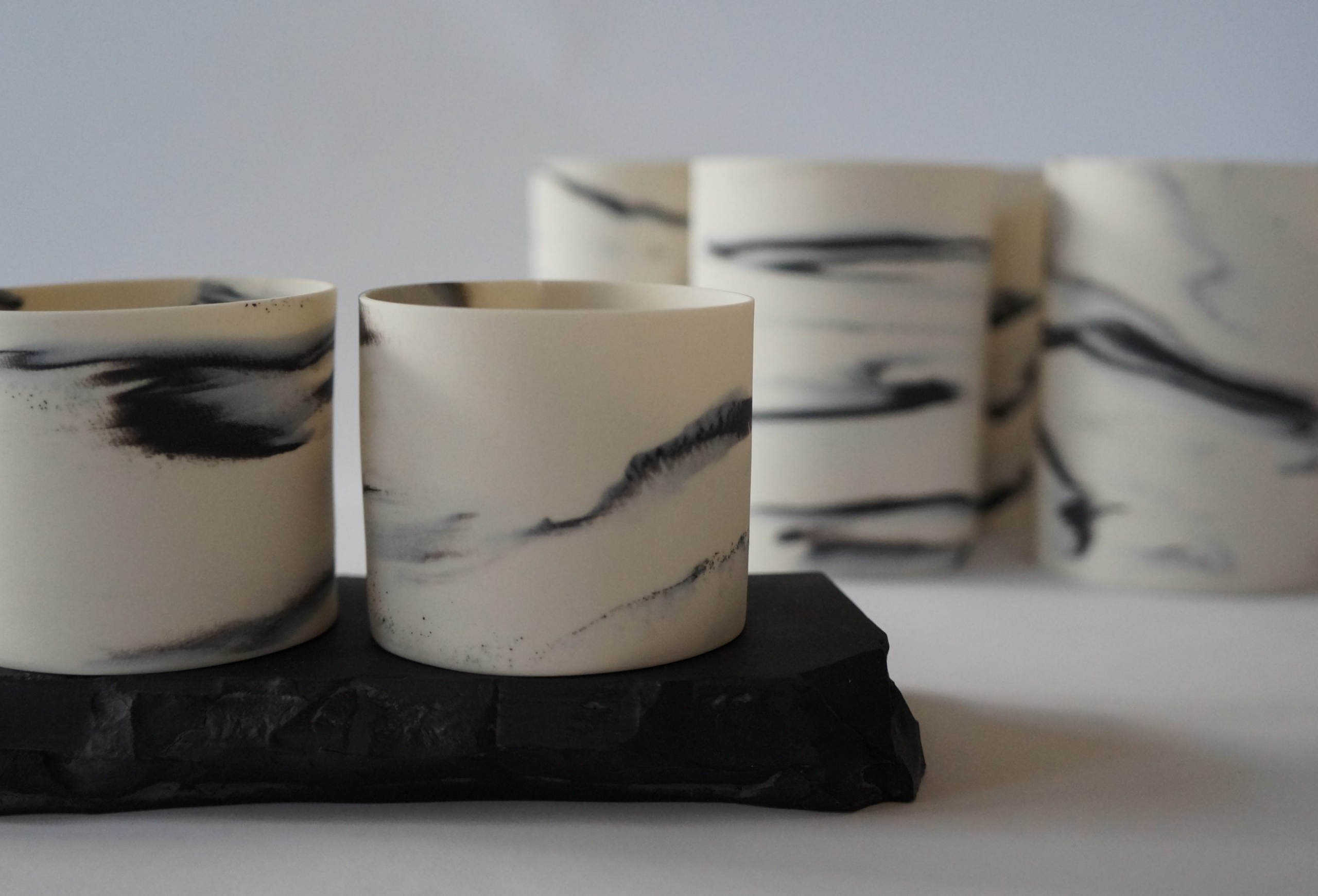 After completing her BA Kim studied for an MA in Ceramics at Cardiff School of Art (Cardiff Met) where she explored further the form of coal, and the interpretation of space, what is left behind when things are removed – from a lump of coal through to the whole industry. During this period Kim worked with casting of pieces of coal, returning one to the pristine white casts to the Merthyr Tydfil opencast site who had donated the coal to her.
In 2019 Kim won the International Ceramics Festival Emerging Maker Award – the prize of which was a residency in China – where she planned to explore the similarities and differences between Jingdezhen (the home of porcelain) and the coal industry of Wales, with the aim of creating an exhibition at Cynon Valley Museum called "Black Gold, White Gold" – exploring the important role that these two very different materials have played in the creation of the areas – so much that they are both valued and known as "Gold"
The trip hasn't happened, but Kim is still hoping to have an exhibition at the Museum in 2022 – and she is now working on a new set of work, which will still be inspired by the coal and iron industries. Meanwhile she has been refining her geological layers (images 14 – 19) and displaying/selling work around the UK (and she won the Open Art Competition at Y Galeri, Caerphilly – with work called Strata – image 20). She is planning to make a unique set of vessels which will be for sale to raise funds for the Museum as part of the exhibition – so watch this space.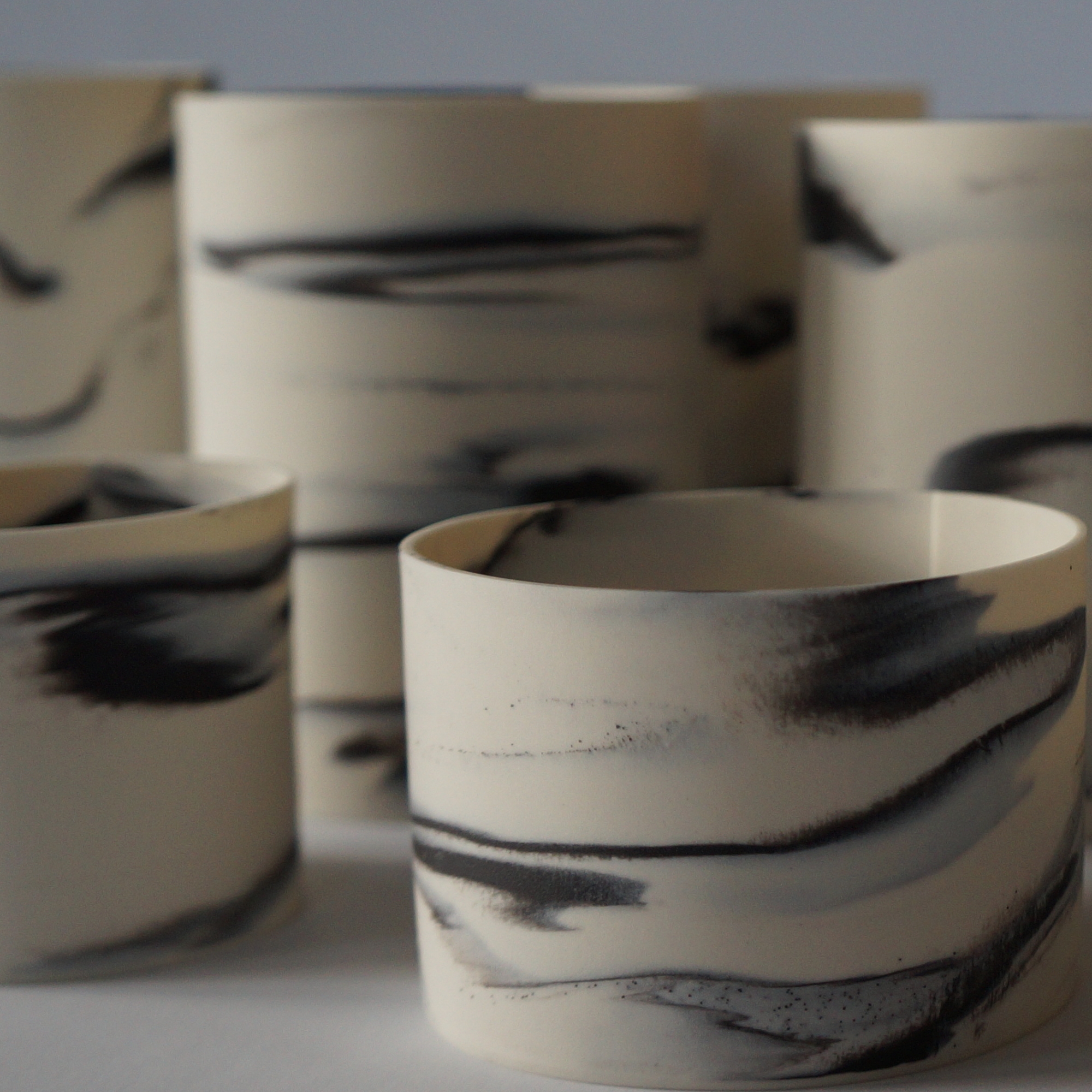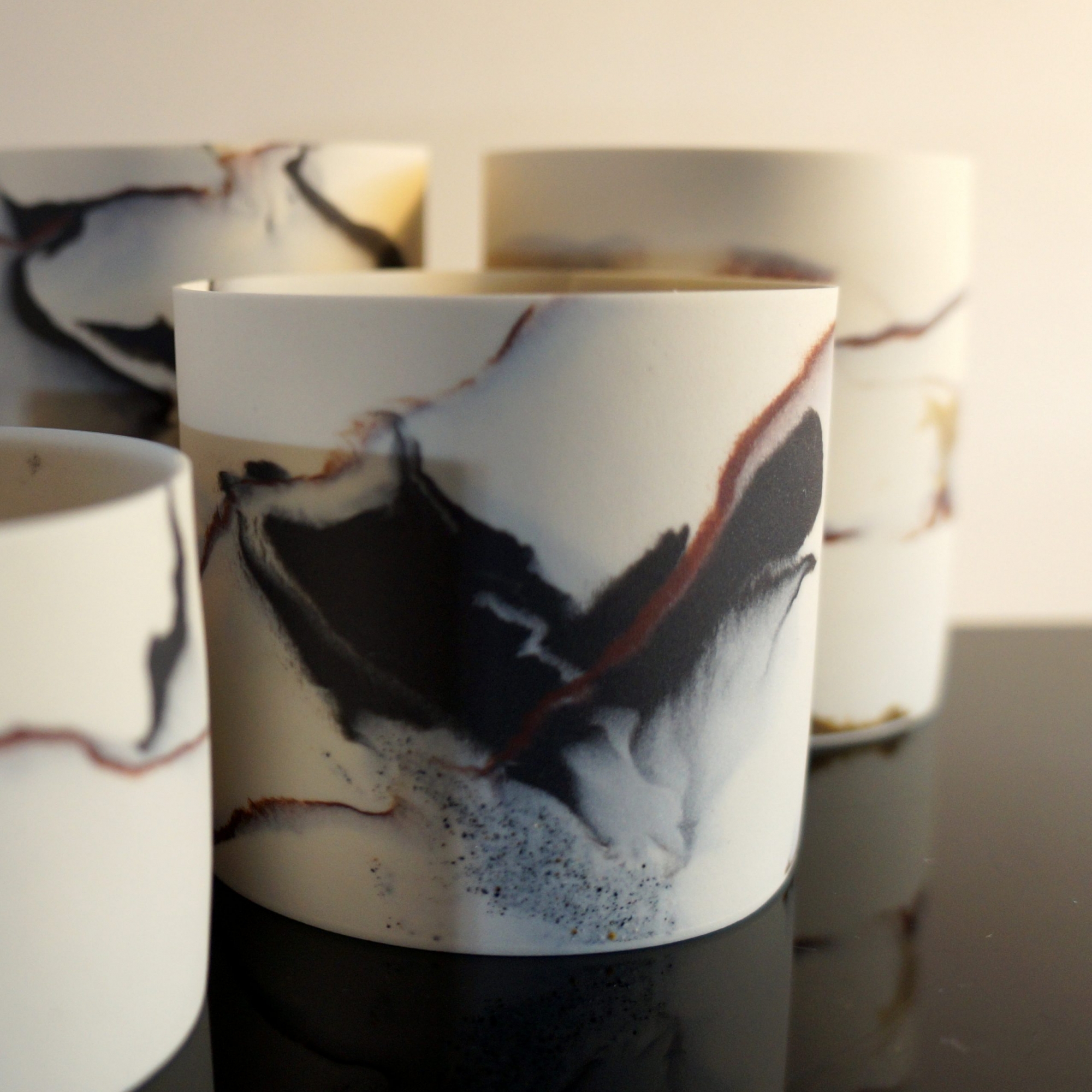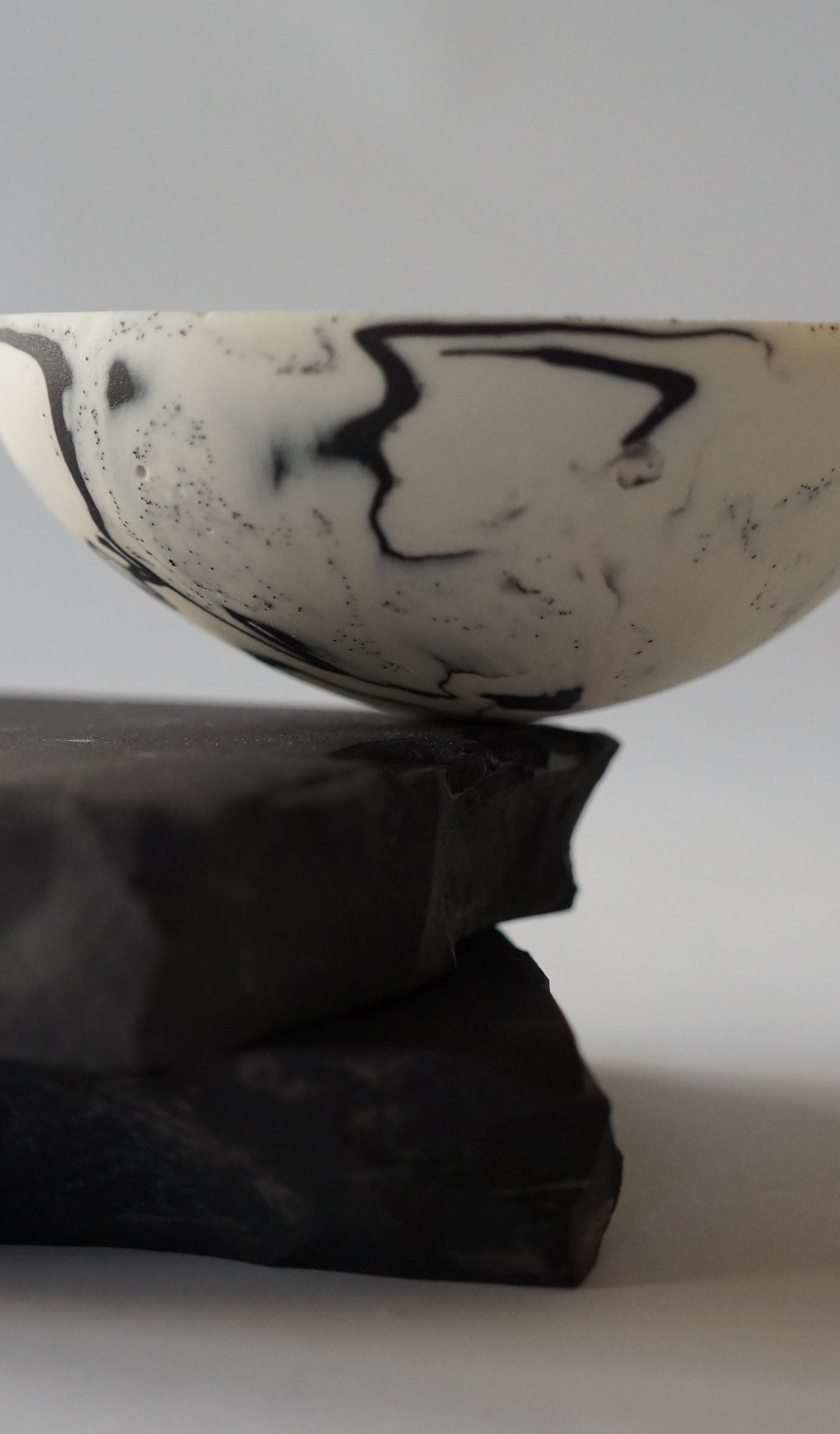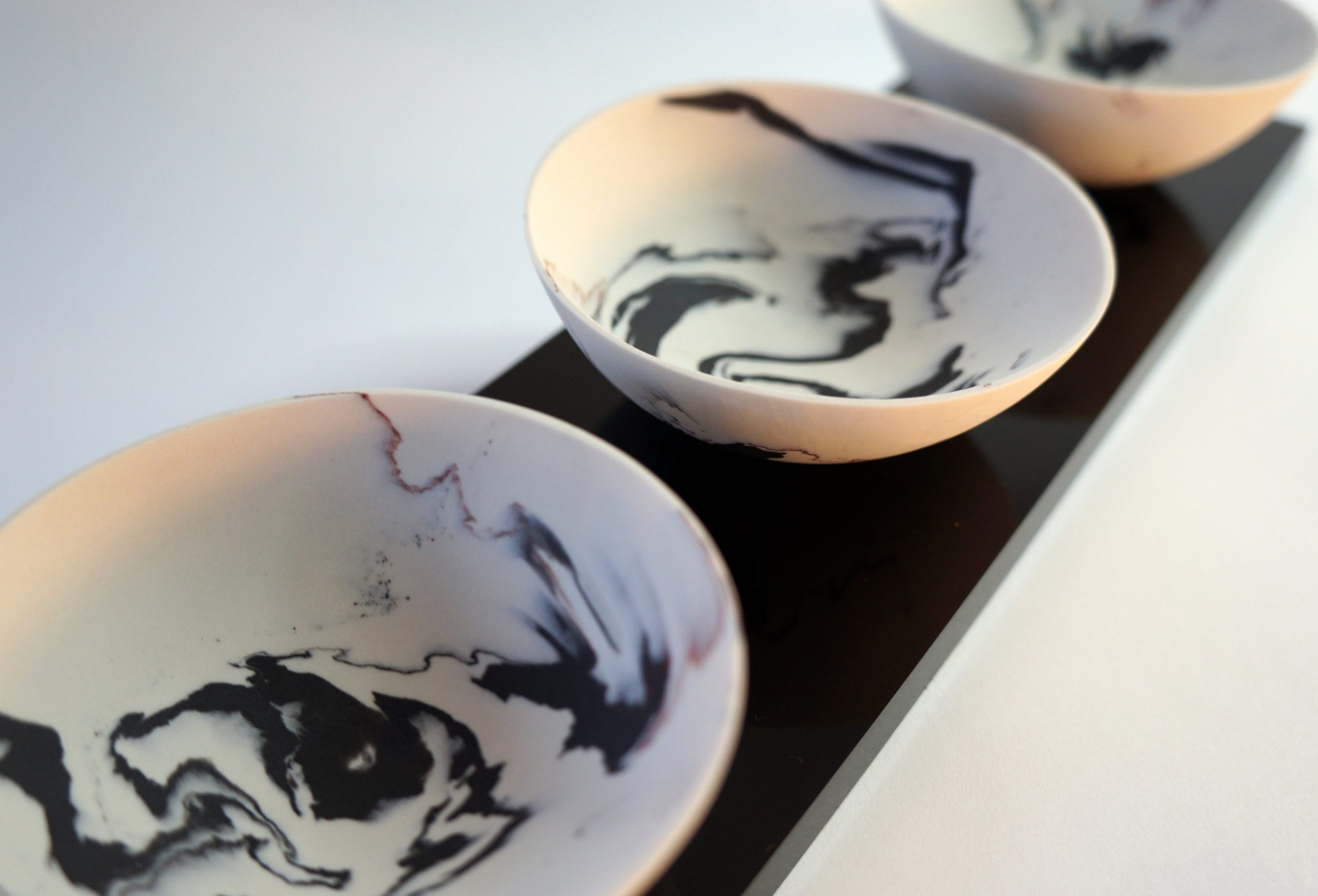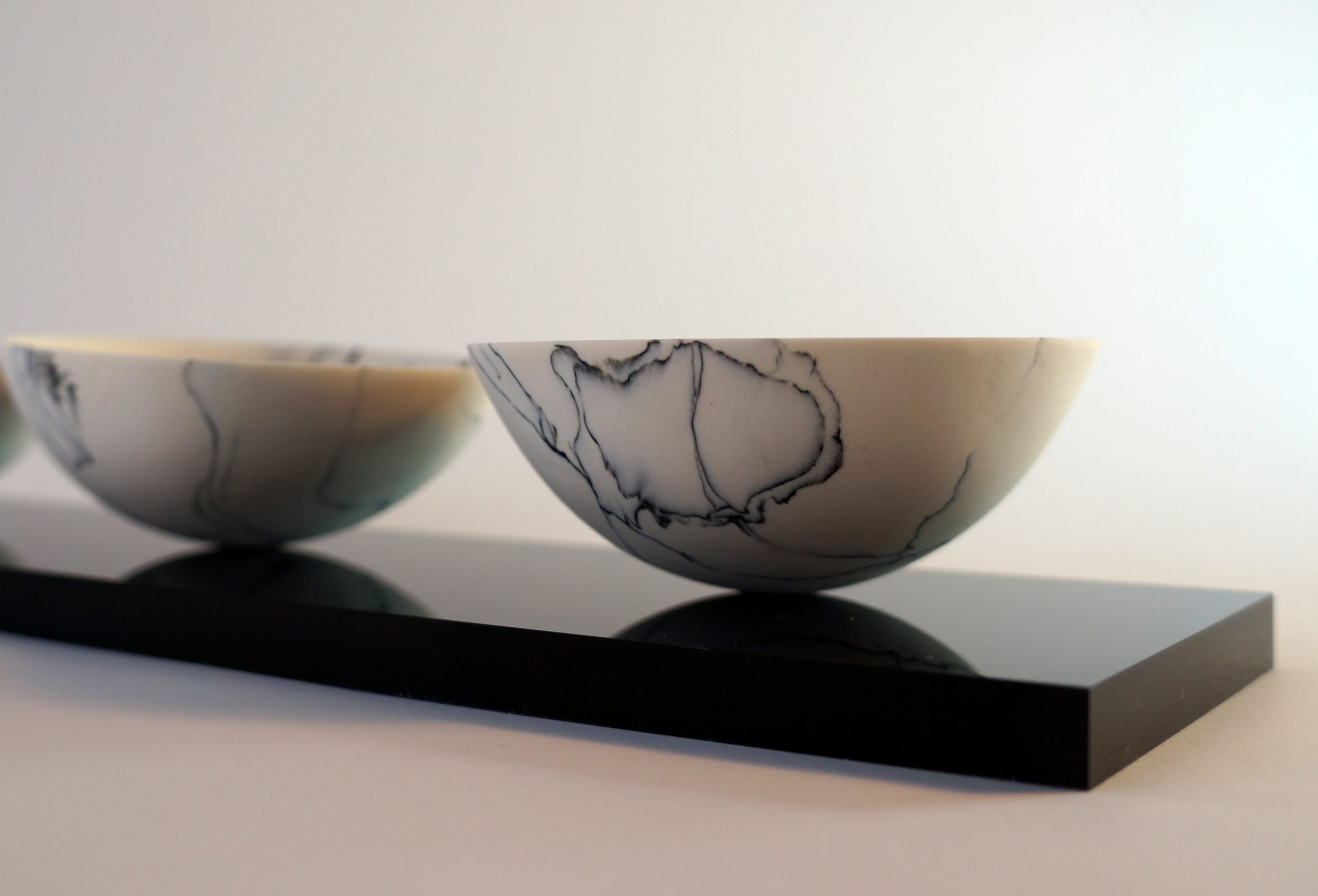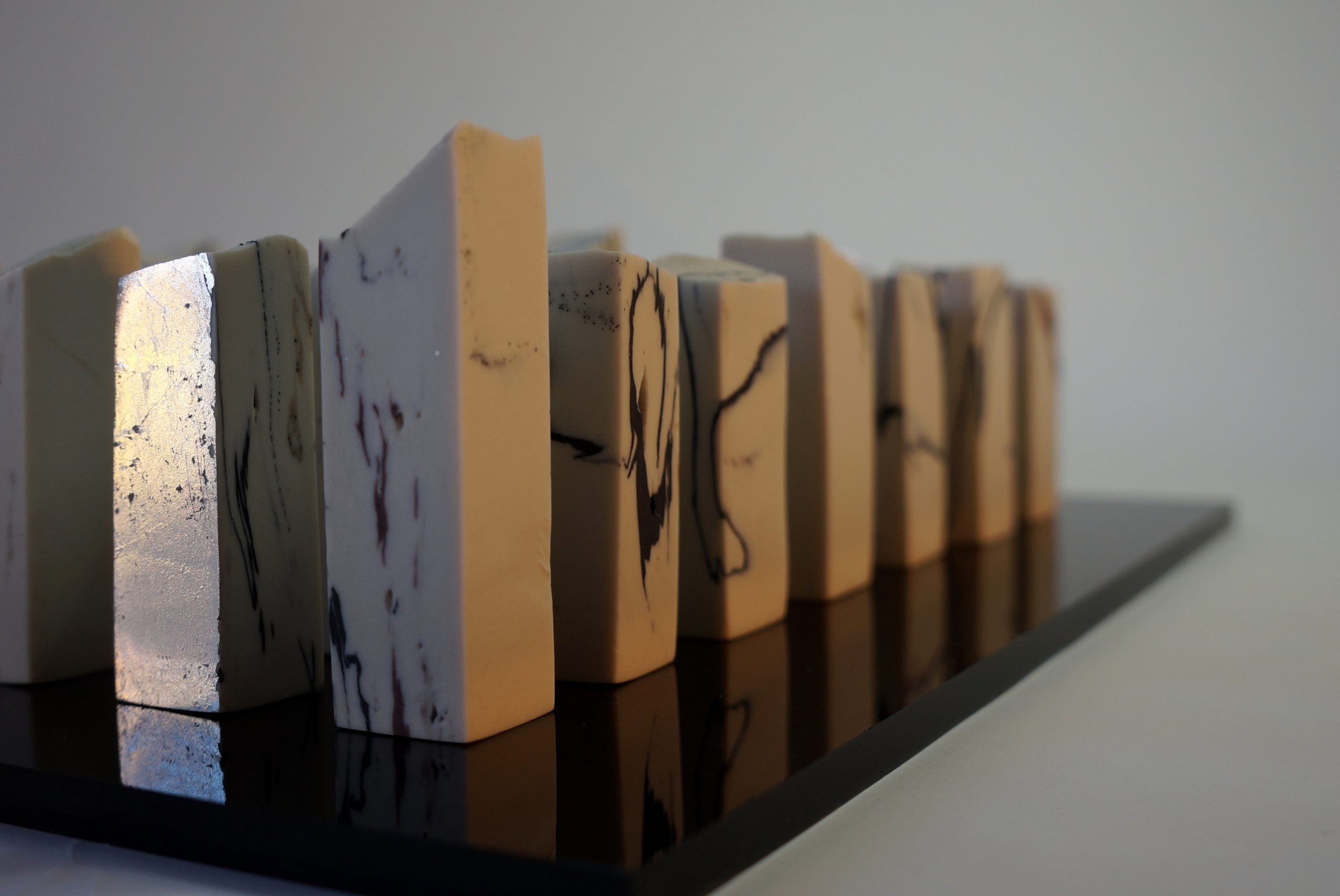 Thank you for visiting, Cynon Valley Museum is not possible without you, please consider making a monthly or one off donation and support your local museum.