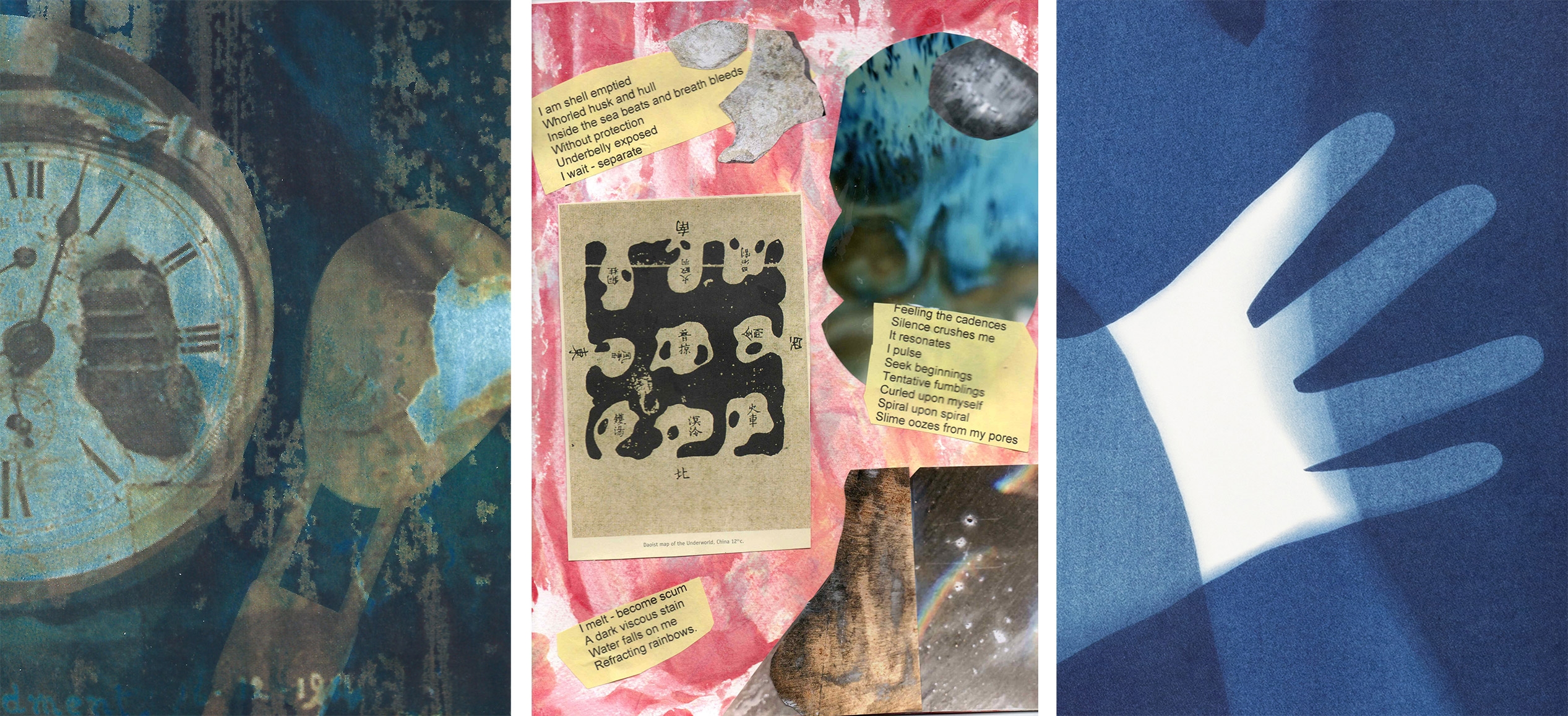 A Shared Walk Group: Pulling Apart Together
A Shared Walk is a community of South Wales based artists who seek to engage with other communities locally, nationally and internationally. We work in a wide range of media including performance, painting, ceramics, photography, sound and installation.
Elements that unite us as a group and encourage the involvement of wider communities include the shared location, sharing with others through the creation of artworks, provision of workshops and the shared exhibition. We are committed to making artworks that are inclusive and site responsive.
The year 2020 was one of constant changing directions, readjustments and adaptations of plans and expectations for us all. Building on our existing relationship with Cynon Valley Museum we were looking forward to our next exhibition here based on further visits to explore the treasures in its archives but of course that could not be.
So, instead we worked on what could be seen as our own archive of this unprecedented time, traces of which will now be housed in Cynon Valley Museum as we move into a new future in 2021. We have created works that reflect the processes of 2020; letting go, breaking up, fragmenting, finding grief and unexpected joys as we took stock, reappraising, reassembling and reconnecting. These experiences, common to us as a group are, we believe, representative of our wider communities also. The works we have chosen to show are multi-layered and sometimes ambiguous – nothing is straightforward, nothing is certain.
To see more about us go to https://asharedwalk.wordpress.com/
Series of Six Cyanotypes on Pre-printed Paper.
During the Spring and Summer of 2020 I made a series of cyanotype prints using torn out pages from an old Redstone Press diary and a mix of household objects.
This work, like life in 2020, was a departure from my usual. I became interested in how my experience of time and home shifted and changed as options for activities became more limited, and domestic preoccupations surfaced. It is fitting that the key ingredients for the work were found during an early lockdown tidy-up and clear-out.
The gentle rhythm of choosing each time themed diary page, mixing the chemicals, timing their exposure to the sun, rinsing them, hanging them and then waiting for them to dry, resonated with some of my other new domestic rhythms. Making the prints on previously printed paper, allowed for an ongoing and unpredictable juxtaposition of themes as the inks and chemicals reacted to each other, to the sun, and then dried.
The different elements appeared slowly, as an emerging collage, marking time in minutes, hours, days, months, years and even centuries. Other routines and markers are hinted at, as reverse silhouettes of familiar domestic tools dance with clocks, calendars, and schedules.
Anna Brazier is a freelance Alexander Teacher and Artist based in Cardiff.
movementinmind.co
movementinmind.org
Helen Rowlands: Re-assembling Ourselves
Helen C.A. Rowlands is a retired psychotherapist, writer and visual artist who works across genres, disciplines, and definitions. She has long been interested in assemblage and the notion of queering spaces. She is heavily influenced by contemporary Fluxus movements and in further developing ongoing global artistic communities.
She says : Collage seems an ideal medium to represent the processes of fragmentation and re-assemblage so relevant at this current time. All the works contain elements representative of my past experiences dismantled and reworked  in the present often containing hope for the future.  These elements include:  photographs containing fragments of works previously displayed at CVM.  Also images of ancient maps – originally pages from an old Redstone address book. The images have survived as objects of beauty. The unseen reverse of the pages often contains the crossed-out names of friends who have died.
The fragmented poems are sometimes revisions of  my older works and some are newly written in response to the current Covid19 and other wider geo-political situations.
The Welsh landscape as a source of support figures prominently in the work. In some ways these collages represent my ongoing processes of  adapting to living with cancer but also more widely they represent some of the processes happening in the world today as we all have to adapt, change, and reassemble ourselves throughout our  lives.
Website http://helenrowlandswpp.wix.com/artsite
Instagram helenrowlands.artsite
Twitter Helen C. A. Rowlands @helen_celtt
Sharon Magill: Of Those Absent and Present
Cyanotype on paper (series of 16 prints)
Of Those Absent and Present explores the physicality of touch, the desire for closeness or the need for distance at a time when touch brings with it the dangers of Covid-19. In these images the artist places her hand on the surface of the paper, making physical contact, becoming aware of the material and the sensation of touch. Over time presence is recorded, ultraviolet light from the sun altering the chemicals of the sensitised surface, creating a photographic record of existence.
Presence and absence are integral to these images. Made over two exposures, over two days, each hand is distanced by time, but flattened by the surface and the process. As the second exposure begins, the physicality of the first is already absent, the moment of presence has gone.
Compositionally the second exposure allows for playful interactions to emerge, suggestive of intimacy, comfort, a longing to be held or hesitation, anxiety, resistance, distance. These prints were inspired by the artists' experiences of the first lockdown. In many ways the individual became lost in the enormity of the pandemic and this body of work provides a moment or opportunity to be seen beyond the global and national challenges.
Sharon Magill is a Cardiff based artist exploring themes of isolation, loneliness and solitude, identity and place. Sharon's work examines psychological spaces, domestic scenes and exterior places, communicating the silences of the space we exist, internally and externally. Her work often relates contrasting elements of light and dark, voice and voiceless, expression and suppression.
Sharon works in various media including photography, video and sound and has been working with cyanotype printing since 2017.
Thank you for visiting. Cynon Valley Museum is not possible without you, please consider making a monthly or one off donation and support your local museum.