The Mezzanine Gallery
The Mezzanine Gallery is the second of our gallery spaces, boasting an excellent overview of the permanent Museum space and a bright, spacey area to display. The displays here change regularly so there is always something new to see!
To get in touch about exhibiting here, use our contact form.
Eleanor Whiteman: Draw West
Opens 13th September – closes 28th September
"Growing up in Wales has provided me with a huge range of inspiration regarding landscape. I have a degree in Geology and Photography which has influenced my practice as has my interest in nature and the relationship between art and science. I am a member of Cardiff Prints Workshop and use many processes including Lino printing/etching/monoprint and woodcut. I have recently worked on a body of work with ceramicist Phil Hughes combining lino printing and ceramics for an exhibition at Y Galeri in Caerphilly. I also use paint and mixed media and enjoy the process of exploring the crossover between techniques."
Follow the artist: Wesbite / Facebook
---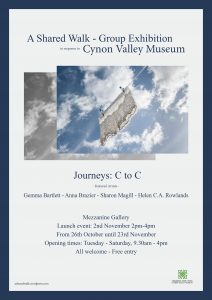 A Shared Walk Group Exhibition: Journeys C-C
Opens 25th October – closes 23rd November
"The Shared Walk Group is a community of South Wales based artists who seek to engage with other communities locally, nationally and internationally. We work in a wide range of media including performance, painting, ceramics, photography, sound and installation. Individually and collectively our work addresses themes of containment and fragmentation, inviting the deconstruction and reconsideration of responses in the psyche in relation to the viewed object. We are curious about themes such as echoes of memory and the evocation of nostalgia. We draw on diverse professional backgrounds and cultural experiences to evoke a range of interactive possibilities."
Follow the artist: Website
---
Sandra Anstiss: The Hands Have It
Opens 29th November – closes 21st December
"Many of the images I produce have an aspect of storytelling which is inspired by personal memories and interactions with people and everday life, whilst others reflect my love of nature and the world around me. Everyone and everything has a story and a story can be told in many different ways. So – let me tell you my story!
The artworks in this exhibition evolved from my initial quest to find alternative ways of producing monoprints without the use of a press, and over the last few years I've been researching and learning the techniques of hand printing through the use of non-traditional grounds, or plates. Following this research I now hand madke plates made from a combination of gelatin, glycerin and water which when ciombined sets to a thick jelly-like consistency, and the majority of work in this exhibition includes some portion of this technique."
Follow the artist: Website / Facebook / Twitter
---